Ravtek X10 Review: Good Sound and Extraordinary Battery
Ravtek is not a much-known brand, but it has impressive audio products. I reviewed Ravtek extreme last year and the earphone impressed me a lot. So, when I heard they came with a premium headphone with Active noise cancellation, I couldn't resist myself from trying it. Ravtek has recently launched Ravtek X10, its premium headphone model ready to compete against premium brands. Ravtek X10 costs Rs. 14999 and is available from Vplak.com. I have been using Ravtek X10 for the past few days and here is my review of Ravtek X10.
Buy Here: Vplak
Ravtek X10 Review
First of all, let us have a look at the build quality of the headphone. The headphone comes with the excellent build quality and is made to give you comfort. The headband has a metallic frame with high-quality plastic over it. The top side of the headphone also has cushion padding for comfort. The headband is expandable for the proper fit. Earcups are big to cover the whole ear and the cushion padding over it is really soft for being comfortable. This is one of the most comfortable headphones I have ever used. It doesn't put any pressure on ears or head and you can keep using it for hours without any kind of discomfort. It is also really light in weight that also adds value in comfort. The space of ears is also large and deep to cover your ears. Earcups can also be rotated in two directions. You can also fold it to keep inside the carry case.
The right earcup has several control buttons. One slider to turn on or off active noise cancellation. There are volume rockers along with a key to play/pause songs. These buttons are easy to reach and recognize. So, you can easily change tracks, increase or decrease volume whenever you want. buttons are made and arranged in a way so you can easily identify and use them.
There is also a tiny LED light that turns blue when you activate active noise cancellation. There's another LED light to notify if the headphone is on or is plugged in for charging. It also has a 3.5mm port to add Aux cable and use this headphone as a wired headphone when you want. There is also a USB Type-C port for charging this headphone.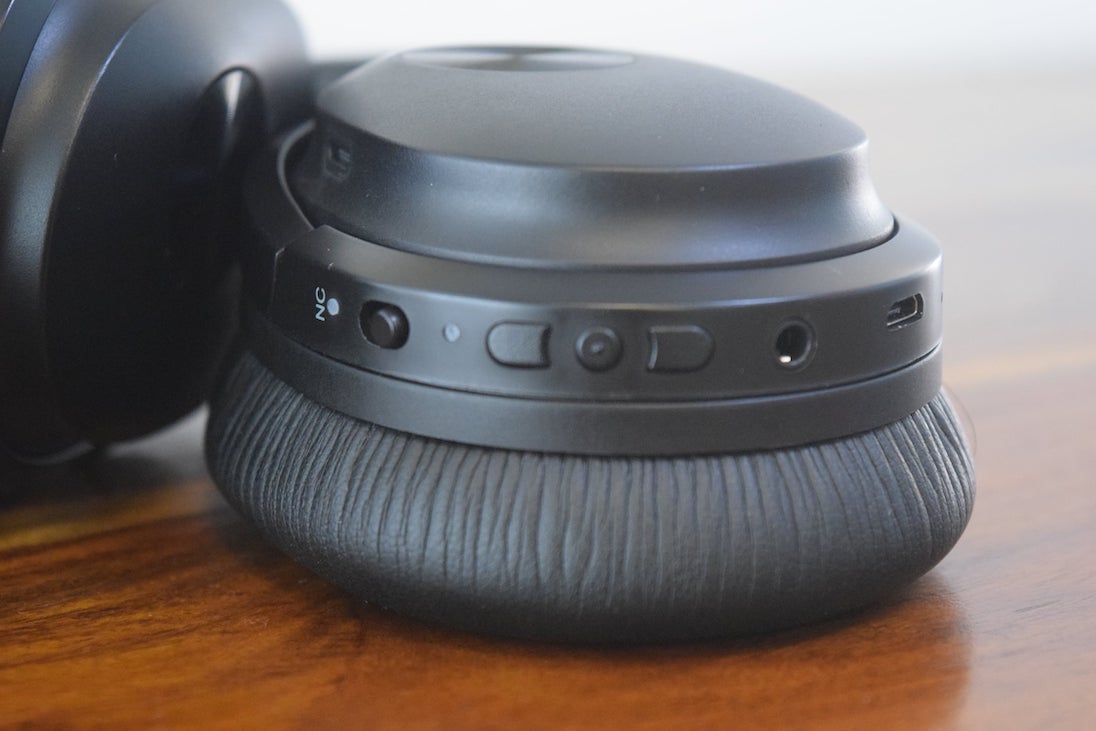 As I said, you can plug in the Aux cable to use this headphone as a wired headphone. Another good thing is that the company also provides 3.5mm to 6.5mm Jack Converter. So, you can also use this headphone where it needs 6.5mm jack.
The headphone features Qualcomm apt-X codec for streaming high-quality sound over Bluetooth and the result is audible. Ravtek X10 impresses with its music experience. It produces an excellent rich sound that music lovers want. The headphone has well-balanced music that includes good highs, nice bass, and clear lows. The premium sound of the headphone justifies the price. That's the reason, I now use this headphone while editing my videos.
When you are listening to music even in loud volume, it doesn't leak much sound until the environment is too quiet. That's because it covers ears properly.
The headphone features Active Noise Cancellation Technology to block ambient noise when needed. So, you can focus on what you are listening to. Active Noise Cancelling or ANC uses external mics to analyze the noise around and cancel their waveforms from the sound you are listing to. You can quickly turn it on or off using a switch button at the right earcup. Active Noise cancellation works well and blocks most of the ambient noise. I tested the ANC at several places. Mostly I used the headphone at the office where I usually hear several people's voices from all corners. After turning on ANC, the headphone was able to reduce most of the noise include typing sound and other kinds of noise, but it could have been better. I also used it outdoors in busy Delhi streets. It stops a lot of noise, but sounds of horns could easily reach to my ears. While riding the bike, wind noise was also reaching my ears. So, ANC is not as good as in high-end headphones.
It features Bluetooth 5.0 and packs Qualcomm CSR8645 chipset. Bluetooth connectivity works well. As soon as you turn on the headphone, it automatically connects to the previously paired phone. It takes hardly 2 seconds in the whole process. It also remains connected as long as you are in range. It also features a 3.5 mm port to connect the AUX cable for using it as a wired headphone. I have already told you about 3.5mm to 6.5mm Jack Converter that you get within the box to use it with the professional grade devices.
The headphone also features a microphone for calling, but that doesn't impress and could have been better. It captures low sound, so you will have to speak louder when using it for calls. This is the only downside I could see in this headphone.
The battery is another strong point of the headphone. The fully charged headphone can last over 10 days. The headphone offers around 50 hours of battery backup without Active Noise cancellation that is extraordinary. It can easily last for 10 days on a single charge even if you use it 5 hours a day. Something travelers need. If you use Active Noise cancellation, the battery backup will drop to 30-35 hours depending on how frequently you use ANC. Battery backup also depends on how loud you listen to music. I mostly used the headphone at a 70% volume level. The headphone also supports fast charging and it takes less than 3 hours in charging the large battery of the headphone. You charge it using a micro-USB socket on the right cup.
Final Words
Ravtek X10 is an excellent headphone to go with. I am now personally using it to assist me while editing videos. The headphone offers crystal clear sound with really good music quality. It is really comfortable and you and keep using it for hours without any problem. No discomfort or pressure from any side. Battery backup is also really good.. If you are looking for a good headphone in the price range of Rs. 15000, Ravtek X10 is recommended from my side. In case, good ANC performance is your preference, you should look elsewhere.
Buy Here: Vplak
Ravtek X10
"Ravtek X10 an impressive headphone that is comfortable and sounds good."
The Good
Good Design
Amazing battery life
Excellent Music
Breakdown
Design and build 90%

Music 80%

Features 80%

Active Noise Cancellation 65%

Battery 95%

Value for money 90%