Mi Sports Bluetooth Earphones Basic Review
Along with the launch of Redmi Note 7 and Redmi Note 7 Pro, Xiaomi also launched Mi Sports Bluetooth Earphones Basic in India. I have been using this Bluetooth earphone for around 10 days and here is my review of Mi Sports Bluetooth Earphones Basic.
Buy Here: Mi.com
Mi Sports Bluetooth Earphones Basic is a sports earphone. It comes with ear tips of different sizes, so you are most likely to get the one that fits your ears. It has adjustable ear hooks that you can rotate according to your ear shape for a comfortable fit. Earbuds are made of high-quality plastic for being durable and lightweight. But then I miss the magnetic lock here. So, when you are not using it, you will have to keep it in a bag or pocket for keeping it safe. I personally prefer wireless earphones having a magnetic lock for earbuds.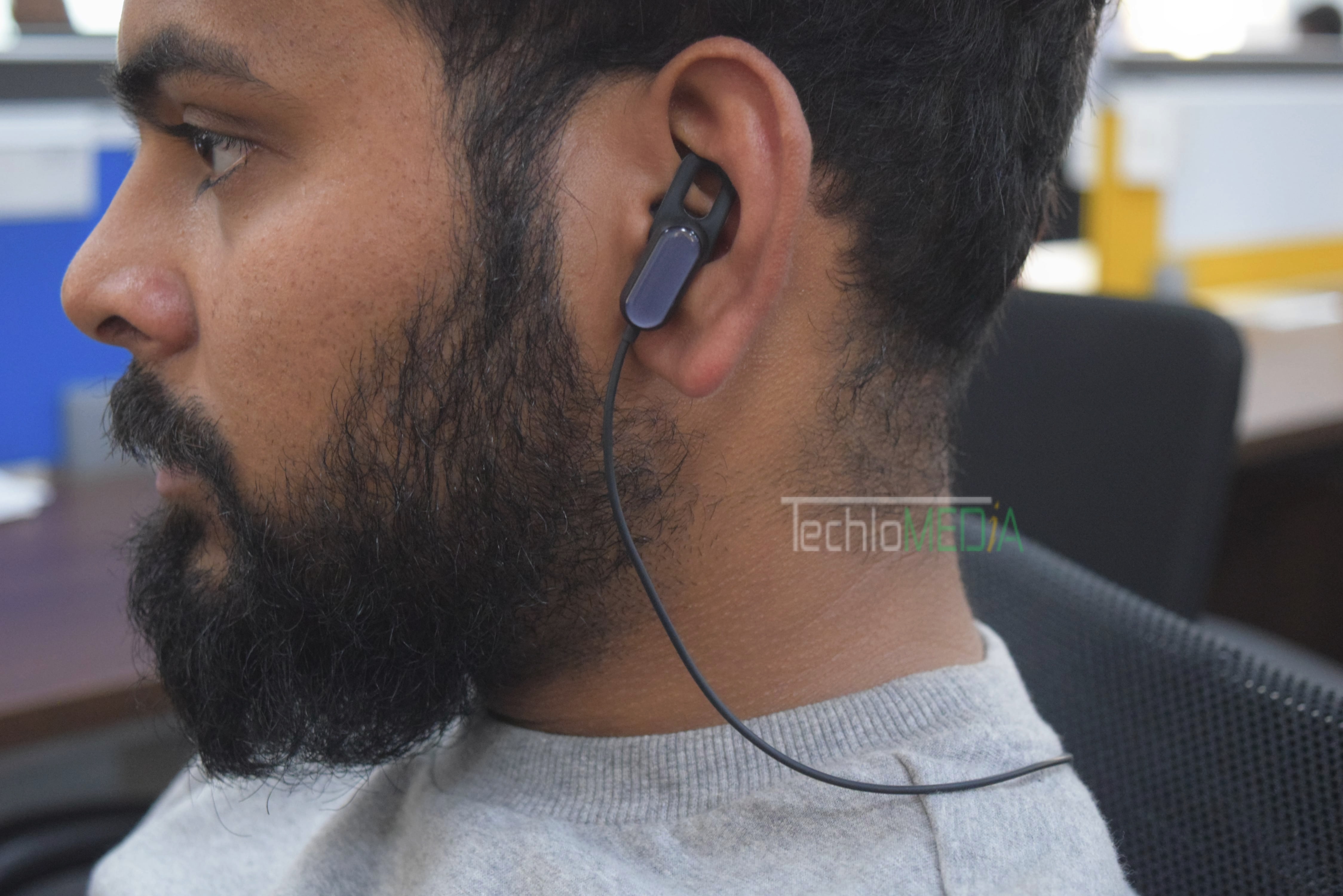 It has an inline control section to where you see three buttons. One for turning it on or putting it in pairing mode. You can also use it to activate the voice assistant of your phone by the double press. The same button can also be used for answering or rejecting calls. Two other buttons are volume controllers that can also be used to control tracks by long pressing. There is also a LED notification that notifies when the earphone is on, charging or in pairing mode. There is also a micro USB port for charging. The port has a tight cover to prevent water from entering inside. There is also a microphone for the hands-free call. You can easily reach to the volume control buttons.
The build quality of the earphones is impressive. It also comes with an official IPX4 rating, so it can survive the splash of water and sweat. It is also really light in weight and weighs just 13.6 grabs. So, it is comfortable for long usage.
When you turn it on or off, it also plays voice notification to let you know if it is turned on or off. For pairing it with a new device, you need to understand one important thing. When you turn it on, you need to keep pressing the power button until the LED notification starts blinking fast. This puts the earphone in the pairing mode and voice notification says "Pairing mode".
Before I tell you about the music experience, you shouldn't forget that it costs just Rs. 1499. Also, don't expect it to offer the same experience as in wired earphones of this price segment.
When it comes to sound clarity, it impresses. I tested it with different kinds of tracks and it was good. It is loud, so the noise of the surrounding will not affect you when you are using it. Xiaomi claims dynamic bass feature that didn't impress. The bass is average, so it will disappoint you if you love bass heavy music. Same goes with treble. It means this earphone is not for you if you are looking for good music experience, then you will also have to increase your budget because not much options are there in this price segment. I find it good considering the price.
It also doesn't leak much sound. So, people around you will get to know what you are listening only if they are too close or the environment is too calm.
It supports Bluetooth 4.1 connectivity with Bluetooth profiles like HFP, A2DP, HSP, and AVRCP. As soon as you turn it on, it instantly connects to the phone it was already paired if Phone's Bluetooth is on. It also works fine under the Bluetooth's operating range.
As it has a microphone, you can use it for hands-free calls. Just press the center button to accept the call and start talking. The microphone performs well and it captures your proper voice. The captured audio is not of HD quality, but fine enough to have a conversation. The person on the other side won't complain about your voice clarity. Noise cancellation is fine, but it could have been better. If you are using it in a noisy environment, it will affect the experience.
It packs 120 mAh battery and the battery lasts for around 8 hours in regular usage. My usages were mixed of tracks on high and medium sound levels with not many calls. If you will use it on high volume all the time, battery back up will be lower. The battery takes around one and a half hour in fully charging.
Final Words
Mi Sports Bluetooth Earphones Basic comes with a good build, loud and clear music along with long battery backup. It is good to use for calls and general usage, but music experience is not as good as we expect. This earphone is good for regular use when you need a Bluetooth earphone for hands-free calls and occasionally listening to music. I don't recommend it to music freaks, but it is still good enough considering its price.
Buy Here: Mi.com
Also see: Best Bluetooth earphones under 2000 INR
Mi Sports Bluetooth Earphones Basic
"Mi Sports Bluetooth Earphones Basic is a good entry-level Bluetooth earphone that doesn't disappoint, but it is not for music lovers."
The Good
Good Build
Good battery backup
Good Sound
Breakdown
Design 80%

Performance 65%

Battery 75%

Value for money 70%