YouTube is the most popular video streaming app where millions of creators upload their video content and billions of people watch. YouTube monetizes the app with advertisements to make money and share this with creators. People who do not want to watch YouTube can subscribe to a premium monthly subscription. But what if someone doesn't want to play. There's a solution called YouTube Vanced.
What is YouTube Vanced?
YouTube Vanced is a popular modded version of Google's YouTube app and brings lots of interesting features to YouTube. Some of the features include a dark mode, background playback, in-built ad blocking, and more. All the YouTube app features are also available to YouTube Vanced along with new exciting features. YouTube Vanced also offers an auto-repeat feature, so you can play a song on loop. So basically, you get YouTube premium for free, plus more features.
The best experience of Youtube Vanced will be on a rooted device. The root app replaces the official YouTube app. So, all YouTube links open in the replaced app with all the new existing features available. If you do not want to root your device, simply use the Non-root variant. It can be installed using the companion app and then you can log in with your Google account to access your YouTube account on YouTube Vanced. The latest version of YouTube Vanced comes with SponsorBlock that lets you skip the sponsored part of a video. It also lets you skip segments like the channel intro and Subscribe request part. Another interesting feature is that YouTube Vanced brings the ability to play videos in pop-up video (PIP Mode) format while using other apps on your phone. You can also keep listening to the video when the screen is off. So, it makes YouTube experience better and ads-free.
Key features of YouTube Vanced
Background Playback
Toggle to block all ads
Override Maximal Resolution
Force VP9 or else vice versa
Pinch to Zoom any Smartphone model
Toggle Themes (While, Dark, Black)
Casting Togglable
Auto Repeat
PiP – Picture in Picture mode for Android Oreo
Preferred Speed and Resolution
Swipe controls for Brightness and Volume
Select new or old Window style
YouTube Vanced APK Download
Even if many people look for YouTube Vanced APK, there is no need to download YouTube Vanced from an APK file. You need to download Vanced Manager MicroG to download YouTube Vanced on your phone. The benefit of having microG is that you will keep getting updates automatically when available and installation will be seamless. Open this link or this and download the Vanaced manager on your phone. It will install Vanced MicroG on your phone. In Vanced MicroG, you will see the option Install YouTube Vanced. It also asks you to choose your preferred theme when you install YouTube Vanced. To make things clear, Light + Dark is the YouTube Dark theme and Light + Black is the black theme that is darker than the YouTube Dark theme and looks really good on AMOLED display.
The first one with the label "Vanced". Music is the modded version of YouTube Music. If you want to enjoy YouTube Music, you can install that.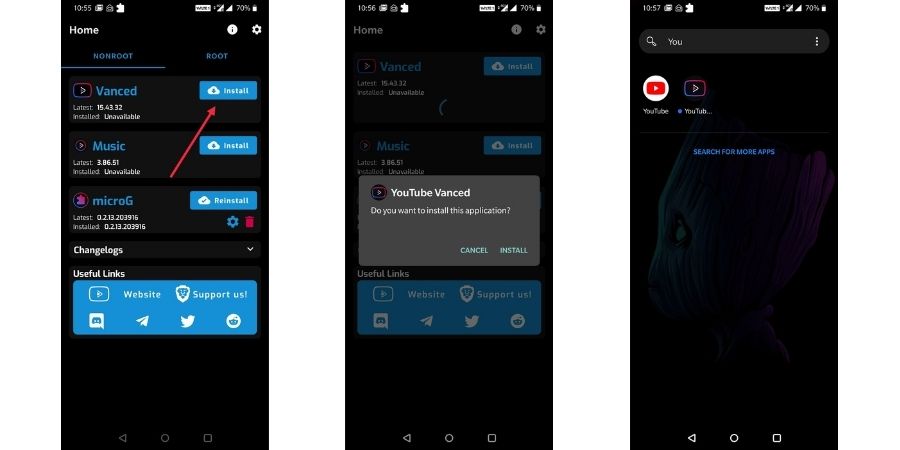 After the successful installation of YouTube Vanced, you will see the YouTube Vanced app shortcut along with YouTube in the app drawer. Next time when you want to use YouTube, open YouTube Vanced in place of YouTube.
You can also download Youtube Vanced APK from popular APK download websites such as APKPure and APK Mirror.
Is it illegal to use YouTube Vanced?
Of course, it is against the terms and conditions of YouTube but it doesn't make it illegal. YouTube Vanced just offers a few other features. It doesn't modify the content of YouTube, neither promote piracy. The only wrong thing YouTube Vanced does is the blocking of ads. It hurts the earning of YouTube creators. I know how much effort creators put in making videos. If you watch their videos without watching ads, it will be hard for them to survive. The app completely blocks ads but gives you a toggle to enable ads. If you want to support YouTubers, enable ads while enjoying other features of YouTube Vanced.
Is YouTube Vanced APK safe?
Yes, YouTube Vanced APK is safe. You just need to download it from a trusted website. Some malicious websites may serve malware hidden in fake YouTube Vanced APK. I have added the official link to download YouTube Vanced APK in this article.