Caller tune is the audible ringtone that you hear when you call someone and call is yet to be answered. Airtel calls it Hello Tunes. Previously, it wasn't easy to set a song as a caller tune or Hello tune, but Airtel has made it easier for Wynk Music users. Airtel users can now set Airtel Hello Tune using the Wynk Music app for free. That means they can set one of 40 million songs from Wynk Music's library as their Hello Tune without a monthly subscription charge that used to be Rs 36 previously. To be clear, it isn't a new option as it was introduced back in June 2019. In this article, I will show you how to set any song as Airtel Call tune or Airtel Hello Tune using the Wyknk Music App.
Airtel Caller Tune or Hello Tune using Wynk Music App
If you are an Airtel subscriber and want to set your favorite song as Airtel Caller tune, follow the following steps. If you wanted to know how to set a caller tune in Airtel, keep reading.
First of all, Install the Wynk Music App on your Android or iOS phone if you don't have already. Then you need to sign in on the app using an Airtel number. The Hello Tune will be activated on the same number you use to sign in on the Wynk app. Now search for the song you want to set as Hello Tune. Play the song and you will see a few options just below the album art. Tap on Hello Tune option. Then it will suggest you a few parts of the song to set as Airtel Hello Tune. You can select any of the parts and click on Activate For Free button.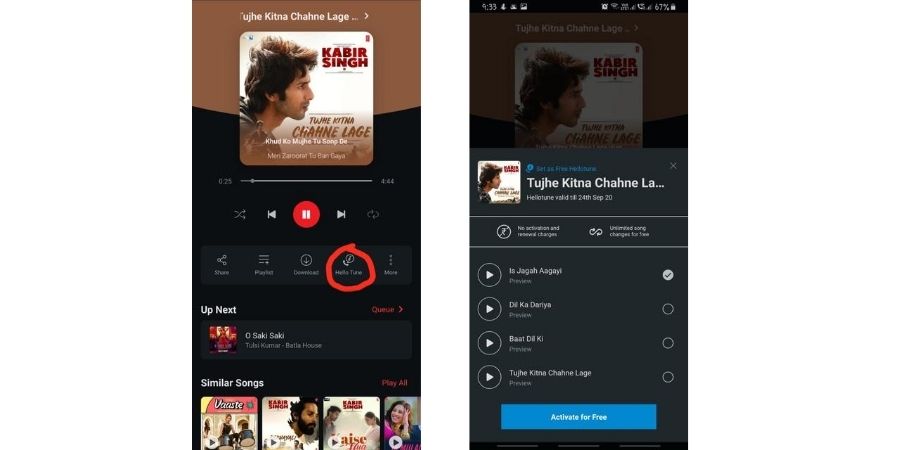 That's it. Your Airtel caller tune or Airtel Hello Tune will be activated. There is no charge for using caller tune or hello tune. You can also change your hello tune unlimited times from the Hellotune Management screen.
Wynk Music is Airtel's music streaming service available for both Android and iOS platforms.
Frequently Asked Questions
Q. Do I need to register on the Wynk app for Hello Tunes?
A. Yes, you need to register on the Wynk app using your Airtel mobile no.
Q. Are there any monthly charges or Song change charges?
A. No, Hello Tune on Wynk app is absolutely free. Once you activate a Hello tune, it will be active for the next 30 days. You can change the songs as many times as you want at no charge.