PDF or Portable Document Format is a widely used file format across the world. It is mainly used in official documents because PDF documents cannot be edited. The content on PDF is displayed the same irrespective of the operating system or device. The only issue one can face with PDF is that the content of PDF cannot be changed. If you want to edit a PDF file, you need to first convert it to Word document. Then you can edit Word document using MS Word or any other compatible software for changes. If you are not sure how to convert PDF to Word document, keep reading. In this article, I am listing a few ways to convert PDF to Word document for free.
Convert PDF to Word document
1. HiPDF
HiPDF is a website that has a collection of PDF tools including a PDF to Word Converter. Click the link given below to open PDF to Word Converter, drop your file, and wait for the file upload. Once the PDF file is uploaded successfully, click on the Convert button.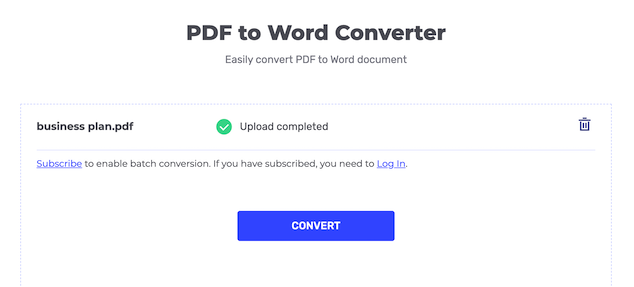 It will take a few seconds to convert the file and then you will be given the download link. Click on the Download button to download the converted Word document.
This online PDF to Word coveter works fine and produces a good result. So, don't forget to try this.
2. PDF2go
PDF2go is also a similar website that offers several PDF tools including PDF to Word converter. You can either upload a PDF from your system or enter the URL to fetch. Then click on the Start button for conversion. After a few seconds of processing, you will get the download link.

You can either download the converted document on your system or use the cloud upload link to upload the file to a cloud service.
3. UniPDF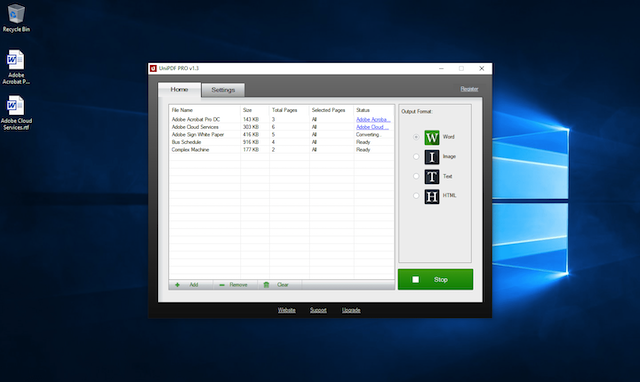 UniPDF is a 100% free PDF to Word converter software for Windows. It is really easy to use. Just drag and drop your PDF files, set a page range for conversion, and then start the PDF to Word converting process. You can also convert a PDF to image, Text, or HTML format if you want.
4. PDF to Word Free
If you want a software for Mac to convert PDF to Word offline, download this one. It is free software with limitations. You can convert PDF properly and also set the page range to convert. The software is fast and can convert 100-page PDF file within a minute, It also supports PDFs in multi-language, and performance is really good. In the free version, you can only output 3 pages for each PDF file. If you do not like this description, you can purchase the full version via in-app purchase.
5. WPS PDF to Word Converter
If you do not want to use an online converter, you can download WPS PDF to Word Converter on your system and convert PDF to Word offline. This software quickly converts PDF to Word and provides the best quality and most accurate conversion by keeping fonts and layouts intact.
The free version only converts limited pages to PDF. Another restriction is that it is only available for Windows.
Wrap up
In this article, I include several tools to convert PDF to Word document. You can either use an online PDF to Doc converter or download the dedicated software depending on the system you have. All these ways work good and the conversion will be efficient. I personally use online tools to avoid download other software on my system. You could download one if you do not want to connect to internet use for the PDF to Doc conversion.