In one of my previous articles, I explained the different flavors of FreeSync and how those FreeSync flavors differ. You can read FreeSync vs FreeSync Premium vs FreeSync Premium Pro to learn the differences. In the article, I also explained screen tearing. G-Sync and FreeSync are two different ways to deal with screen tearing. Like FreeSync, G-Sync also has three different forms including G-Sync, G-Sync Compatible, and G-Sync Ultimate. You should know how these differ.
Also read: G-Sync vs FreeSync
If you don't know what is screen tearing, Screen Tearing is a visual effect that distorts graphics when graphics card fps and screen refresh rates don't sync. It mainly appears in two cases. First if who graphics card process high fps while you are using a low refresh rate monitor. The second when the monitor has a high refresh rate but the graphics card is sending low fps. Here is a screenshot of how the screen tearing appears in a game.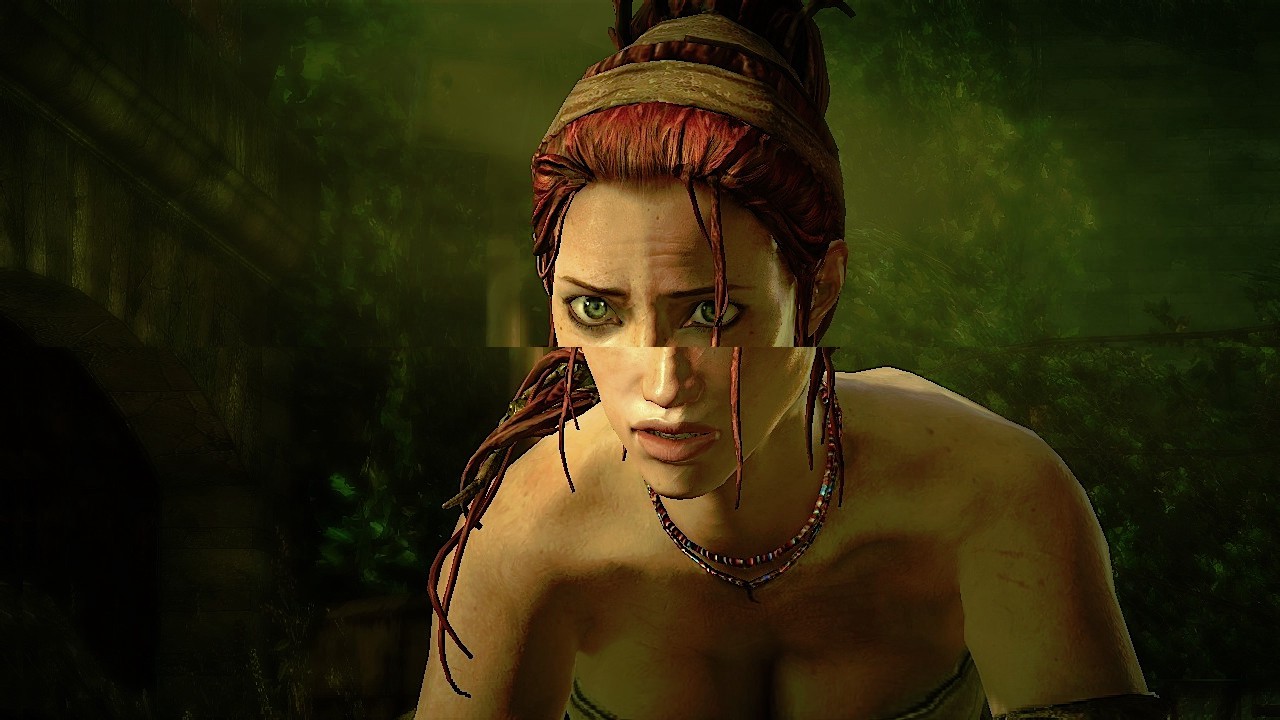 Nvidia was the first to bring a hardware-based solution to avoid screen tearing. The company called it G-Sync.
In this article, I will explain G-Sync and will explain different types of G-Sync tech available today.
What is G-Sync?
G-Sync is Nvidia's hardware-based system that synchronizes Monitor's refresh rate with the fps of GPU. G-Sync is based on VESA's Adaptive-Sync technology. It forces the monitor to adapt its refresh rate depending on the FPS offered by GPU. To achieve this, NVIDIA also replaced the typical scaler board with its own proprietary board.
Unlike FreeSync, G-Sync is paid and monitor brands need to pay for the necessary hardware and licensing cost.
What is G-Sync Ultimate?
G-Sync Ultimate is the advanced version of G-Sync that deals with HDR content. THat's the reason G-Sync Ultimate was initially launched as G-Sync HDR. G-Sync Ultimate requires a GTX 1050 or higher graphics card, Driver R396 GA2 or higher, and DisplayPort 1.4 directly from the graphics card.
G-Sync Ultimate monitors are rated to offer the best experience in terms of color accuracy, variable refresh rate, and image quality. G-SYNC Ultimate displays are required to pass over 300 compatibility and quality tests.
What is G-Sync Compatible?
G-Sync Compatible came to bring G-Sync to more numbers of monitors. Starting 2019, Nvidia started approving monitors with other types of Adaptive-Sync technology, like FreeSync to run G-Sync. These monitors don't use the same chips as a G-Sync or G-Sync Ultimate display but can run G-Sync with the proper driver. So G-Sync Compatible monitors are not as good as regular G-Sync displays.
You can find the full list of G-Sync Compatible monitors on the bottom side of this link.
| G-Sync | G-Sync Ultimate | G-Sync Compatible |
| --- | --- | --- |
| Validated for artifact-free performance | Validated for artifact-free performance | Validated for artifact-free performance |
| Certified with over 300 tests | Certified with over 300 tests | |
| | Certified for 1,000 nits brightness with HDR | |
G-Sync TVs
LG has also released some G-Sync Compatible OLED TVs. These TVs can be connected to a desktop or laptop with an Nvidia RTX or GTX 16-series graphics card. You also need proper firmware to use G-Sync over HDMI. Nvidia is also working on getting more TVs to add G-Sync Compatibility.