CroxyProxy: Free web proxy to unblock YouTube and other websites
Web proxies can be used to unblock websites that may be restricted or censored in certain regions or by certain organizations. By using a web proxy, the user's IP address is masked, and the user can access the website as if they were located in a different location. Some web proxies can also encrypt the connection between the user and the proxy server, providing an added layer of security and privacy.
When a user requests a web page, the request is sent to the proxy server instead of the intended web server. The proxy server then fetches the requested page on behalf of the user and sends it back to the user, allowing the user to access the web page without directly connecting to the website.
There are several good web proxies, but this article will talk about CroxyProxy.
CroxyProxy
CroxyProxy is a web proxy service that allows users to access websites that may be restricted or blocked by network filters or firewalls. It acts as an intermediary server between the user's device and the internet, fetching the requested content and delivering it to the user. CroxyProxy also features a built-in ad blocker to remove ads from websites. It also supports HTTPS protocol, video streaming, and online privacy. This web proxy features a user-friendly interface that makes it easy to use.
If you are looking for a good, free, and reliable web proxy, you should try CroxyProxy. CroxyProxy lets you access your favorite websites that are blocked in your network. Most people use CroxyProxy to unblock YouTube, Facebook, Twitter, Instagram, and other social media sites that are blocked in office or college networks. CroxyProxy is also a good Sharechat proxy.
CroxyProxy is still in beta, so may have some bugs and may not work with all sites. But it certainly lets you block most websites you want to access.
Just visit the Croxyproxy website. Then enter your search query or website address and press the Go button. It will perform the web search if you enter the search query or open the website if you enter the URL.
CroxyProxy Chrome extension
It also has a Chrome extension. The extension is free but shows ads. If you want to remove ads, you can purchase the Premium. After the installation, it adds a button in the omnibar. Click Croxyproxy icon in the omnibar to quickly access Croxyproxy free web proxy without visiting the Croxyproxy website.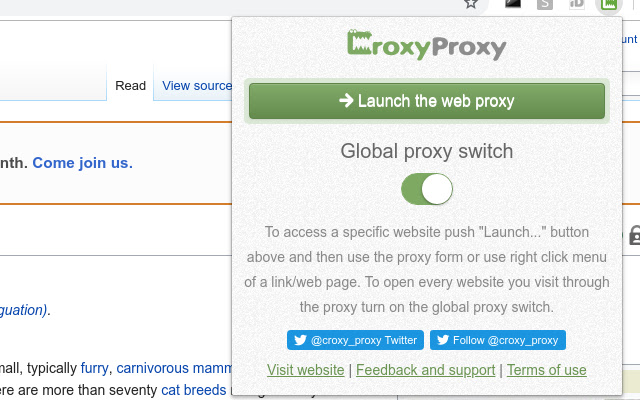 Benefits of CroxyProxy Premium
No ads
Priority support
Faster servers from Germany, the UK, Finland, the USA, Canada, and Israel
Smooth Full HD video playback
No file size limitation
I used CroxyProxy to access several websites and found it good. Although it unblocks websites, websites load slowly in free access. So, the experience may not be as good as you may want. Here's a list of pros and cons as per my experience.
Pros
Simple and easy-to-use interface
Compatible with most web browsers
Ability to stream videos from most platforms
Built-in ad blocker
Online privacy
Cons
Limited functionality
Slow connection speeds
No dedicated client