Hackers steal $100 million by exploiting Horizon bridge
Hackers stole around $100 million by exploiting a vulnerability in the Horizon bridge. Harmony, the developers behind Horizon bridge, identified the theft on Wednesday and tweeted about the attack. Tokens Wrapped Ethereum (WETH), AAVE, SUSHI, DAI, Tether (USDT), and USD Coin (USDC) were stolen from the bridge. These tokens have been swapped for Ethereum.
The company stopped the Horizon bridge to prevent any further transactions. Harmony is now investigating the attack with the Federal Bureau of Investigation, forensic specialists, and multiple cybersecurity firms.
As per the Harmony Protocol, only the bridge to Ethereum has been breached. Bridge to Bitcoin is still safe. The company has identified the address of the culprit.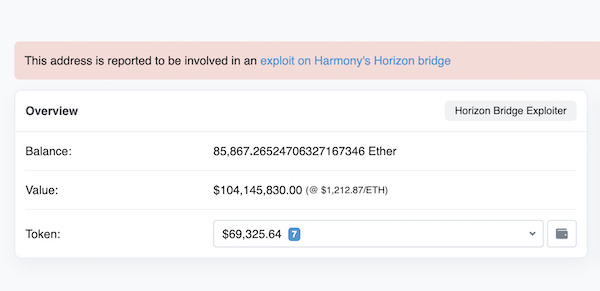 This is the third biggest bridge hack this year. Back in February, hackers stole more than $300 million from Wormhole bridge and around $620 million from Ronin Bridge in March.