AirPods Pro vs AirPods: Here's how they differ in size, features and price
Apple released new AirPods Pro yesterday with lots of new features and improvements. Not just features, Apple has also changed the design and AirPods Pro are also the costliest earbuds from the company. If you are looking to know how AirPods Pro is different than AirPods, keep reading. Here, I will put the difference in detail.
Buy AirPods with Wireless Charging Case
AirPods Pro is the most feature-rich AirPods to date. That is the reason it is also the costliest to date. It brings 5 notable features that previous generations AirPods didn't have.
Here are the new features
In-ear design with three sets of tips
IPX4 water/sweat resistance
Active noise cancellation
Audio Transparency mode
Adaptive EQ
Fast Charging in case
1. In-ear design with three sets of tips
Apple has now changed the design completely to bring in-ear design and is offering three sets of tips for a better fit. Apple calls it a customizable fit. There's also a software feature that tells if you've picked the right size tips.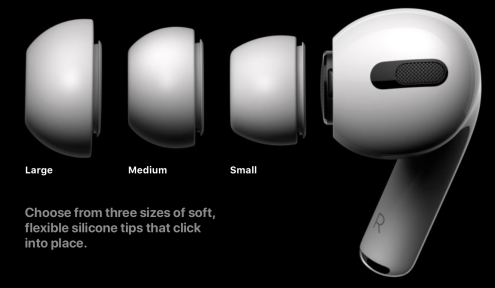 This is not new for any earbud, but certainly the first time for Apple. Until AirPods gen 2, Apple used a normal but unique design that it calls "universal fit."
AirPods Pro are also slightly smaller but heavier. AirPods Pro measures 1.22 inches in size and weighs 5.4 grams as compared to 1.59-inches hight and 4 grams weight of 2nd Gen AirPods.
2. IPX4 water/sweat resistance
The 1st Gen and 2nd Gen AirPods could withstand sweat and water but AirPods Pro comes with an IPX4 rating to be official water and sweat resistant. Apple claims that AirPods Pro can withstand water from any direction and can survive water or sweat splashing for up to 10 minutes.
3. Active noise cancellation
Active noise cancellation is also coming with AirPods Pro. This feature blocks any sound from your surroundings, so you can focus on what you are listening to. It uses two microphones from which one is outward-facing and another is inward-facing to create a superior noise cancellation. This feature also adapts the geometry of your ear and the fit of the ear tips. When Active noise cancellation, you will get complete silence to focus on what you are listing to.
4. Audio Transparency mode
Transparency mode does the opposite of Active noise cancellation. This feature lets you be aware of your surroundings. So you can listen to the surroundings and be aware of what is happening around. You can use Transparency mode while you are talking to people and you don't need to remote AirPods Pro.
5. Adaptive EQ
I am sure you have already guessed what this feature does. Adaptive EQ uses algorithms to tune the Qulaizer automatically based on the shape of your ears for a rich, consistent listening experience. This will result in superior sound quality.
6. Battery life
AirPods Pro features the same 5-hour battery life as in AirPods gen 2 when used without Active Noise Cancellation. If used with active noise cancellation, you will get 4.5 hours on a charge that is impressive. AirPods Pro have 3.5-hour talk time that is better than a 3-hour talk time of AirPods.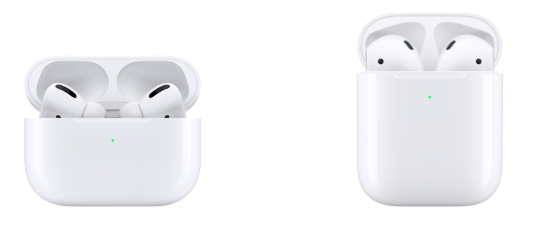 Both AirPods Pro and AirPods offer 24 hours of listening time with included Wireless Charging Case, but AirPods Pro features ultra-fast charging. AirPods Pro can get 1 hour of listening time with 5 minutes in the case.
AirPods Pro also comes with a USB-C to Lightning cable while the AirPods come with a traditional USB-A to Lightning cable.
Price
AirPods Pro costs $250 while the gen 2 AirPods with Wireless Charging Case are priced at $199. In India, AirPods Pro is priced at Rs. 24999 and AirPods Gen 2 with wireless charging case costs Rs. 18990.
Only 7th-gen iPod touch is compatible with AirPods Pro. AirPods Pro doesn't support all iPhone models Here is the list of supported iPhones.
iPhone 8
iPhone 8 Plus
iPhone X
iPhone Xs
iPhone Xs Max
iPhone XR
iPhone 11
iPhone 11 Pro
iPhone 11 Pro Max 
Here is the list of iPads that work with AirPods Pro
2nd and 3rd-gen 12.9-inch iPad Pro
11-inch iPad Pro
10.5-inch iPad Pro
iPad 5th-gen or later
10.5-inch iPad Air (3rd gen)
iPad Mini 5th-gen
Final Words
AirPods Pro comes with a big overhaul. Apple has not just improved features, but also changed the design to make it better and more comfortable. Certainly AirPods Pro is better than previous-gen AirPods. Features like ANC and Transparency mode make it better. If you are looking to buy AirPods, I will recommend you to go with the latest AirPods Pri.