Twitter reduces the number of accounts you can follow per day
Twitter just took another step to control the bots and spams on its platform. Now the company has reduced the number of accounts you can follow per day from 1000 to 400.
Twitter tweeted to announce this new change on its platform.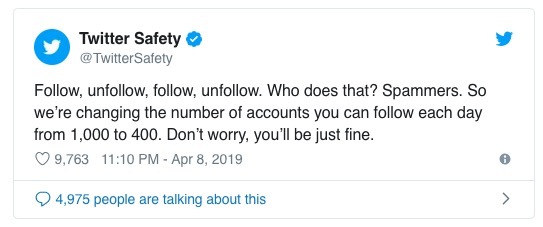 This step has been taken for limiting spammers from growing the network by following and unfollow accounts in bulk. The company also recently banned several apps that were offering the same services from using Twitter's API.
There are numbers of tools that let users follow and unfollow accounts in bulk to grow the Twitter follower base. When you follow a lot of people, few of them will surely follow back out of courtesy without realizing that they've followed a bot or a spammer.
Few people also questioned the move and asked why the number 400 has even chosen. It is still much more than a regular user would need to follow in a single day.
Normal Twitter users will not be affected by this change because no one goes and follows profiles in bulk. Only marketers who want follow back do the mass following on Twitter.