Asus Zenfone Max Pro M1 Vs Xiaomi Redmi Note 5 : See What is better and why?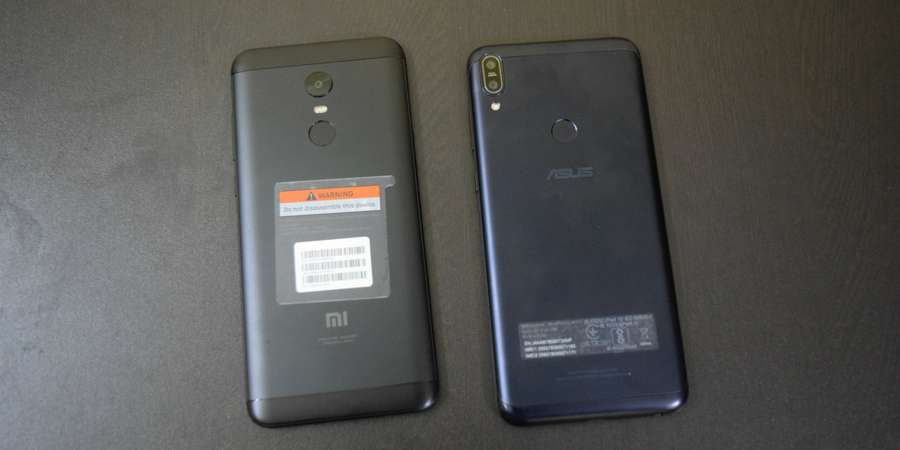 After comparing Asus Zenfone Max Pro M1 and Xiaomi Redmi Note 5 Pro together, I started using Asus Zenfone Max Pro M1 and Xiaomi Redmi Note 5 to see what phone is better. This comparison makes sense because these phones are similarly priced. SO, one with the same budget can be confused in these two. If you are one of those confused souls, this article will surely guide you.
Before you read everything in detail, you should also see Asus Zenfone Max Pro M1 vs Xiaomi Redmi Note 5 side by side specs comparison.
Best deals on mobile phones
Thinking to buy a phone? do not miss these awesome deals
Asus Zenfone Max Pro M1 Vs Xiaomi Redmi Note 5
Design
In terms of design, I will say the same that I said in previous comparison. Both phones have similar kind of metal build. Zenfone Max Pro M1 is bit larger in dimensions by few millimetres but overall feel is similar. The Zenfone Max Pro M1 got dual camera setup located on the left top side of the back while the Redmi Note 5 has single rear camera aligned vertically on the top center of rear panel. Build quality is similar and both look similar from the front. So, back sides of both the phone are different and you need to go with personal choice.
Display
Redmi note 5 and Zenfone Max Pro M1 both features FHD+ display having 18:9 aspect ratio. But display of Zenfone Max Pro M1 offers better contrast ratio, so it is slightly better in terms of brightness and offers better sunlight visibility. Although the difference is not much, but you may feel sometimes.
Display on Remdi Note 5 comes with Gorilla Glass protection as an advantage over the display of Zenfone Max Pro M1 that lacks any protection.
Performance
Zenfone Max Pro M1 beats Redmi Note 5 in terms of performance easily. While you will not feel difference in day to day tasks but Max Pro M1 is smoother in graphics intensive games and offers better experience. The reason is that Zenfone Max Pro M1 comes with 1.8GHz octa-core Snapdragon 636 processor while Redmi Note 5 packs 2.0GHz Octa-Core Snapdragon 625 processor. Redmi Note 5 comes in 3GB and 4GB RAM models while Zenfone Max Pro M1 comes in 3 GB, 4GB and 6GB RAM models.
Zenfone Max Pro M1 runs on latest Android 8.1 Oreo with pure Android experience. So, experience is smooth. The company even promises major Android Upgrade up to Android Q.
Redmi Note 5 runs on MIUI 9 based on Android 7.1 and we all know how slow Xiaomi is in pushing major Android upgrades. They just keep on working their MIUI. The MIUI is feature rich and offers several interesting features natively. So, you do not need to install lots of apps. Still having latest Android in Zenfone Max Pro M1 gives it some additional points over Redmi Note 5.
Redmi Note 5 comes in 32GB and 64 GB of storage models with option to expand storage up to 128GB. But you get Hybrid slot, so need to compromise with dual SIM functionality. Zenfone Max Pro 1 offers same storage models but you can expand storage up to 2TB with dedicated microSD card slot. You also get 100GB free Google Drive storage.
Camera
Zenfone Max Pro M1 comes with dual camera setup. It has 13 megapixels + 5 megapixels rear camera setup with soft LED flash. It also has 8 megapixels front camera with soft LED flash at the front. Redmi Note 5 comes with 12 megapixels rear camera with dual LED flash and 5 megapixels front camera with front LED flash.
In camera department, Zenfone Max Pro M1 is a clear winner in both rear and front camera performance. Here are the samples to compare. See the fountain images where water drops are clearly visible even in sky part but in Redmi note 5, it was mixed with sky colors.
Multimedia
Zenfone Max Pro M1 is better in terms of sound. It has 5 magnet speaker and NXP Smart Amplifier. It also comes with Max box for even better audio output. The audio over headphone jack is almost similar in both the phones.
Battery
Zenfone Max Pro M1 packs 5000 mAh large battery while Redmi Note 5 comes with 4000 mAh battery. Redmi Note 5 offers around one and half days usage while Zenfone Max Pro M1 easily lasts for 2 days. Both the phone supports Quick charge.
Summary
Here is the summary of comparison. See where these phone lead.
 Asus Zenfone Max Pro M1
 Redmi Note 5

Better Display
Better Performance
Dedicated microSD card slot
Better Camera
Longer battery backup
Final words
Costs Rs. 1000 extra but Zenfone Max Pro M1 is better in everything. Zenfone Max Pro M1 also comes with Flipkart's mobile protect for just an additional cost of Rs. 49. So, your phone gets complete protection for next 1 year. If you were thinking to get Redmi Note 5, I will recommend you to get Zenfone Max Pro M1. That is better and easier to get. Redmi note 5 comes in weekly sales and getting that is also a pain.
What are your thoughts? Let us know your views in the comments.