Google announces AI-based chat app 'Allo'
Today at I/O, Google announced its new AI-based chat app Allo. It is powered with machine learning and Google Assistant to provide you the better experience.
Allo comes with the richness of Google directly within the chat to help you find information and get things done. Just set up a conversation with @google and ask it various questions. It will respond you with stuff and will engage with you in the conversations. It will also suggest you various thing. It has the power of Google's knowledge graph to provide you best result.
You can also chat one-on-one with assistant or chat with friends. You no longer have to jump between apps to do these things. When you friends send you a message, it also puts suggested replies at the bottom. These are called "suggested chips". These are also powered by Google's smart machine learning engine.
Allo can also make reservations for restaurants where you could plan to meet up with friends. It allows you to use search, maps, YouTube and translate within the app in conversations. You can also ask for various things.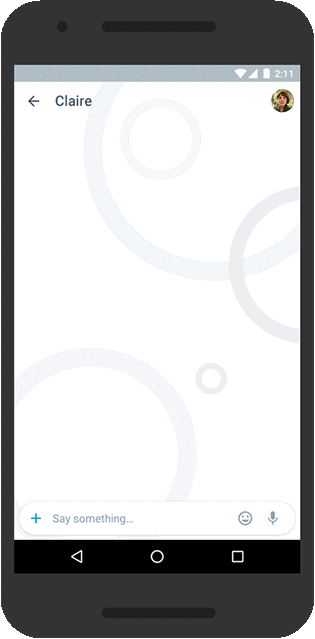 There is also a smart reply feature which assumes what you can say. For example, when someone shares the picture of a baby, it will suggest 'so cute'. It learns your preferences as you use it. It recognizes pictures by using Google's powerful image recognition engine. These smart replies can also contain stickers and emojis.
For security, it uses end-to-end encryption. It also allows you to the device for how long messages stick around. To use this app, you will have to sign up with your phone number and connect your Google account (it is not required).
There is also a feature called 'WhisperShout' which allow you yo to enlarge or shrink the text by dragging your finger up or down on the send button.
Google's Allo all will be available for iOS and Android this summer.