The iOS 9.3 is now available to download; Here are Key features of iOS 9.3
Along with iPhone SE and iPad Pro, Apple also announced iOS 9.3. Now iOS 9.3 is available to download across the globe. If you own an iOS device, you can update your device.
The company calls it "One of the biggest 'Dot' releases yet". If comes with various new features. In this post, We are listing its newly added key features.
Key features of iOS 9.3
1. Night Shift
Night Shift is an important feature for users. It eliminates blue light from your display to offer the better experience in the darker environment. It helps your circadian rhythms and helps you get better sleep.
It uses device's geo-location and clock to determine location and time to alter screen's color temperature. At night, it will appear warmer. In the morning, it returns the display to its regular settings.
If you are not interested in using this feature, you can easily turn it off from Settings.
It is available for iPhone 5s or later, iPad Pro, iPad Air or later, iPad mini 2 or later, and iPod touch (6th generation).
2. Touch ID security Notes
Apple has made Notes app a bit secure with touch ID protection. You can now hide your personal notes behind touch id. You can protect notes having banking account information, password and other important things. Only you will be able to access notes. Notes can also be sorted by date, time created and alphabetically. Notes app also now offers landscape mode.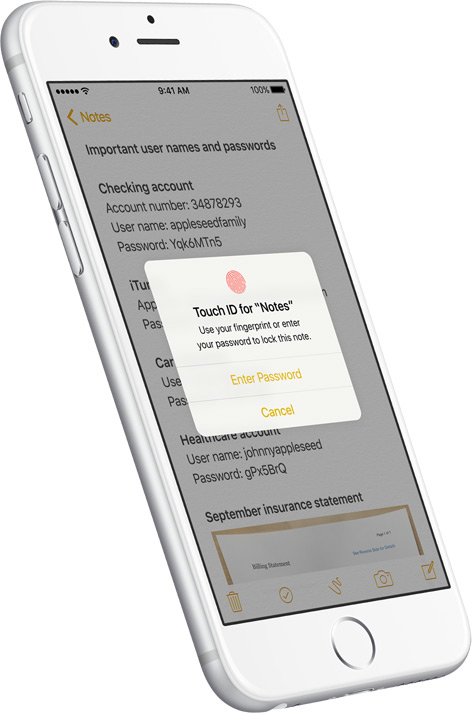 3. News App's new algorithm
Apple has also added a new algorithm in News app to offer more interesting and important updates first. You will also be able to play videos directly in the news feed. Hence, you will not be needing to click on links to open article for watching videos.
News app also got new gestures for quick actions like Mute, Like, Dislike, save and more by swiping left or right.
4. Multi-user support for education
Now iOS supports Multiple users for education. So students will be able to share iPads. After the iOS 9.3 update, iPads will allow schools to create multiple users for a single device. It also lets teachers manage student's progress better.
5. New Health dashboard
Apple has improved the Health section of iOS more useful. The company has included more relevant information right away. Now categories like Weight, Workouts, and Sleep will suggest apps that you can use for tracking. Unfortunately, Fitbit integration is missing.
6. Find music and Places in Apple Car Play
Apple Car Play will be coming in various cars this year. So, Apple has also made it better with improvements in the music section. With iOS 9.3, CarPlay will suggest songs, artists, and albums based on your preferences.
Apple has also added Nearby feature in Maps. It helps you in finding gas, parking, restaurants, coffee, and more with a tap.
7. Other Additions
There are many other additions. Now Siri has support for Finnish, Hebrew, and Malay. If you have iOS 9.3 and WatchOS 2.2, you will be able to pair multiple Apple watch. There are also few small updates and bug fixes.
These were the key features added in this iOS 9.3 updates. Update your phone to get all these features.
Image credits: Apple