Skype For Android Tablets Now Lets You Keep Calls Outside the app
Skype has updated Skype app for Android with support for video and audio calls outside the app for tables along with few other improvements. Updated app is now available to download from Google Play Store.
Skype now offers picture in picture window that lets you see video calls even when you switch the application. In this way you can also perform other tasks while on call with your friends. This feature is only available for tablet users. It will also ask your permission to draw the Skype on the top of other applications. This permission dialog will also be there for smartphone users but this feature will not. "We apologize for the inconvenience," Skype says.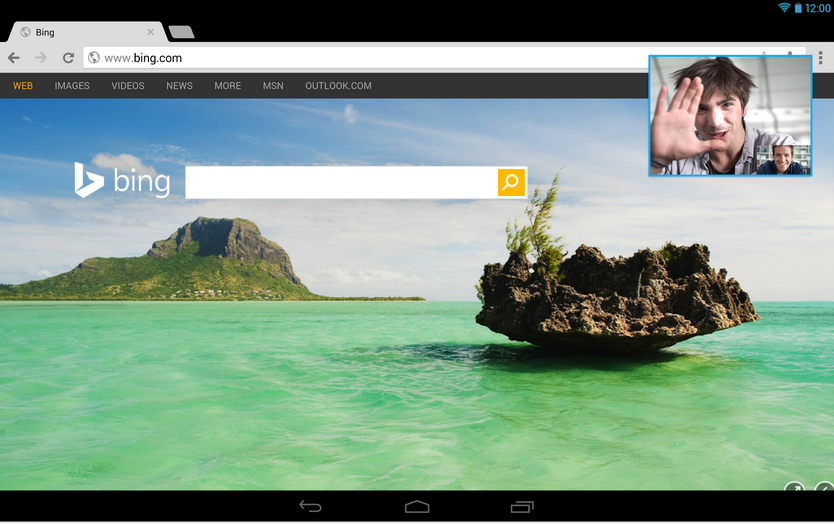 "We're very proud to share our first tablet breakthrough with you: Skype is the first Android application to offer a picture in picture window that lets you see your video call even when you switch away to other applications," Skype announced. " In the spirit of wanting to provide a common Skype experience across as many OSes as possible, our Android team sought out a way to develop an experience similar to Windows 8′s Snap View, but with an Android twist. Now you can multitask while you're on Skype video calls, as well as audio calls."
Tablet users can also quickly jump from one letter to another in contact list. It will be faster than scrolling contacts.
Changelog of Skype or Android
Improved Video Instant Messaging functionality overall, including fixes on latest Samsung phones
Added compatibility for the Hudl tablet
Fixed crashes on the Nexus 5
Drop down filter selections on the people tab are now persistent
It is not clear whether the feature will be available for smartphone users or not. But it makes more sense on larger screen devices. We can expect similar feature on Skype for iOS too, but only if Apple allows.