6.5 million LinkedIn passwords leaked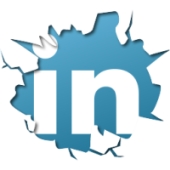 A user in Russian forum has claimed to hack LinkedIn. He also posted 6.5 million users password online. He uploaded a file of 2.87 MB which contains encrypted passwords that belong to LinkedIn users.
LinkedIn is also serious and tweeted that they are looking into reports and advised users to stay tuned for more details.
Most of the leaked password hashes includes linkein word. According to the reports, passwords were encrypted with SHA-1 algorithm which is considered very secure. But simple passwords may be decrypted easily. Hackers are also working together to crack all those passwords.
One thing is good that the file only contains the passwords but not the username of users. But we can not assume that they do not have username file.
We also advise you to change your LinkedIn password. If you use same password for many other website, then change the password in all those website having same password.