7 Best Free Karaoke Apps for Android
Laptops, smartphones, and smart TVs play an important role in entertainment in this digital era. You can enjoy playing video games, watching movies, listening to music and even can do karaoke on smartphones. There are apps that can make your phone a karaoke device and you can enjoy karaoke without a karaoke machine. If you are interested in karaoke, this article is about karaoke apps for Android.
The apps for karaoke are very popular among people who love singing. If you are also a fan of listening to music and singing, here is the list of few popular and best karaoke apps for your Android phone.
Some of these karaoke singing apps have online communities that can make you famous if you are a good singer and searching for a platform to show your singing skills.
Also see: MP3 Downloader Apps
Karaoke Apps For Android
Here are the popular and free apps for karaoke singing that you can install on your Android device and enjoy karaoke. These free Karaoke Apps for Android are best to use with lots of features.
1. Yokee Karaoke
The Yokee is one of the best and popular karaoke app that lets you and your friends sing karaoke for free. This app has millions of karaoke songs, with music and lyrics. You can choose from a huge catalog of music genres: Pop, R&B, Rock, Rap, Hip-Hop, Country, Latin, French, Russian, JPop and more.
You can also use special audio and video effects and share what you make with the singers' community in this app. The Yokee Karaoke app has over 100 million Karaoke fans who use this app to enjoy Karaoke.
You can not just record karaoke, you can also share your performance with the world. The app also keeps adding new songs daily, so you always have choices of new songs to sing.
2. StarMaker Lite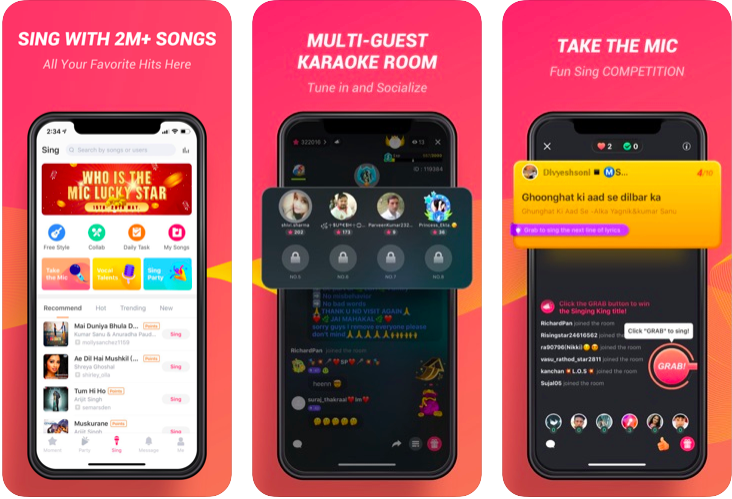 The StarMaker Karaoke app is the popular karaoke community. It offers the biggest global songbook with Ed Sheeran, Shawn Mendes, and even your local tunes. This apps gives you a platform to either sing freestyle or collab with other users by exclusive camera flitters and voice editor.
There is a feature 'take the mic' that offers you an open stage that you can compete with other users to sing the provided lyrics card. It's a talent show to see who is the awesome king of live singing.
You can also download Starmaker instead of Starmaker Lite.
3. Smule – The Social Singing App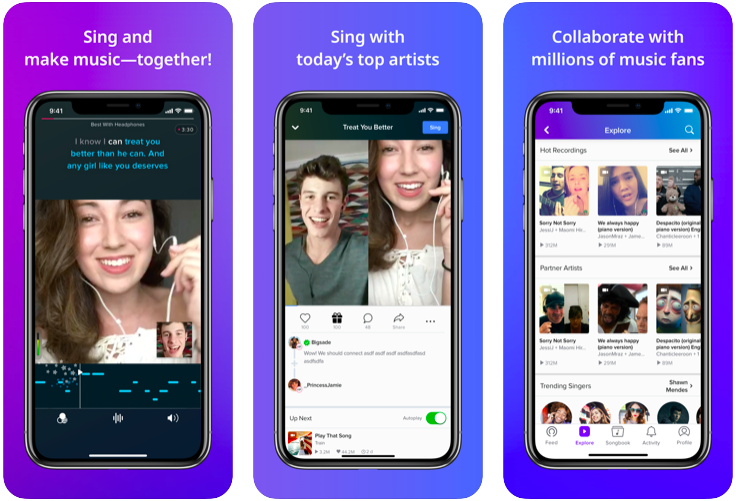 The Smule karaoke app has millions of free songs with music and lyrics. It is a social singing app where you can sing and make music with friends and fans around the world. The app gives a platform to sing solo or duet with people across the globe.
This free karaoke app has many audio effects and video filters that you can use while singing your favorite karaoke songs. You can even sing LIVE for friends and fans on this app.
4. Midifun Karaoke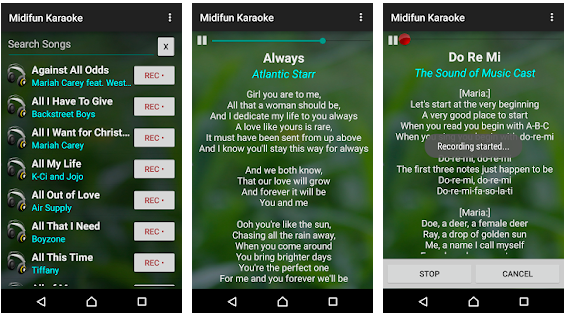 Midifun is an offline karaoke for Android. This app gives you hundreds of songs pre-downloaded when you download and install the Midifun karaoke app.
It is a multimedia application with a collection of MIDIs with lyrics that you can sing-along to. This app has a guessing game too where you can guess the song based on the lyrics displayed or being played.
5. SingPlay: Karaoke your MP3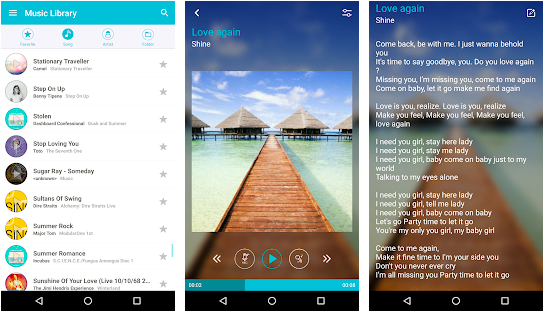 This SingPlay Karaoke app automatically converts the mp3 songs on a smartphone into KARAOKE. This app removes vocals from the songs. so that you can enjoy Karaoke using MP3 songs in your own device.
Sing and record your favorite songs with this app and create your own unique recordings to share them with your friends, family and the world. You have to just browse through your music list on the smartphone, pick a song that you like to sing and start karaoke.
6. Voloco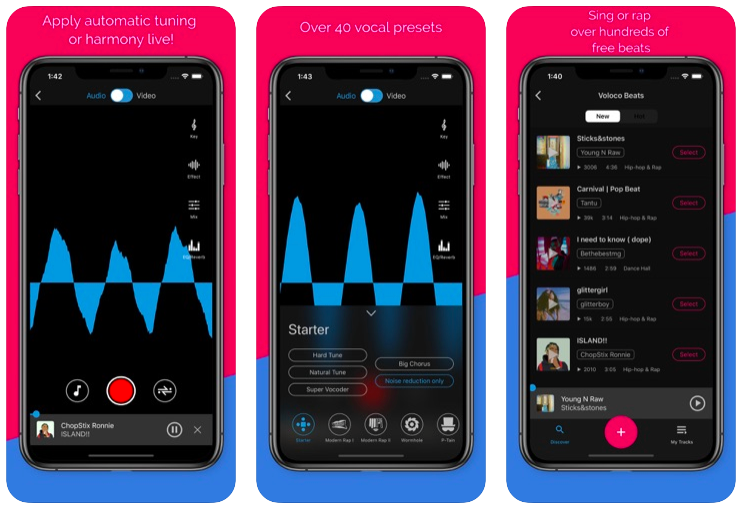 Voloco is an interesting karaoke singing app that has a feature of real-time voice-processing. It combines automatic tuning, harmony, and vocoding. You just have to pick a track from your own music collection or Voloco's free song library to sing. The Voloco app will automatically guess the key of the track and tune your voice to that key. Isn't this interesting?
Features like auto vocal tune, extreme pitch correction, and presets make this app worth trying. If you are looking for a good Karaoke app, don't forget to try this one.
7. WeSing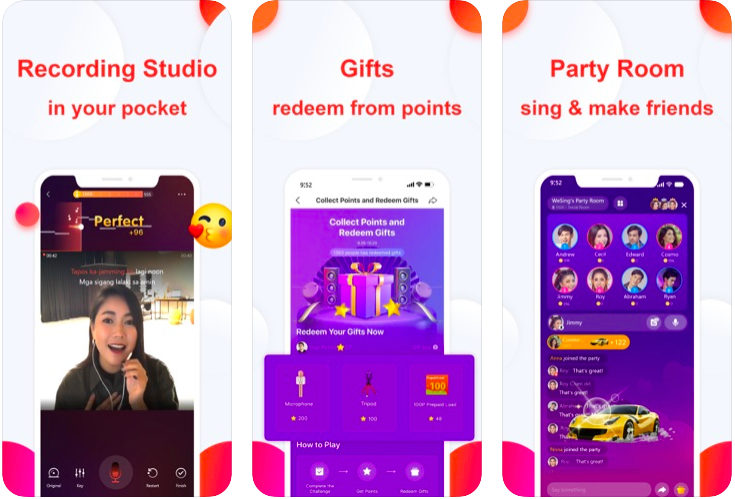 WeSing is the karaoke singing app by Tencent Music Entertainment. You can record your performances on any of your favorite songs and share your talent on the internet.
You can record and edit karaoke songs. Use pitch correction and check it in real-time. You can also add video filters to make your recording more professional. The app also has voice effects to make your recordings more interesting.
The WeSing app has huge high-quality library covers hit songs. It also supports duets with celebrities.
Read More, best funny video apps for Android
Wrap Up
These popular and best karaoke apps can make you popular among your niche. You can also join communities in these free karaoke apps and make friends and fans. So, what are you waiting for?? Sing with karaoke apps and make some fans and friends on the internet.
Recommended Videos