10 Best Guitar Tuner Apps for Android and iOS
Musicians always take care of their instruments, especially the strings and tunes of the instrument. If you are into guitar then surely you know that your guitar can be out of tune. The guitar won't sound good no matter how perfect the guitar player you are. If you are an expert musician, you can tune the guitar by ear or can use a guitar tuner. Some of the musicians also use the microphone of the smartphone to tune the guitar. But it takes a lot of effort.
In such conditions, the guitar tuners app can help you in tuning your guitar. It works on the same concept as the microphone of the smartphone that expert musicians use. These days smartphones have updated and better microphones and developers have been able to use smartphone microphones to make guitar tuner apps. So, the guitar tuner apps are better than they once were as are mobile phone microphones.
We tested and curated some of the most popular and best guitar tuners apps. These apps can help help you in tuning your guitar. All of these apps are free with an in-app purchase option.
Best guitar tuner apps
Here are the best guitar tuner apps for Android and iOS. If you are a guitarist then do install one of these best guitar tuner apps on your mobile. By installing it if you don't need to spend money on guitar tuners, or worry about losing it.
1. Guitar Tuna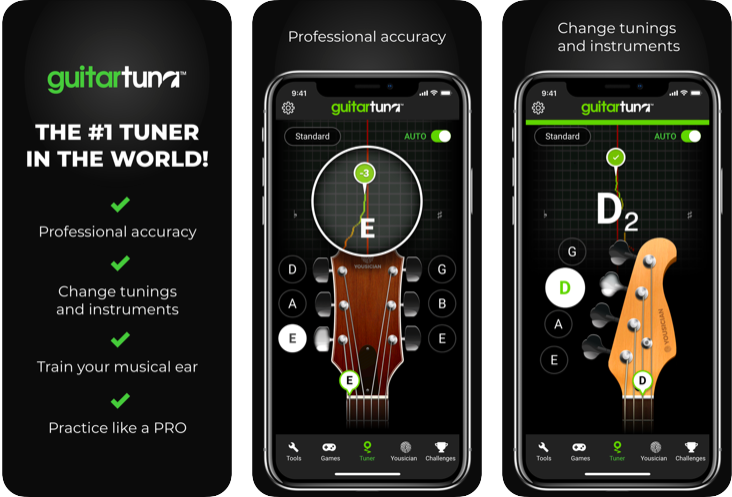 Guitar Tuna is one of the popular guitar tuner apps, used by guitarists. The guitar tune app is easy to use, fast, and accurate. All you need is to pluck a string, and the app will detect the string and how much tuning it needs by using the device's microphone. This app has more than 100 tunings for 15 instruments.
The free version of Guitar Tune is limited.
2. Fender Tune
I think all of you are familiar with Fender Name. Fender is one of the biggest names in guitars and the company also has a tuning app. It is easy to use with a clean interface. The app has accurate tuning for guitar, bass, and ukulele, along with 26 alternate tunings.
The free version of this Tune app comes with an ad-free interface, Auto-tune, manual, chromatic, custom tuning modes, and Instrument specific tunings for electric, acoustic, bass, and ukulelean. The paid version has additional tuning styles featuring exact cents and hertz references and 40 different non-standard tuning references (A=420Hz to A=460Hz).
3. Pro Guitar Tuner
Pro Guitar tuner app is another tune app for guitar and other string instruments made by Online Gitar Tuner named Proguitar. The interface of this app is similar to this website but optimized for Android and iOS. This app listens and analyze the sound in real time from the built-in microphone of the mobile, headset, guitar clip-on, or from any other external microphone.
4. Chromatic Guitar Tuner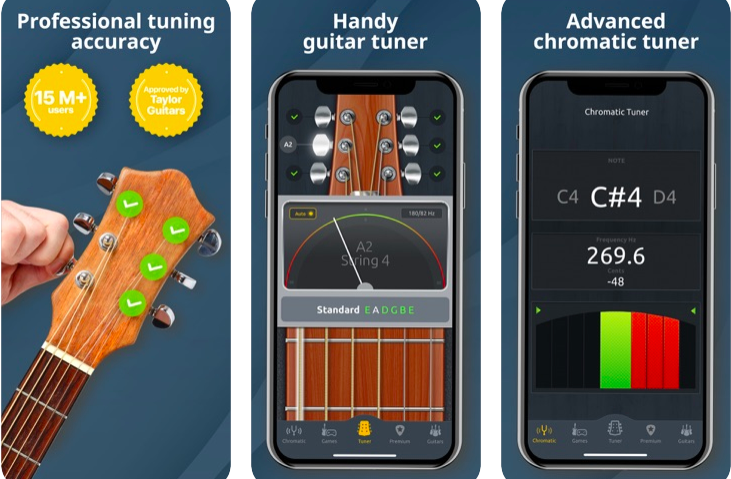 The Chromatic Guitar Tuner app helps to tune an electric or acoustic guitar with precision and ease. You don't need any additional equipment to tune your guitar. This app also works like other guitar tuners.  You don't need your guitar amp. This app will pick up the electric guitar or bass unplugged with the help of the mic of the device.
Download Now: Android
5. BOSS Tuner
The BOSS Tuner app is built with BOSS's trusted and world-renowned chromatic tuning technology. This app also uses the mic in your device to tune a guitar, bass, and other instruments like violin, cello, brass, etc. The tuning range of this app is from A#0 (29.14 Hz) to G8 (6,271.93 Hz) with a tuning accuracy of +/- 1 cent.
6. CarlTune
CarlTune is a multi-instrument tuner that works for guitar, violin, viola, flute, cello, bass, ukulele, saxophone, guitalele, mandolin, mandola, gayageum, and many more. The app includes a functional UI with the frequency, octave, note, and more information for effective tuning. Additionally, you can use custom tuning settings in the app.
This one is free but has advertisements. You can pay for the ad-free version.
7. Cifra Club Tuner
The Cifra Club tuner app can tune electric guitar, bass, cavaquinho, banjo, ukulele, violin, viola, cello, or any other stringed instrument. This app also works on the same microphone concept. You just have to play a string of your instrument and the app will tell you whether to tighten or loosen the string until the pointer is centered and green to the desired tone. If it turns orange just tighten it, and if it turns red lose it.
8. gStrings
gStrings is a chromatic tuner app that measures sound pitch and intensity of any musical instrument like the violin, viola, violoncello, bass, guitar, piano, wind instruments, and even your own voice/singing. It also supports user-defined custom tunings.
Download Now: Android
9. Pitched Tuner
Pitched Tuner app is designed by musicians to help people to easily tune their instruments using the microphone on their device. You can tune Ukulele, violin, mandolin, flute, guitars, voice, and many more instruments with this app. It can tune even very low bass strings. Pitched Tuner app has two modes; Instrument tuner and Chromatic tuner.
10. Smart Chords and Tools
The smartChords is for every musician from beginner to professional. It has more than 1,000,000,000 chords and fingering options for a variety of instruments such as guitar, banjo, bass, mandolin, ukulele. The app integrates many other interlocking tools such as Tuner, Metronome, Scales, Songbook, Setlist, Chord Progressions, Arpeggios, Circle Of Fifths, Reverse Chord Finder, Pattern trainer, Transposer, Musical Audio School, Virtual Instrument, and Notepad.
Download Now: Android
Also see: Best Free Android Music Player Apps
There are many guitar tuners apps out there. If you don't want to spend money on a guitar tuner, you can always use your smartphone as a Guitar Tuner. This list of guitar tuner apps has many options. You can choose one as per your instrument and the accuracy of the app. These apps have in-app purchase options if you want more from the guitar tuner apps.
Can I tune my own guitar?
Yes, you can. Tuning a guitar is not as complicated as it looks. You can use a good guitar tuner app to tune your own guitar.
Is there a good free g guitar tuner app?
Yes, there are a few. I have already made a list of the best guitar tuner apps. Fender Tune and Guitar Tuna are two good apps.
Should I buy a guitar tuner or use an app?
The best way is to get a guitar tuner If you are a professional guitarist. For a hobbyist guitarist or a beginner, a guitar tuner app is fine.