[Review] TP-LINK 300 Mbps Wireless N Router (TL-WR841HP)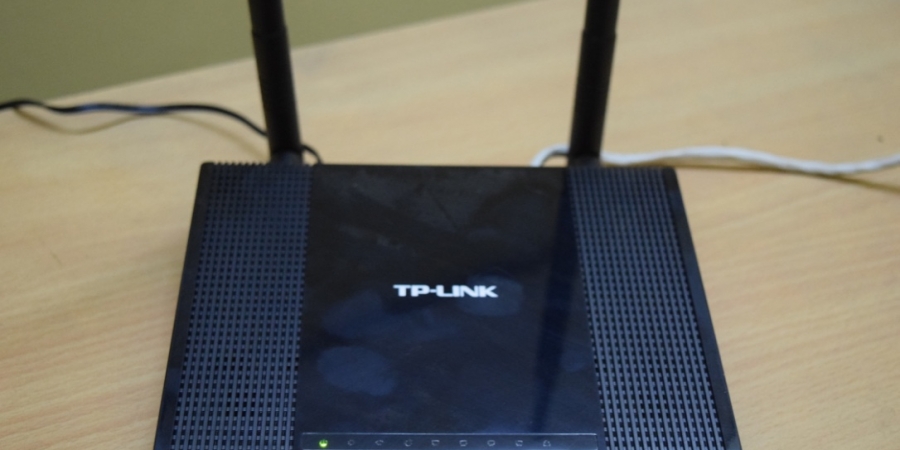 Router is an important device for us. Most of use use routers to have a wireless network at home of office to connect all our devices with Internet. In past, we have reviewed few routers and this post is also about the same. Tp-Link is a well known brand which offers computer accessories. In this post, I am going to review its new product TP-LINK 300 Mbps Wireless N Router (TL-WR841HP).
[Review] TP-LINK 300 Mbps Wireless N Router (TL-WR841HP)
Unboxing
Up to 30% off on laptops
BIg discount on popular laptops
These are the things you will get inside the box:
300 MBPS wireless N router
2 detachable omni directional Antennas
Power adapter
RJ-45 Ethernet Cable
Resource CD
Installation Guide
Design
Design of the  router is good and attractive. Top side has glassy finishing which improves the look. Body measures: 6.6 x5.1 x1.2 (inches). There are two 5dBi antennas for high transmission power. It has 4 LAN ports, 1 WAN port, WPS/RERT button and power jack at the back side of the device. Antennas are detachable and are long.
Key Specifications:
These are the key specifications mentioned by company.
High power amplifier and two detachable external 9dBi high gain antennas provide superior wireless range
Enhanced Wi-Fi signal cuts through walls and obstacles, eliminating dead zones
Excellent wireless speed over long distance brings a more enjoyable experience for your whole-home network access
300Mbps wireless speed ideal for video streaming, online gaming and VoIP
Liver parental control
HARDWARE FEATURES
Interface
4 10/100Mbps LAN Ports
1 10/100Mbps WAN Port
Button
WPS/Reset Button
Antenna
2*9dBi Detachable Omni Directional Antenna (RP-SMA)
External Power Supply
12VDC / 1A
Wireless Standards
IEEE 802.11n, IEEE 802.11g, IEEE 802.11b
Supported platforms:
Microsoft Windows 98SE, NT, 2000, XP, Vista or Windows 7, Windows 8, Windows 8.1, Windows 10, MAC OS, NetWare, UNIX or Linux. I checked it with WIndows 8, Windows 8.1 and Windows 10.
Performance
TP-LINK 300 Mbps Wireless N Router works good for home and small house. It has capabilities to push strong signals even if you have closed the doors of your room and router is placed in another room. It also has capabilities to eliminate dead zones. It offers good connection speed (up to 300 MBPS) but of course, it ultimately depends on your ISP. So, I cannot check the maximum speed claim due to ISP restriction.
WPS is also there to connect your wireless device with router even without knowing the default wireless password. Of course you can access the configuration section to set the wireless password.
Various features like WI-Fi security, Parental control, bandwidth control,Local Management Control, Host List, Access Schedule and others improve the usability of this router.
Its range is surprisingly good. One good fact is that you will not face any speed drop issue if you are not close to router. If you somehow managed to get into the range of this router, you will see good connectivity. Range of the device is good enough for a large home or small offices. I assume it to be around 30 meter from my personal experience.
Firmware
Firmware is easy to use and lets you change various options to configure the router as per your desire. At the left side, you will see various options to access different segments. To setup the router, connect it with your system over lan and access the admin panel by using 192.168.0.1 ip address. You can add wireless password from this section.
Parent control, access control, bandwidth control, forwarding, security, IP & MAC Binding and other options are there.
Best part of the firmware is that it also describes the term and options in a section in the right part. So, you will not have any confusion while configuration. If you do not know anything about a particular option, you can use the right part of the page to learn about that thing.
TP-LINK 300 Mbps Wireless N Router (TL-WR841HP) is a very good product if you want to use the features it offers. It is a good product for parents who are worried about their children's safety.
TP-LINK 300 Mbps Wireless N Router
"TP-LINK 300 Mbps Wireless N Router is a good router to use at home or small offices. Due to high speed connectivity, it is good for those who usually use Internet for online gaming and video streaming."
The Good
Good Design
Good connectivity
Good Wireless coverage range
Breakdown
Design 70%

Performance 80%

Features 75%

Usability 80%

Value for Money 70%