Tenda Nova MW6 Review: Affordable and good Mesh Wi-Fi System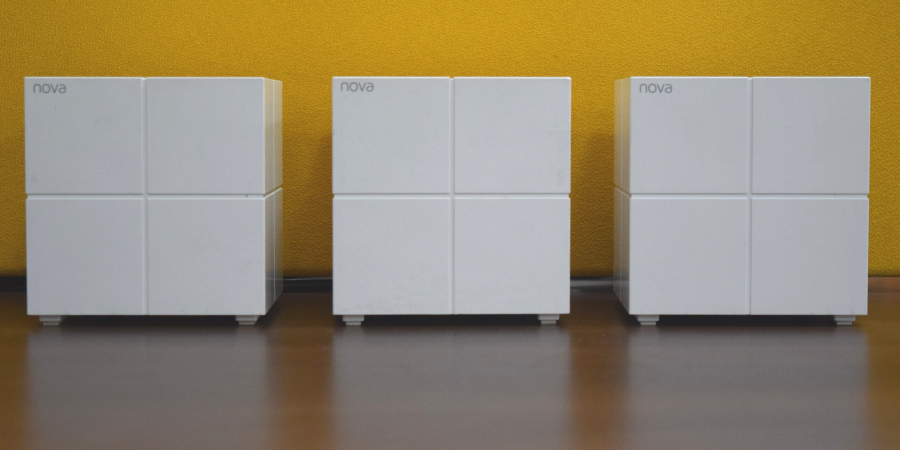 If you have a large home or large workspace where your router fails to cover the entire area, you should know about Tenda Nova MW6. Tenda Nova MW6 is a mesh WiFi system designed to cover a large area. It also comes with an affordable price tag. This mesh system can cover up to 6,000 square feet of area. So, it is really useful for setting up WIFI on office or a hostel in fewer efforts. I recently used this at my office to see how well it can work. Based on my experience, here is the review of Tenda Nova MW6.
Buy Here: Amazon (Rs. 16900)
Tenda Nova MW6 review
You get three white cubical devices with a charger for each. Each cubical device weighs 664 grams and measures 3.1 x 3.1 x 3.1 inches. The white color unit looks really good and can match any interior without running its beauty. The plastic build feels good and minimal look makes it pleasing.  There is a small LED light at a corner on the top side. The LED light shows a different color depending on the status of the device.
On the bottom side, it has a space to keep two Ethernet ports working at 1 Gbps and a power jack.  There is also a Reset jack that acts as a WPS button. Along with ports, back side also has a sticker containing a QR code and default Network' s SSID and password details. There are also enough heating vents at the back.
Each Nova MW6 Unit packs 1 GHz processor with Realtek RTL8197FS SoC, 128 MB RAM, and 16 MB storage. There are also two 3dBi internal dual-band antennas.
Tech Specs
Router type: AC1200
Wireless: Dual-Band
MU-MIMO: Yes
Dimensions: 100 x 100 x 100mm per node.
Processor: 1Ghz
Antennas: 2 x 3dBi internal dual-band antennas
Memory: 8MB flash + 128MB RAM
Ports: 2x Gigabit Ethernet,
Number of nodes in box: 3
It is really easy to set up and use. You only need to connect any of these units to your internet connection. Other accompanying units will then automatically connect to the base device and will start working as a repeater. Then you need Tenda WiFi app to set up. It can only be set up using the app. You cannot do this on the system.
Installation
The set up is straightforward. You just need to connect your phone to Nova's default network using the SSID and password details written on each Nova node. Then open the app and it will start the setup process.
When the setup is done, you can see the status of each Nova node on the app. If any of the nodes are not connected, the app will show you. Other two Nodes must be within 10 meters range from the primary node that is connected to the Internet. You don't need to perform any kind of setup for other nodes. Just connect to the power cable and turn them on.
The app shows if the other two nodes are connected or not. There is also an option to disable LED notification if you want. You can also use the app to monitor the speed of your Internet connection and make sure if everything is working fine.
The app also lets you create a guest network with an expiry time. It also comes with a parental control feature that lets you make a group of devices and then limit access to the Internet during certain time periods.
Performance
I enjoyed a strong wireless signal and the quality of the connection was also good. When I was on a closed room that was adjacent to the room where Primary Hub was installed, I could enjoy good connection and speed. I tested both 2.4GHz and 5GHz networks and it was fine. I also tested it by connecting a system over Ethernet connection and didn't face any issue.
The most important thing to say is that Tenda nova MW6 is not the best in terms of network speed. For normal internet usages like web browsing, music streaming, and video streaming, it offers a reliable connection and speed. But it is not ideal for tasks like gaming where you need high-speed reliable connection all the time.
It delivers fast download while upload remains a bit slower than the download. But Most of the Indian ISPs offer connection speed of up to 100 Mbps. In these connections, you can never touch its limits of this mesh.
Final Words
Tenda nova MW6 is not the fastest and best mesh Wi-Fi system but is impressive if you look at its price. It performs well. If you are a gamer who needs the fastest possible Wi-Fi performance, you should go for an expensive tri-band router. If you are a normal consumer who wants a big area to be covered by a single connection, you can consider this one. This product is also not for everyone but only those who are looking to cover a large area.
Buy Here: Amazon (Rs. 16900)
Tenda Nova MW6
"If you are looking to set up a Mesh Wi-Fi System but also want to save a few bucks, Tenda Nova MW6 should be your choice."
The Good
Good performance
Affordable
Easy to setup and use
Breakdown
Design & Build 75%

Ease to setup 80%

Features 70%

Performance 70%

Value for money 75%