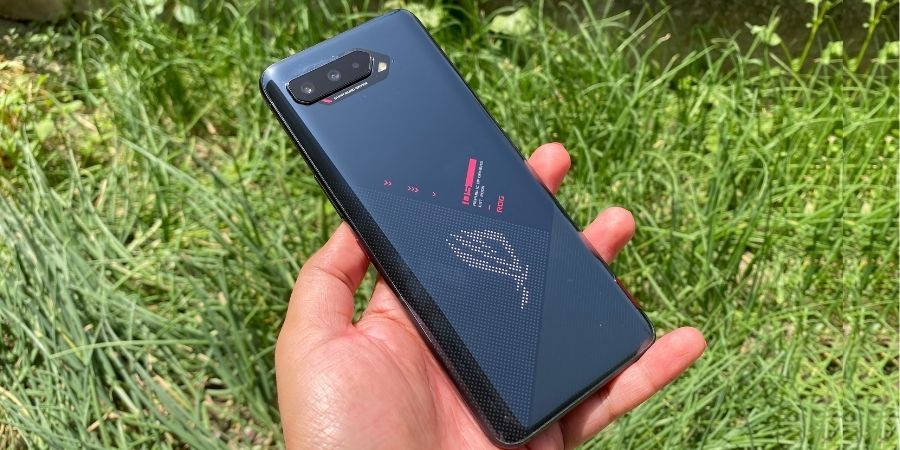 When Asus announced ROG Phone 5 last month, I posted the first impressions of ROG Phone 5 talking about design and specs. At that point, I wasn't in the condition to talk about the performance in detail. Now after testing this phone deeply, I am ready with my ROG Phone 5 review. The unit I used is the ROG Phone 5 with 16GB RAM and 256GB storage.
Now when mobile games are part of several e-sports events, the need for a dedicated gaming phone is high. This is why several smartphone companies are now focusing on gaming phones. ROG Phone 5 is the successor to ROG Phone 3 and comes with improvements in almost everything.
Asus has also improved the design to make this phone look even better. It has a modern flagship feel and tall form factor for landscape use. It has narrow top and button bezels to offer front-firing stereo speakers. The top bezel also includes a selfie camera, earpiece, and notification light. The front pant also has Gorilla Glass Victus protection.
Volume rockers and the power button is on the right edge. It also has improved AirTriggers at the ends of the right edge. These AirTriggers provide additional gaming controls. I will talk about AirTriggers later in this article. On the left edge, the phone has a SIM card slot along with a USB-C port and a POGO pin connector to attach ROG gaming accessories such as AeroActive Cooler 5. The base side has a headphone jack and USB-C port.
The back panel is made of glass but feels plastic. There Gorilla Glass 3 protection on the back as well. There's a triple camera setup on the top left corner. It also has a dot-matrix-style light-up ROG logo. The RGB light of the logo can be customized. If you don't like it, you can disable the ROG logo light. There are also Republic of gamers and ROG brandings.
The phone feels bulky and is heavy. But it was expected because the phone packs a large battery and has a solid design.
ROG Phone 5 comes with a large 6.78-inch AMOLED display with 2448×1080 pixels resolution. The display has HDR10+ certified and has Widevine L1 to offer excellent colors for an awesome movie experience. The display looks sharp and has good outdoor visibility. You can read properly even under the sunlight. The AMOLED panel boasts 111% DCI-P3 color space coverage and 150.89% of sRGB. The display panel promises up to 800 nits at APL100 and up to 1200 nits at APL1. This makes ROG Phone 5 brighter than ROG Phone 3.
The display can also be tuned. You can select color preset and color temperature. Asus has also reduced the minimum brightness in ROG 5 that was a bit high in ROG 3. This is helpful for night time usage. There is also the "Night Light" option that actually the blue light filter mode to have the comfort to eyes at night. The display of ROG Phone 5 has wide viewing angles but I feel the color shift when seeing the display from an angle.
The display has up to 144 Hz refresh rate and you can choose to have 60, 90, 120, or 144Hz depending on your need. There's an Auto selection that chooses the best refresh rate automatically. The touch latency is also 24.3 milliseconds, the world's lowest. That means the phone reacts faster than any other smartphone available in the market. This will certainly give an advantage to gamers.
ROG 5 also has an always-on display option but you need to enable it manually. If enabled, it shows time, date, battery percentage, and notification icons on the screen when the display is locked.
The phone packs top-tier specs to offer the best possible performance in an Android phone. It comes with Snapdragon 888 5G processor. The CPU has a max clock speed of 2.84 GHz on its primary Kryo 680 core. The variant I am using has 16 GB of RAM. This phone is really fast and super smooth. It can handle everything one wants to do on a smartphone. Switching between different apps, page scrolling, app launch, and multitasking feel really smooth.
This is a gaming phone and Asus knew that gamers will be using it for long gaming sessions. So, the company has also taken care of the cooling setup to avoid overheating. The company also offers AeroActive 5 cooling accessory to further cool the phone if you are a hardcore gamer and play games for hours.
There is no game available on Android that this phone can't run. I played several games and found impressive results. The phone manages to offer a smooth gaming experience. Even the high-end games run really smoothly without any lag of frame drops. I was getting consistent frame rates and the touch response was accurate.
You can also tweak the CPU performance using the Armoury Crate app. You can tweak thermal limit, CPU performance, CPU performance, and RAM performance for specific games by creating game profiles. Armoury Crate also lets you tweak display and Network settings to boost your gaming performance.
Game Genie is an interesting feature of the RIG UI. It is basically an in-game overlay that has several options for gamers. To get Game Genie while playing a game, you just need to swipe from the left side of the screen to the right side. All the options in the Game Genie are self explanatory. You can disable any alert or calls for gaming without any interruption. It also lets you change the refresh rate and lock brightness. If you want to use AirTriggers, you can use Game genie to enable and configure AirTriggers.
All the options available in the Game Genie interface can be changed using the Game Genie menu. You can change the options' order as per what you use frequently. It can be found inside Armoury Crate and another in the general Settings.
ROG Phone 5 also does an excellent Job on different benchmarks and easily beats other phones powered by the same Snapdragon 888.
The phone runs on ROG UI based on Android 11 out of the box. This UI has been designed to keep gamers' interests in mind. This is a dark UI with white text and icons to match the gaming environment. It has interesting animations, glowing effects, and more. The quick settings panel has lots of quick toggles. Even if the phone comes with a UI for gamers, you can still access Asus' theme section to download and install from thousands of beautiful themes.
The UI has several useful features. There is a mobile manager that lets you manage RAM and storage. You can use it to clear memory and also check the data usage. It also has a Privacy & security option that checks all the installed apps and checks what apps can read notifications, what apps can show messages on the lock screen, and what apps can access your calls or messages.
The Twin app section lets you clone the app to run two instances of an app. For example, if you want to have two Facebook app to manage two Facebook accounts. You don't need to download any separate app for apps cloning.
The UI also supports several gestures to perform quick actions. Gestures include double-tap to wake up, flip down to mute, lift the device to ear for auto call answering, and more.
You also get a built-in screen recorder and screenshot manager. You can enable a three-finger screenshot and can also set the screenshot format. Screen recorder also lets you select frame rates and several option useful options to make the screen recording experience even better.
If you are buying this phone for your kid, you can use the parental control option to limit how much your kind can play games and what apps can access.
Asus has also included the clean UI for those who do not like this ROG UI. The clean UI gives this phone a look of a regular Asus phone. People who are not hard-core gamers can enable this clean UI anytime they want.
ROG Phone 5 comes with a triple camera setup that includes 64 megapixels main sensor along with 13 megapixels ultrawide shooter, and a 5 megapixels macro lens.
The phone has an impressive camera performance. It captures really good photos in daylight. Photos have decent clarity and a vivid range of colors.
The low light performance of the primary 64MP camera is good and is the same as what you expect from a good camera phone. Even in outdoor shots, I didn't see much noise. Asus has added a Night Mode that automatically detects the best camera setting and is certainly doing a good job.  Here are some camera samples that I captured at night.
The phone has a 24 megapixels selfie camera that is also a Quad-Bayer unit and results in a 6 megapixels selfie. This is a fixed focus sensor and the focus is set to a standard arm's length. This camera captures good shots with nice colors, good details, and proper sharpness. It properly handles lights and shadows. There is also an option to capture portrait selfies. The software algorithm to blur the background is impressive and you get a good bokeh effect. This selfie camera also does a good job in low light. Even though there is no Night mode for the selfie camera, it still manages to capture usable photos. So, overall this phone offers a good selfie camera experience.  Here are some selfie camera samples.
Let's talk about the video recording capabilities. The ROG Phone 5 can record way up to 8K videos. The Cora app lets you choose an encoder and you also get features like Mic focus and Wind noise reduction. When I tested the 8k recording, the results were good. Video had good details and nice colors. It also has good stabilization. For 4K videos, you get 60 and 30 fps options. 4K videos are slightly better and way more stabilized. The ultra-wide camera of ROG Phone 5 can also record up to 4K videos but isn't as impressive and sometimes suffers in stabilized. In all the video modes, EIS does a good job. Along with the regular EIS, there is also a HyperSteady mode that can be turned on manually. It limits the video capture to 1080p but provides super smooth videos. Unfortunately, this mode works only with the ultra-wide-angle.
Audio is another notable thing in ROG Phone 5. This phone has bigger and louder stereo speakers as compared to its predecessor. The audio performance is better and this phone sounds better than many entry-level Bluetooth speakers. This phone also has an AudioWizard app to tune the audio. You get an equalizer to play around with. There are predefined scenario effects. You can also boost treble and bass using the sliders. I am really impressed by listing to such a quality sound on a smartphone.
The phone also has a headphone jack and features a high-quality DAC for impressive wired sound. Getting a headphone jack back will surely bring a smile to many people. If you have quality wired headphones, you will enjoy the high-quality premium sound and won't miss any detail. Not just on wired earphones, it offers amazing sound on Bluetooth earphones. So, there is no compromise in the music department.
Asus has included a quad microphone array on the phone with its noise reduction technology. The placement of these mics is also good and the company has made sure you don't cover mics while holding the phone. So, you get an amazing calling experience. Even if you don't use a headphone with mic, you can still get a good voice chat experience during gaming sessions. But I still recommend the use of a good wired headphone or a low-latency Bluetooth headphone to use while gaming. Because headphones give a better idea of sound direction. It is important to understand the footsteps and other important sounds.
This is a dual SIM phone with 5G support in each slot but not concurrently. So, only one SIM can remain at the 5G network at a time. It also only supports 5G Sub-6. No mmWave support. The phone also has Dual-Band Wi-Fi a/b/g/n/ac/ax and Wi-Fi 6 with 2×2 MIMO support. It also has three Wi-Fi antennas. The phone also supports Bluetooth 5.2 and comes with two USB C ports.
ROG Phone 5 packs a 6,000mAh battery capacity but the company has used two 3,000mAh batteries in place of a single 6000 mAh battery. This change allowed the company to put the CPU at the center of the phone for reducing the heat generation and allowing the phone to recharge faster. If I talk about the batter performance, it impresses. Even if you play games a lot, it will last for around 10 hours on a single charge. On regular usages like social media apps, emails, and videos, you can easily get more than a day usage. I had set the refresh rate to Auto. Of course, these hours will drop if I set the refresh rate to 144Hz.
Asus also has 4 different system modes that adjust performance based on your usage to provide max battery life. When you are not playing games, disable the X-mode and it will optimize the performance for offering a better battery. If you further want to boost battery life, go with Ultra Durable and Advanced modes. There is also an option to schedule power-saving. The phone will automatically enable and stable ultra-durable when during the time period you define. You can set it for the night when you usually sleep. During this period, the phone's battery will drain really slow.
It also supports bypass charging that lets you plug the charging cable to power your gaming session without recharging the battery. This avoids building up extra heat due to charging and your phone won't head while you are playing games.
The phone lacks wireless charging but I still don't have any complaints. Including wireless charging will be complicated because the phone already has complicated internals for optimal cooling. The company has provided two ports for charging convenience.
Wrap Up
ROG phone 5 comes with high-end specs and also includes several supporting accessories, gaming-specific design, and software features to offer a good and comfortable gaming experience. ROG Phone 5 does what it claims. ROG Phone 5 is a powerful smartphone that ticks many boxes. If you are into mobile gaming, this is the best gaming phone available in the market right now. So people who play mobile games a lot or take part in mobile gaming events should buy this phone. The phone has an impressive display and amazing sound performance. So, people who want movies and OTT apps a lot can consider this phone. The battery life is another plus point. The phone has capable cameras but obviously, it is not the best setup. There are a few phones with better camera performance in this segment. You can go with iPhone 12 or Galaxy S21 Plus for a better camera. The phone is also bulky. Now it depends on your priorities.
ROG Phone 5
"Asus ROG Phone 5 is the best gaming phone available in the Indian market. Even if you are not into gaming, ROG Phone 5 is one of the best flagship phones you can get."
The Good
Good display
Powerful performance
Amazing speakers
Long battery life
AirTriggers
The Bad
No water resistance
No Wireless charging
Breakdown
Design 80%

Display 85%

Performance 90%

Camera 80%

Battery 85%

Value for money 90%