A few days back OnePlus launched its third phone 'OnePlus 3' in its flagship series. This phone was already leaked and we knew the design and specs of the phone before it was officially launched. As the OnePlus 2 didn't meet the expectations, we all were expecting this phone to bring something we are really waiting for. This is the reason I was also excited to see this phone and experience it. Does this phone really impress? Is this the flagship killer we were waiting for? Let us see in our in-depth OnePlus 3 review.
Design
The design is the most notable change in OnePlus 3. This time, the company has followed the metal design trend and hence the back cover is not removable. This phone feels like very premium. It looks similar to HTC 1o but most of the phone with metal unibody design looks similar. Metal also makes this phone slippery. If you want, OnePlus also offers snap-on covers made of wood, bamboo, and other materials.
On the right edge, it has the toggle button to turn notifications on and off. You can also turn on priority notifications with this. Below this toggle, it has volume rockers. The pPower button is on the right side of the phone.
Display measures 5.5-inch but the phone is actually large. So, it will be difficult to reach to the top of the screen for people with small palm. Below the display, it has a home button equipped with the fingerprint sensor. This home button has two capacitive touch buttons at both sides.
The bottom side of the phone has USB Type-C port, the single speaker, and the headphone jack.
At the rear panel, it has the rear camera which bulges outward. While most of the companies do this, OnePlus 3's camera bulge seems larger and awkward.
Overall this phone comes with good design with perfect placing or external components.
Display
While we were expecting Quad-HD display, OnePlus 3 actually came with full HD display. This is good to save some battery juice and enhance battery performance. The company opted for AMOLED panel which is quite decent. The display also has Gorilla Glass 4 protection to avoid scratches.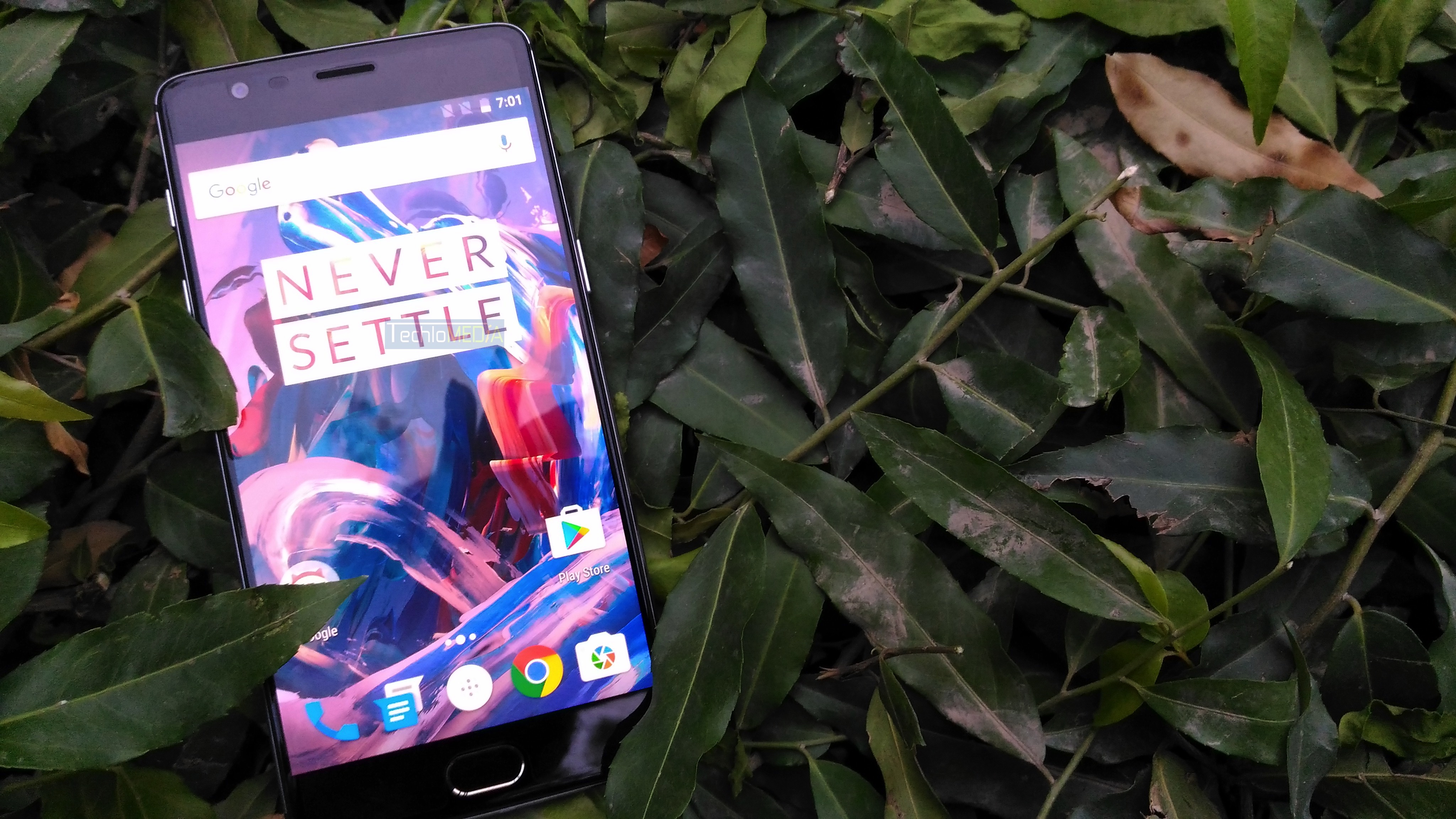 Display performs good and offers good viewing angles. It also offers controls to tweak display settings. If I talk about outdoor performance, daylight visibility is just average even if OnePlus claim the dual-polarizing layer helps to increase sunlight legibility.
You could complain about display but considering the price of this phone, full HD is doing the decent job.
Performance, RAM, Storage
In terms of performance, this phone is brilliant. It is packed with Snapdragon 820 Soc which is the best processor company can use. With 6 GB of RAM, it has a large amount of free RAM to offer you lag free experience and good multi-tasking. RAM is large enough to hold many programs available to process and hence good performance.
In most of the cases, you will be having more than 1 GB RAM always free which is pretty good thing.
Gaming performance is also very good and device manages to keep the temperature under control. You will enjoy smooth gaming performance with loud sound and good graphics.
Benchmarking scores are also very good to show why this phone is a flagship killer.
It comes with 64 GB internal storage which is large enough for you. But there is no option to expand storage. I am not sure if you really need larger than 64GB.
Software
OnePlus 3 runs on in-house developed OxygenOS based on Android 6.0.1 Marshmallow. Best thing is that there is no bloatware. You only get Google services. You can download more apps from Google Play store. This OxygenOS lets you customize the interface and you can choose different colors for menu items, change the colors of LED notification, use your own icons pack, use gestures controls and more. It also has double tap to wake up feature.
To help you in the night, it has Night Mode which will tint the display to reduce eye strain when you look at the display in the dark.
While I know that OxygenOS is not mature enough, the company has given its best performance this time. In my first week of use, I didn't find any major bug in the software.
Camera
OnePlus 3 comes with the upgraded camera and this time it is packed with the 16-megapixels rear camera with f/2.0 aperture, Optical Image Stabilization, and phase detection autofocus.
The camera app is upgraded with the cleaner look. It is also smooth and performs really well. I am not sure if I ever noticed any lag or delay with a shutter. The camera has automatic HDR but you can set it to on or off.
You also have manual mode in camera app which lets you select various things including shutter speed, white balance, focal point and more.
In door photography has been improved as compared to OnePlus 2. But, it is still not that much of great. There is very little noise in low-light. Samsung Galaxy S7 is still the best camera phone for low-light performance. But, I can say that the camera in low-light is actually similar to camera performance of Nexus 6P.
It can record up to 4K videos, time-lapse video, and slow motion videos. So, you have all the expected options for recording. The front camera can also record full HD videos.
Connectivity
OnePlus 3 offers various connectivity options. The best part is that OnePlus flagship has got NFC connectivity back which company removed in OnePlus 2. Other connectivity options are Wi-Fi 802.11 a/b/g/n/ac, Bluetooth 4.2, and USB 2.0 Type-C port. All these connectivity options work fine. I never faced any issues in any kind of connectivity.
This phone also has good network coverage. In-call audio is also clear and your voice will also be clear to other person.
Fingerprint sensor
The fingerprint sensor is located on the physical home button below the display. It performs fast with good accuracy.
Battery
OnePlus 3 is packed with 3000 mAh battery which could be larger but this battery is performing a great job. It supports Dash Charge via the USB Type-C port which is not as fast as QuickCharge 3.0 but it still performs a good job. It took around 1 hour and 15 minutes in fully charging the device fro 1% to 100%. In my daily lifestyle (I am a power user of smartphones), it gave me little over 3 and half hours of screen on time which is good and offered me around a full day usage. While the company could make it better. Mi 5 was certainly better than OnePlus 3 in the battery department.
Final Words
This year, OnePlus has managed to bring everything as per their plan. This phone is excellent in all departments. 6GB RAM is already a big factor which makes it different from other phones. But its flagship killer performance makes it one of the best phone of this year.
Overall OnePlus 3 is a great device which has almost everything you would like to see in your flagship phone. I call it a real 'flagship killer' of 2016.
Another good thing is that OnePlus 3 is not coming in invite system. So, interested people can buy it without waiting for invites.
OnePlus 3
"This phone is great all round performer in every department. We call it the real 'Flagship killer' of 2016. "
The Good
Sleek design
NFC
Fast fingerprint sensor
DASH Charging
The Bad
Non expandable storage
Camera bulge
Breakdown
Design 85%

Display 85%

Performance 92%

Gaming 92%

Camera 85%

Battery 80%