MOZA Mini-S Review: Best Budget Smartphone Gimbal?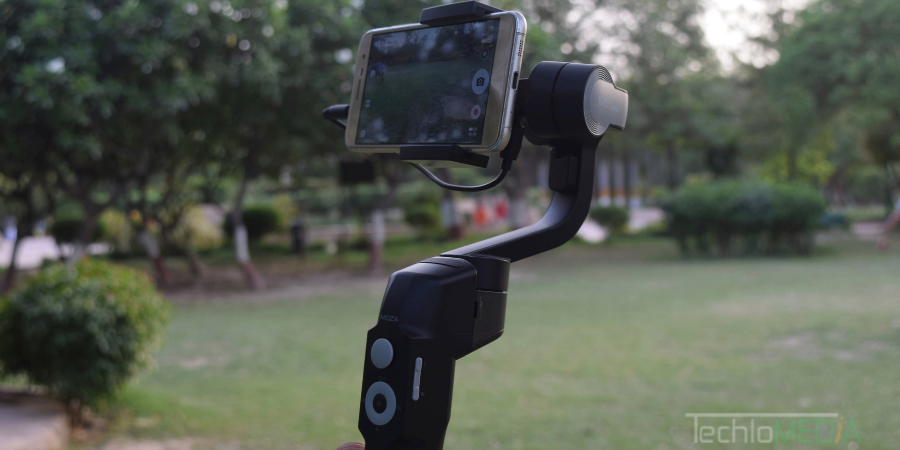 MOZA Mini-S is a 3-axis smartphone gimbal that is compact, flexible and packed with lots of features. It comes with a foldable design that makes it easy to carry. The cost of the Gimbal makes it even more interesting. It costs just $79. Recently I started using it to see how well it performs. Based on my experience, here is the review of MOZA Mini-S.
Buy Here: Moza Mini-S ($79)
MOZA Mini-S Review
MOZA Mini-S is compact and comes with a foldable design. It also comes with a carry pouch. You can fold the Gimbal to put it inside the pouch. Weight is just 495 grams and it can handle a smartphone of up to 260 grams. As per official documents, it supports smartphones of width 58-88mm. That means you can use it with any of the smartphones available in the market.
The Gimbal comes with some control buttons that let you control your smartphone without any problem. Control buttons include buttons for recording, playback, movement of camera and zoom. There is a joystick control for camera angle movement. It will take some time for you to adjust but you will soon learn.
There is also a battery level indicator at the front located below the control buttons. It has three LED lights. Blinking LED means battery is below 20% and you need to charge. When it is charging, it shows a red light. When charging is complete, the red light will off.
A zoom rocker is located on the right side that lets you adjust the zoom of the camera. It has a power button along with USB Type-C at the left side. You need a long press on the power button to turn it on or off. The single press put it on sleep or wake. It has a trigger button at the back. You should refer to the manual to understand how to use these buttons.
The bottom side has a screw where you can attach a tripod. The tripod is included within the box.
The Gimbal holds your phone with a spring-loaded clamp. It has a hard grip but doesn't scratch the edge of your phone. You can use your phone's camera in both landscape and portrait mode.
It uses sensors and motors to adjust the operator movements in real time and keeps your videos steady even if you are walking. I tried it for recording videos and the result was really good. I tested it with a phone that lacks OIS. With the help of MOZA Mini-S, I was able to record smooth videos.
There is a companion app for both Android and iOS that uses Bluetooth connection to pair with the Gimbal. Then you can use this app to use all of the features available on Gimbal. You can always use your phone's camera but using the companion app brings a lot more features and control. The app lets you choose from different video resolution to shoot. It comes with many shooting modes including hyper-lapse, slow motion, Inception, sports gear mode, vertigo and many. You can choose any of these and shot smooth and stable videos.
The app also shows the remaining battery of the phone and Gimbal both.
Controlling the camera angle on Moza Mini-S using the joystick control takes a little practice. The movement is really smooth and doesn't add any kind of shake in videos. Along with joystick, there are few more buttons. You can read the manual to understand how to use different control buttons to control different things. In a few days, you will be an expert on all these things. You can move camera angle using a joystick, switch from the rear camera to front camera, change shooting mode or play a video in the gallery using the control buttons.
The Moza Mini-S does an excellent job in smoothing out videos and keeping your camera steady. So, you can be more creative and record some excellent videos.
It packs 2200 mAh that easily lasts over 7 hours of usage. Battery life is impressive. You can also charge it on the go using your power bank. This battery takes around one and half hours in charging.
MOZA Mini-S is budget friendly as it just costs $79. So, that is one of the cheapest options for Gimbal you have. It still impresses with its solid build, impressive stabilization, and nice features. If you are a vlogger looking for a good budget friendly gimbal, MOZA Mini-S is the option you should go with.
Buy Here: Moza Mini-S ($79)
MOZA Mini-S
"MOZA Mini-S is a cheap but excellent smartphone Gimbal for shooting stable and smooth videos. It is easy to use and value for money."
The Good
Portable
Cheap
Smooth stabilisation
Smooth stabilisation
Breakdown
Design & Build 80%

Features 80%

Performance 90%

Features 70%

Battery 70%

Value for money 85%