Moto G5 Plus Review : A good all rounder in mid-range
Motorola launched its Moto G5 Plus in India with lots of claims about the camera, battery, and performance. So, I decided to try the phone and see if this phone is same as claimed by the company. After using this phone for around a week, here is the review of Moto G5 Plus.
Moto G5 Plus comes in two variants:
Moto G5 Plus (3GB RAM/16GB storage): Buy from Flipkart
Moto G5 Plus (4GB RAM/32GB storage): Buy from Flipkart
I am using Moto G5 Plus with 3GB RAM and 16GB storage. So, the performance of 4GB RAM model will be slightly better due to more RAM availability. Below is the video of Moto G5 Plus Review:
Moto G5 Plus Review
Design
This time Motorola has used the metal build for a G series phone. And it failed to impress in design. This design is solid, slim but it does not impress at all. The company tried to adopt Moto Z build for the G5 Plus. The circular housing on the rear for the camera and LED flash reminds us the same. The company has also reduced the screen size to make it easier to use. It delivers good grip with the curved back, but I was always afraid of placing the phone on any surface in order to keep camera lens safe from scratches.
The power and volume buttons are on the right located at easy to reach position. It has 3.5mm audio jack and Micro-USB port are at the bottom. At the top, it has SIM card and microSD slot tray. You can add two SIM cards and one microSD card.
With metal build, the phone looks bulky but It is not. The weight of the phone is 155 grams. Similar to previous Moto G series phones, this phone also comes with water-repellent nano-coating. This gives Moto G5 Plus an advantage over other competitors in the same price segment.
Display
Moto G5 Plus comes with 5.2-inch IPS LCD display with full HD resolution. It uses Gorilla Glass 3 protection to protect from scratches. During the testing, I found that display is bright and offers nice viewing angles, but the color reproduction was not good because colors were not what they are naturally. The sunlight legibility was decent as well. The display also offers settings to tweak few things. You can change the color temperature.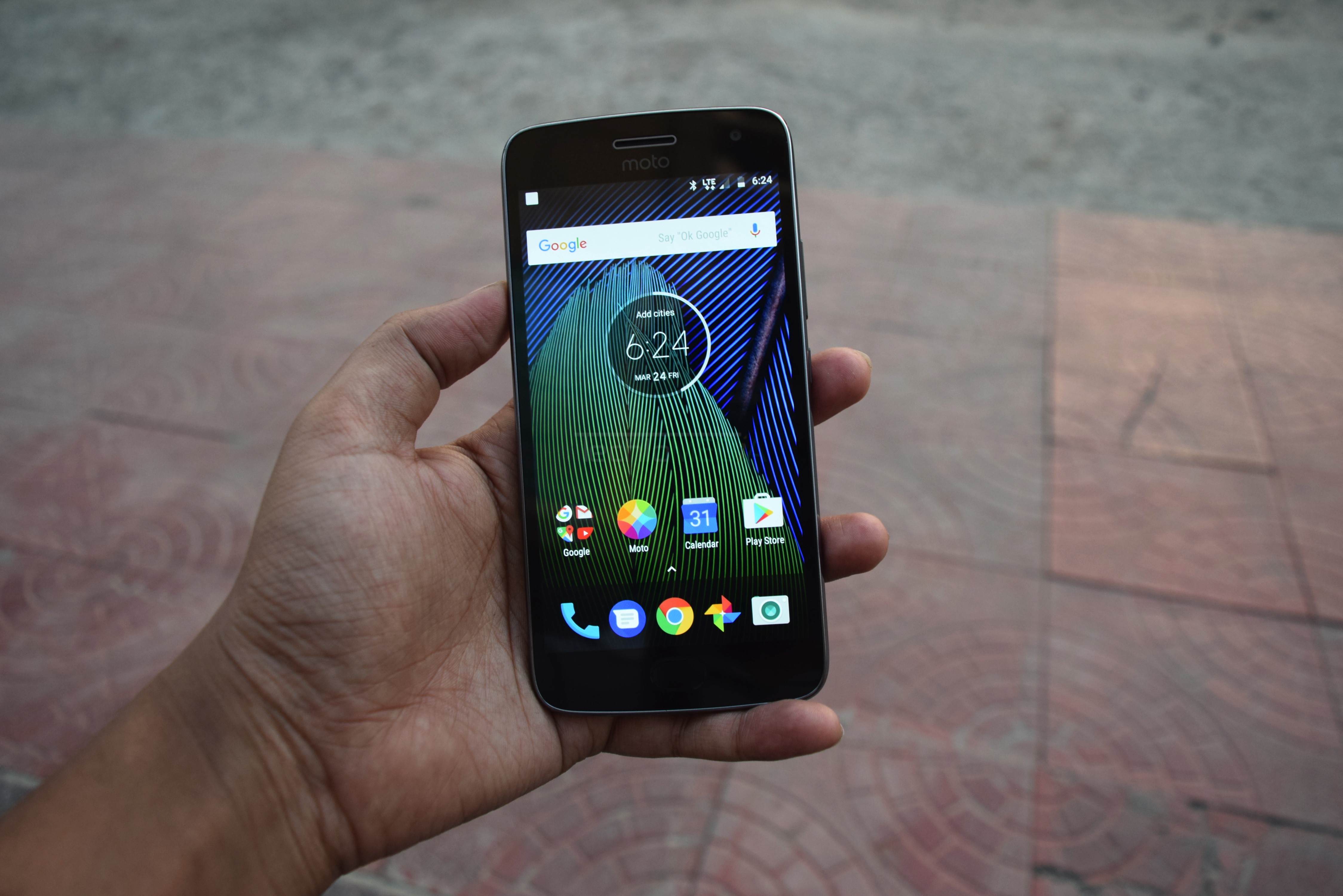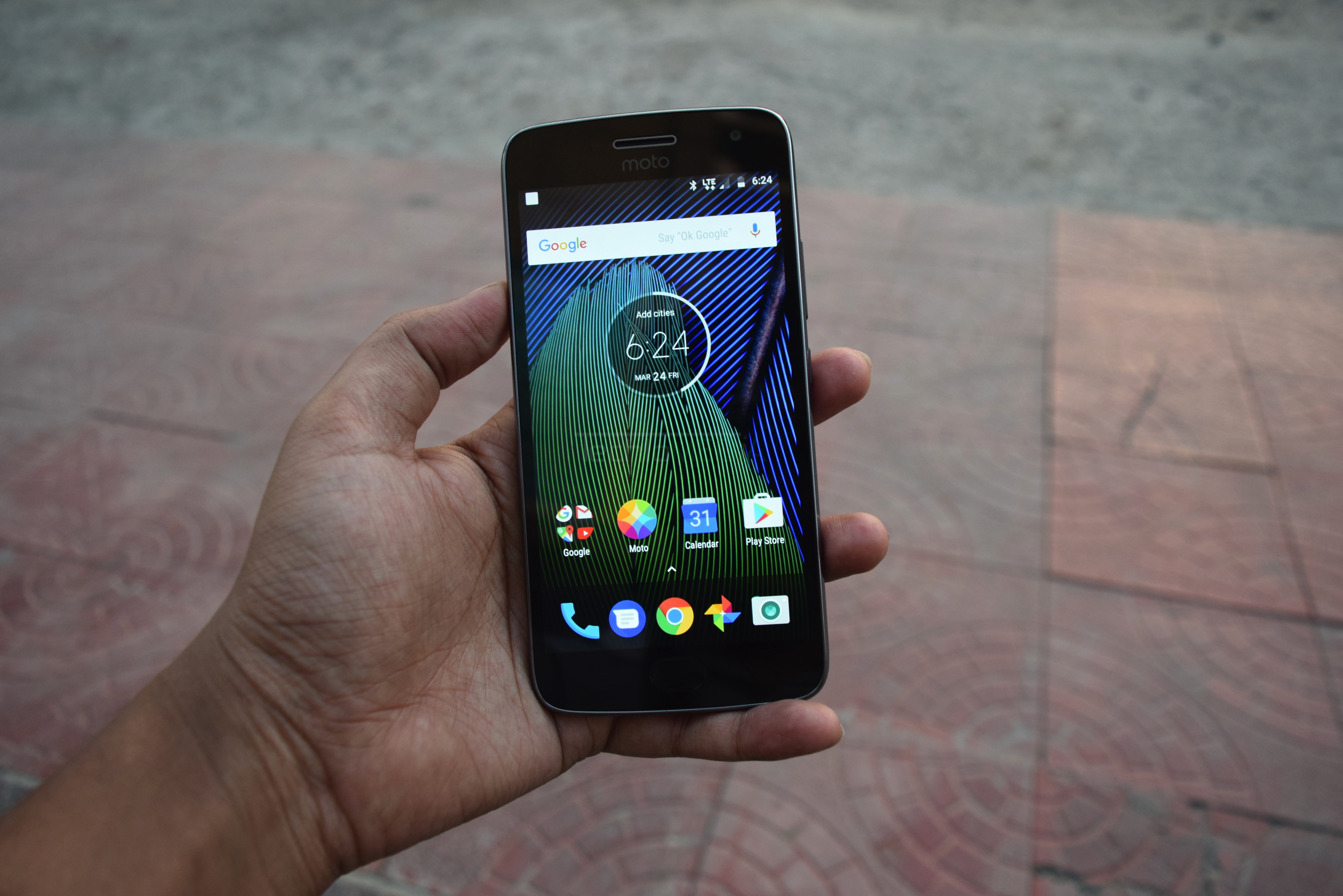 Software
The phone runs on Android 7.0 Nougat out of the box. It comes with several notable software features including Moto Display and more. The software experience is clean and smooth. Google Assistant is a notable feature in the phone. You only need to enable that on the phone and then start using Google Assistant for performing several tasks.
You can enable several gestures to make this phone an important part of your daily life. You can do double chop to toggle torch, twist to launch the camera, flip for 'Do not disturb' and more. By default, it comes with on-screen navigation keys but you can also enable the One-button Nav that allows you to tap or swipe on fingerprint sensor for back or multitasking things. Being true, One Button Nav was confusing for me until I became comfortable with it.
You also get split screen mode to work on two apps at the same time. There are several other tweaks that will surely improve your experience on the phone.
Performance
Moto G5 Plus comes with 2.0 GHz octa-core Qualcomm Snapdragon 625 processor with Adreno 506 GPU. This is the 3GB RAM variant and the 4GB RAM variant is also available. The phone does not disappoint. It can handle most of the tasks easily to offer you the smooth performance. Not just daily usage, the phone delivers excellent gaming performance even with high-end games without lags (ignoring minor lags). During our gaming review, the phone became warmer than our expectations.
It also becomes warm while browsing the web on 4G data and watching videos for a long time. So, the heating can be an issue on the phone because we are already heading to summer when the environment will also be hotter.
The benchmark scores are given below.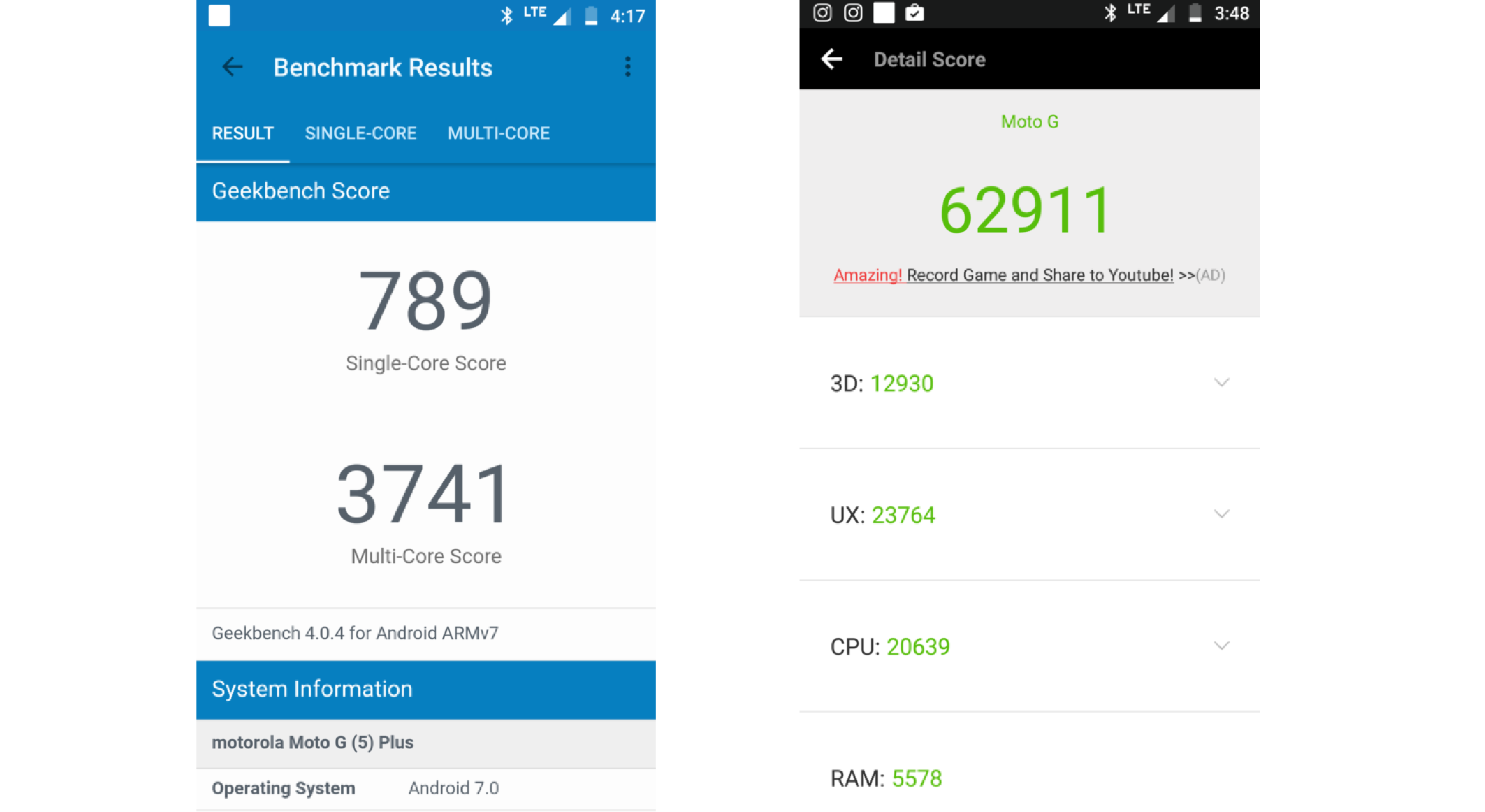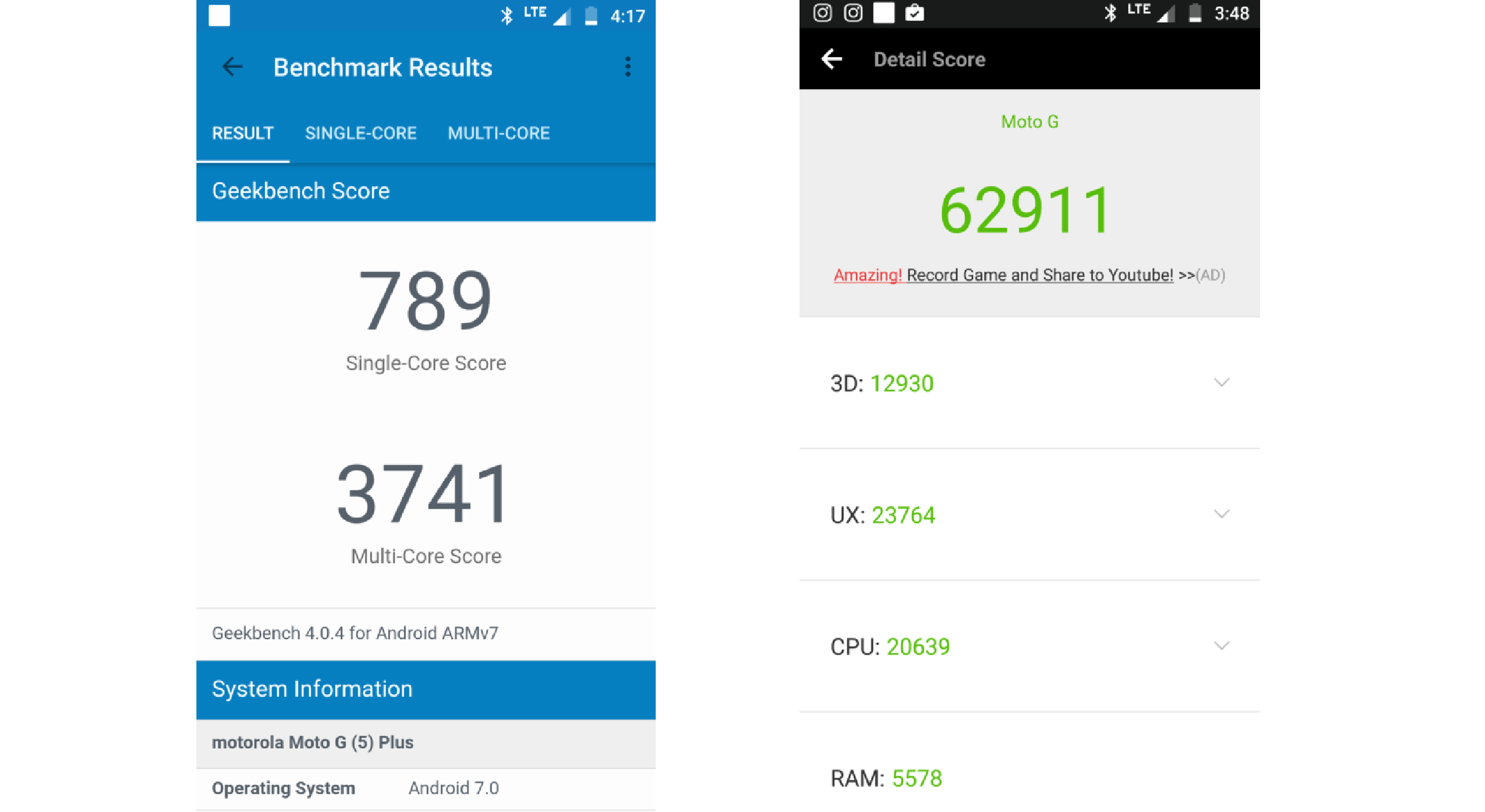 This is the 16GB storage variant and you have options to expand storage up to 256 GB. It supports USB OTG as well. The best thing is that you get dedicated microSD card slot to expand the storage.
Camera
The phone comes with 12 megapixels rear camera with LED flash, Dual Autofocus Pixels, and f/1.7 aperture. With large aperture, the phone claims to offer good camera experience even in low-light. At the front, the phone has 5 megapixels front camera. While the camera hardware is impressive, it lacks optical image stabilization and advanced image signal processing. So, the results were not as good as it used to be.
The camera app of the phone is clean and this time you get Manual mode to try in Moto phone. The good thing is that you can capture photos by tapping anywhere on the screen. The camera focuses fast.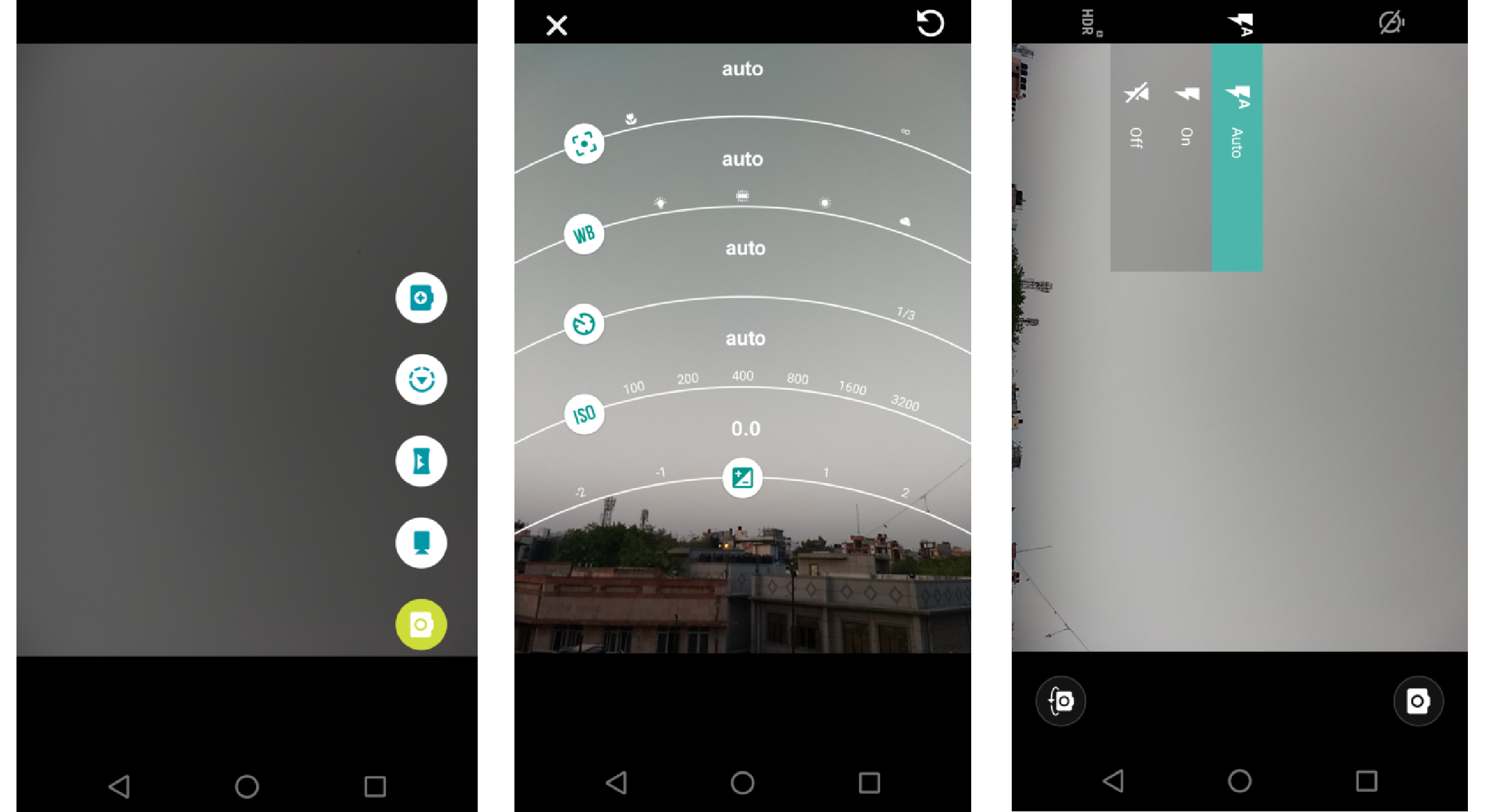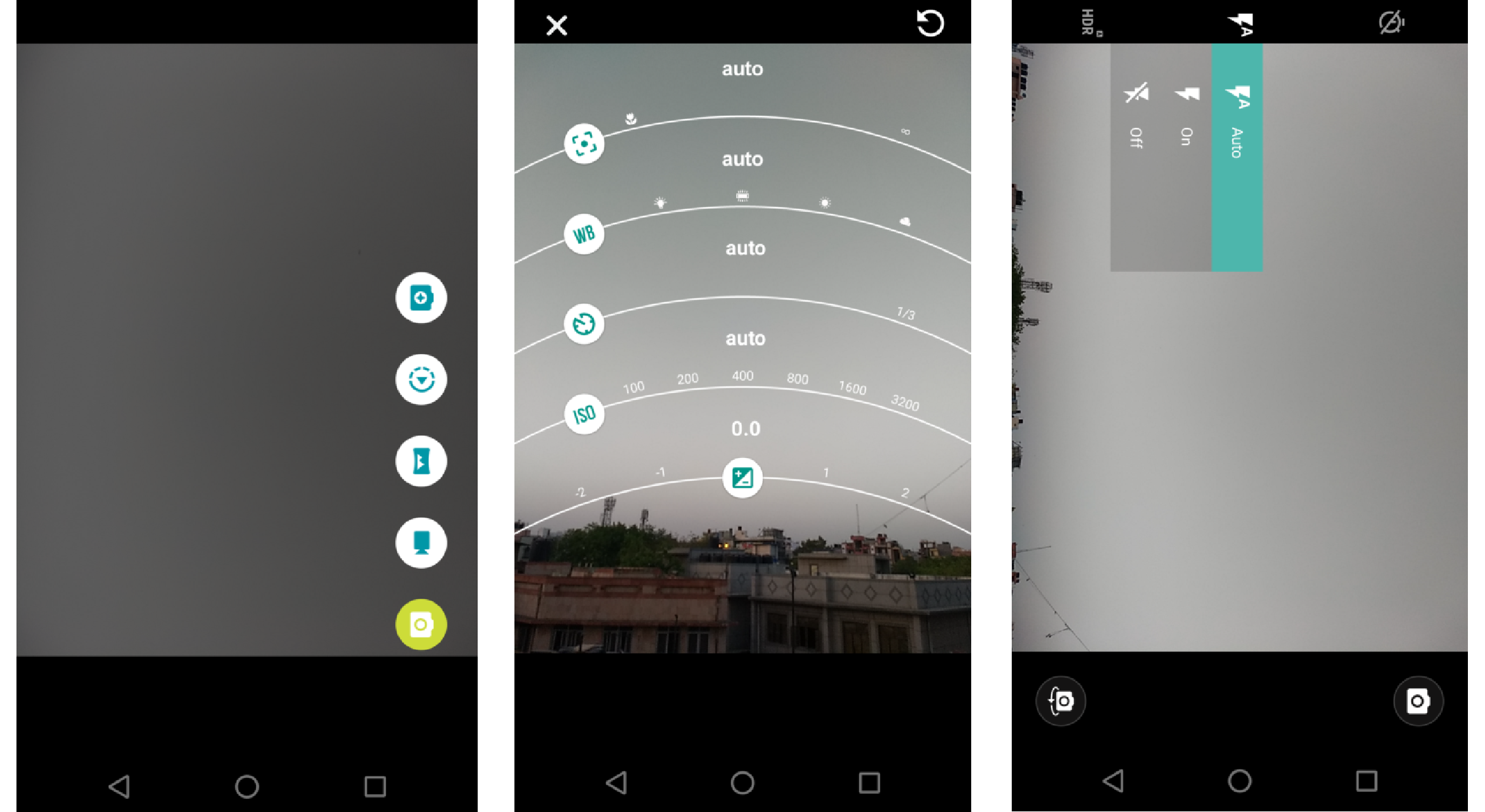 Now let me explain the camera performance. The camera is decent. It captures good photos in good light, but the color reproduction on photos does not look natural. Sometimes, results were oversaturated. In low-light, the camera could do better. photos had noise and appeared too grainy. Still, the low-light performance is better than the competitors. Overall camera experience is good considering the price segment it comes.
The front camera is good and it captured accurate colors. The front camera also comes with wide-angle lens making it better for capturing selfies.
The phone is capable of recording 4K videos at 30fps that is another advantage of the phone at this price. While recording 4K videos, the phone again starts becoming warmer. Lack of stabilization was a minor problem here.
Multimedia
The phone can play 1080p video files as well as FLAC audio files. The speaker in the phone is located at front with an earpiece. It is loud but the quality of the audio is not good. You also get earphones within the box but that also offers ordinary performance. So, you need to get a better one to enjoy music on the phone. Motorola could go with dual front speakers, and it is the thing I missed on the phone.
Connectivity and Battery
The phone offers dual SIM connectivity. Network selection is fine and audio within the call is also loud. You get microUSB on the phone. Other connectivity options are Wi-Fi, Bluetooth, GPS and NFC. While the company confirms that the phone has 4G VoLTE, but VoLTE was not working on my device. I tried lots of tweaks but I had to use Jio Voice4G for calling. I hope to see an update soon to fix this issue.
Moto G5 Plus comes with 3000 mAh battery that looks smaller than the battery offered by competitors, but performance was good. You can easily get 5 hours of screen-on-time and a full daily usage. It comes with fast charging that can charge your device to last for few hours in just a few minutes of charging. To charge this phone from 0-100%, you will have to wait for 2 hours.
Also, See Samsung Galaxy On8 Review. It is available on same price range.
Final Words
Moto G5 Plus is a decent phone for the price it comes for. It offers decent performance, good camera and good battery life. It comes with the stylish metal build and Android Nougat out of the box. The rise in temperature while heavy usage is the letdown. Overall this is a good package for the price of Rs. 15,000. This phone is for those who need a good phone with good performance and decent camera experience.
At this price, this phone will be competing with Honor 6X and Redmi Note 4. Honor 6X has dual camera to make that different in this segment. Redmi Note 4 and Moto G5 Plus are similar but Moto G5 Plus has slightly better camera and splashproof design.
Moto G5 Plus
"Moto G5 plus a good mid-range phone that delivers good performance and nice camera experience. Splashproof design makes it different from others in this segment."
The Good
Nice performance
Good battery life
Google camera, but not as good as advertised
Dedicated microSD card slot
Breakdown
Design 70%

Display 75%

Performance 80%

Camera 75%

Gaming 75%

Battery 85%

Value for Money 80%