Mi Pocket Speaker 2 Review : A Good Portable Speaker for Affordable Price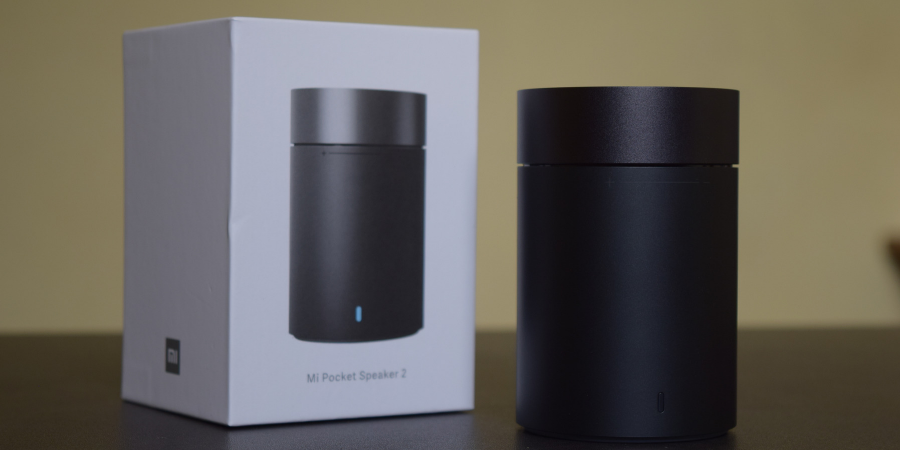 Few months back, Xiaomi launched Xiaomi Mi Pocket Speaker 2 in India. It is available for Rs. 1499 and can be purchased from Mi.com. Recently I started using it to find out its performance. Based on my experience, here is the review of Xiaomi Mi Pocket Speaker 2.
Mi Pocket Speaker 2 Review
Xiaomi's Mi Pocket Speaker 2 is available in Black or White color options. I have the black color variant that looks really good and feels premium. As the name says, it is small enough to carry in pocket. It has cylindrical design where the body is made of strong PC + ABS Alloy but the top ring part is made of aluminum. This ring can be rotated to control the volume of speaker. Pressing long from the top turns it on or off. Double press on Top activates the Bluetooth pairing mode. Single press plays/ pauses the song or takes / ends calls.
It also has a small LED light at the front and a microUSB port at the back side. It has rubber padding on the base that gives it good grip. It is compact and easy to carry.
Technical Specifications
Max Output: 5W
Impedance: 4ohm
Frequency Range: 180Hz – 18KHz
Bluetooth: 4.1
Battery: 1200 mAh
When it is ready to pair, the LED lights blinks continuously in blue color. It notifies about the connection with a voice notification and lights starts blinking slowly.
Mi Pocket Speaker 2 is compact but pretty loud. It is good enough for indoor usage. It offers clean sound with moderate bass and good treble. If you love bass heavy tracks, this is not for you. But for normal user, it serves the purpose. Even on loudest volume level, it remains fine and I could find no sound distortion.
It also has a built in microphone that performs good. So, you can also use it for hands-free calls.
It uses Bluetooth 4.2 connectivity and works fine if your phone is within 25 feets to the speaker. The only drawback is that It can only be used as Bluetooth speaker because it lacks Aux port, USB or microSD card slot.
It packs 1200 mAh battery that takes over 2 and half hours in fully charging. Once fully charged, you can easily get over 7 hours of music playback.
Final Words
MI Pocket Speaker 2 is really good in terms of looks and is portable enough to fit in your pocket. It is loud enough for indoors and offers good music experience. But it not good enough for hardcore music lovers and party animals due to the moderate base and limited loudness. Considering the size and price, this speaker impresses and makes to the list of my recommended Bluetooth speakers under Rs. 2000.
If you still have anything to ask, you can always leave it in the comment. Don't forget to subscribe our blog and follow us on different social media accounts for all the latest updates.
Mi Pocket Speaker 2
"A premium looking budget Bluetooth speaker with good performance."
The Good
Good audio
Premium design
Portable
Breakdown
Design and Build 80%

Performance 75%

Features 50%

Battery 75%

Value for money 70%