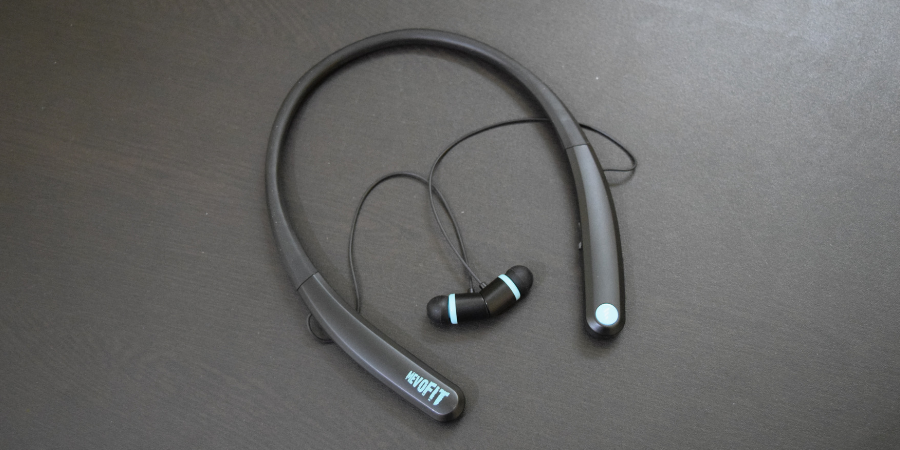 MevoFit recently launched a sports wireless earphone called Mevofit Play N100. It is a neckband style earphone with the Sweatproof design. Recently, I started using it actively to enjoy music and take hands-free calls. Based on my experience, here is the review of Mevofit Play N100.
MevoFit Play N100 Review
MevoFit Play N100 is a neckband earphones. Keep the neckband around your neck and it stays there without slipping to any side. The ends of neckband are plastic connected with a thick rubber band. It is flexible but is of high quality to be durable. The right end of neckband has a button to turn it on or off. Basically, it is a multifunction button. Press and hold it to turn the device on. When you have an incoming call, short press to answer the call. When you don't want to answer the call, long press the button. Short press to disconnect the call. If you want to recall the last dialed number, double press the multifunction button.
Best deals on mobile phones
Thinking to buy a phone? do not miss these awesome deals
The inner side of the right end has a microUSB port for charging it, a microphone and a tiny LED light. The outer side has a volume rocker that can also be used for playing next or previous song buy double pressing.
Overall, it impresses with its build quality and comfortable fitting. The company just mention the sweat resistance but didn't clearly say what IP rating it has. I used it while running and workout and intentionally splashed the water to test. It is still working fine.
Ear tips are connected to the band via a thin wire. The ear tips also have a magnet to lock them together when you are not using it. So, they will not hang around to interrupt you. You also get extra earbuds. For me, it was a perfect fit.
Sound quality is really good and output is well balanced. I tested it with several genres and it does a good job in everything you would like to listen. It has a good bass response and wide soundstage.
It is the in-ear type earphones, so noise isolation is good. Even if you are in traffic or any other crowded environment, the noise around you wouldn't affect your music experience. The only thing that I didn't like was sound leakage. When you are listing to a song on loud volume, a person sitting near you can clearly hear the song being played.
It features Bluetooth 4.1 connectivity and you can pair it with two devices at a time. So, you can keep it connected with your laptop and mobile phone both.
When you receive a call, it speaks the phone number calling you and notifies you about the incoming call. I have already told you how to control calls using the multifunction key located on the right edge of neckband.
The built-in microphone works well and captures your voice by avoiding most of the noise around.
It packs 170 mAh battery that performs well. You can easily get around 10-12 hours of music playback. I usually listen to on around 70% of volume throughout the testing. Sometimes, I used it for calls in between. If you are using it mostly on louder sound, the battery backup will be around 8-9 hours. The battery takes less than 2 hours in fully charging.
Final Words
MevoFit Play N100 is a good neckband earphone that delivers good music. The build quality is good and it is really comfortable. The sound quality is also really good and good battery life further improves the experience. Considering the performance and price, this neckband earphone is a recommended one from my side.
I tried to cover everything in this review. If you still have anything to ask, you can leave your question in the comment and I will reply you as soon as possible. What do you think about this earphone? Let me know in the comments below.
MevoFit Play N100
"MevoFit Play N100 delivers impressive audio and looks good."
The Good
Good Build
Nice Audio Output
Good battery
Decent isolation
Light weight and comfortable
Sweat resistance
Breakdown
Design and Build 75%

Sound Quality 70%

Features 70%

Battery 80%

Value for money 70%