A few weeks back, LG launched its new smartphone LG Velvet in India. The phone looks good and comes with impressive hardware specs. With this phone, LG aims to redefine itself in the smartphone segment. LG Velvet is priced at Rs. 36999. It also comes with a Dual Screen combo priced at Rs. 49990. I tested the device and here's my review of LG Velvet. Good thing is that I had the phone with the dual-screen accessory.
LG Velvet Specs
Display
6.8-inch Cinema FullVision display
20.5: 9 aspect ratio
U-shaped notch
LG Dual Screen functionality
Processor
Snapdragon 765 5G
Cameras
Triple rear cameras:
48MP primary
8MP ultra-wide
5MP depth

Front:
16MP

Storage
128GB
RAM
8GB
Battery
4,300mAh
Fast charging
Wireless charging
Connectivity
4G VoLTE, Wi-Fi 802.11 a/b/g/n/ac, Bluetooth v5.1 and USB Type-C
LG Velvet Review
LG Velvet Design
LG Velvet is one of the sleekest Android smartphones available in the Indian market. It also looks really beautiful. The phone is tall and is made of glass. It has a curved-edge display and a curved glass back that feels really premium. LG Velvel is tall and has a U-shaped notch at the top of the display. It has considerable bezels at the top and the bottom but narrow side-bezels. Because of the tall design, it is hard to reach the top of the display while using the phone from a single hand.
The power button sits on the left edge while the right edge has the volume rocker and a dedicated button for Google Assistant. The top side has a SIM slot and it has a Type-C port, headphone jack, and speaker at the base side. It has a glass back with a camera array that feels like a falling droplet of water.
The phone is slippery so it is recommended to get a good case to avoid accidental damage. The phone MIL STD-810 G certified that means it can survive accidental drops from a height of 3-4 feet. It is also IP68 rated to offer water and dust resistance. The phone also has Gorilla Glass 5 at the rear and front to make both front and back scratch resistant. These things give peace of mind. LG Velvet has a solid and durable body without compromising on the looks.
LG Velvet Display
LG Velvet comes with a 6.8-inch P-OLED HDR display with 2460 x 1080 resolution. The phone has curved edges and the display gets over the edges on both sides. No doubt this is an amazing display panel offering best in class video experience. It is a bright display with an extra-brightness option to make the display super bright The display is tall with a 20.5:1 aspect ratio. If you watch standard 16:9 videos, there will be black bars at the left and right. You can fill the display up but it will crop video at top and bottom.
It supports an Always-on display. You can enable it from display settings if you want. The phone also lets you fine-tune the display and adjust the color temperature. LG Velvet also supports Widevine DRM Level 1 (L1) and can support HD streaming content.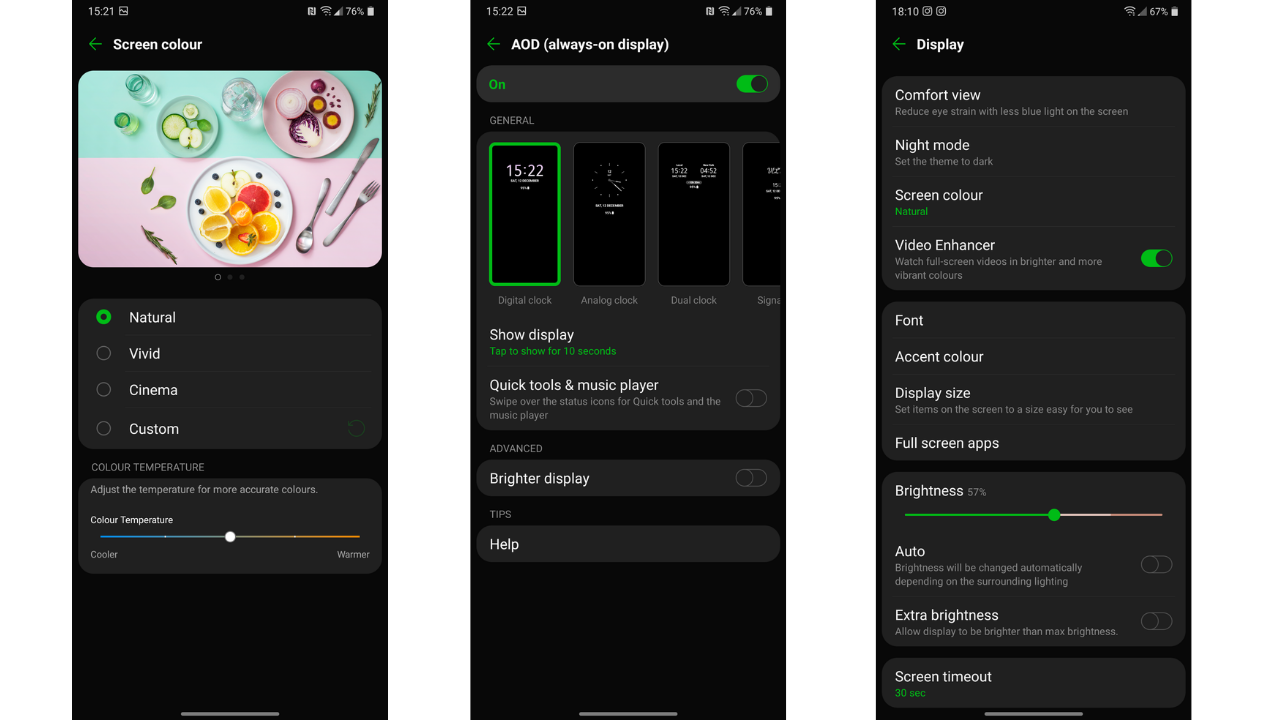 The phone misses high-refresh rate but I still don't mind using a 60Hz panel because moving to a 90Hz panel isn't noticeable in normal usage.
Along with a brilliant primary display, the phone also supports LG's dual-display add-on. This is optional and you can buy the phone without the dual-display if you don't want to use it. The second display remains the same as the phone's primary display. It even shows a fake notch. This secondary display add-on also acts as a flip cover for the phone and there's a small display (or you can say cover display) on the outer side for notifications. The cover display is basically a monochrome display. You can schedule it to remain off during a specific time of the day if you want. By default, it remains off and activates when you pick up the phone. The dual-screen accessory connects to the phone via the USB-C port and pulls power from the phone. The case has its own proprietary charging port and you get an adapter to use Type-C cable with it.
The second display flips 360 degrees and can be adjusted to any angle. You can use any two apps side by side using this accessory. For example, watch YouTube videos on one screen and keep texting to your friends on the second screen. Each display comes with its own home screen and you can set different app shortcuts and widgets as per your need. In some supported games, you can use one display for gameplay and the second one as a full-screen gamepad.
This DualScreen accessory can be useful for many people as it helps in better productivity. Gamers can also use it for a better gaming experience. But I barely used it because I didn't find it much useful for me.
LG Velvet Software
The phone runs on Android 10 with LG's own LG UX on top of it. The default UI has no app-drawer, so you will have to manage app icons on the home screen. If you like to have an app drawer, you can enable it from home screen settings. There are several pre-installed apps and games. Some pre-installed apps are good but some are certainly bloatware you will think of removing. It also supports system-wide dark mode.
The UI has good animations and transition effects. By default, it offers gestures for navigation. You can switch to buttons navigation if you are used to that. The phone also comes with a collection of wallpapers and themes. It is a good option for people who like to customize their phones.
Like other Android phones, this phone also has Google Assistant but there's a dedicated button for this. If you use Assistant on your phone, this one will be useful.
LG Velvet performance
The global variant of LG Velvet comes with Snapdragon 765G but in India, this phone is coming with Snapdragon 845 Soc, so it also misses 5G connectivity. Not sure why LG made this change for the Indian market. Most users would prefer the latest Snapdragon 765G Soc over the old 845 Soc. Even if the phone packs an old chipset, it is still powerful enough to offer you good performance. So, you will get mostly a smooth performance in daily usage and also a good gaming performance. The phone has 6GB RAM to offer you good multitasking. If you have used any other flagship with the latest Snapdragon 855 or 865 Soc, you can feel a difference. So, the performance is not the same as what you expect from a flagship phone in 2020. The phone also runs games smoothly. I played several games and didn't see any lag. The upper part of the game becomes warmer after playing games for more than 30 minutes but that doesn't become uncomfortable. Even on benchmarks, it performs the same we expect from a phone with Snapdragon 845. If you like to see Benchmark results, here's the snapshot of Geekbench.
LG Velvet comes with 128GB on-board storage and supports 128GB expandable storage. The only issue is that the phone has a hybrid slot. So, you can either expand the storage or use two SIM cards on the phone.
LG Velvet Camera
48-megapixel (Samsung S5KGM2), f/1.8
8-megapixel (ultra-wide-angle), f/2.2
5-megapixel (Depth), f/2.4
LG Velvet comes with a triple camera setup that includes 48 megapixels primary camera, 8 megapixels wide-angle camera, and a 5 megapixels depth camera. No telephoto camera is present in several competing devices.
LG Velvet has a good camera performance and I really liked the photos it captures. Photos come with accurate colors and details. Surprising thing is that the camera isn't reliable all the time. Sometimes it takes disappointing shots. The camera isn't impressive in low-light. Not many details and fade colors. If you use flash, it overexposes photos with excessive lights. Here are some samples.
There is an 8 megapixels ultra-wide-angle camera that isn't as good as the primary camera. In broad daylight, it captures good ultra-wide photos. It doesn't capture much details and details are lost in low light. Check the camera samples below to see the difference between primary and ultra-wide camera photos.
The camera also lets you capture portrait photos with the bokeh effect. You can later edit photos to adjust the amount of background blur. The issue with the portrait is edge detection. In all photos, it blurred some parts of the face or body. See a few camera samples here.
LG Velvet comes with a 16 megapixels selfie camera with f/1.9 aperture. The selfie camera of the phone also impresses in day light. It captures good photos in daylight with details and accurate skin tone. Indoor selfies and low light selfies weren't as good what we expect from a high-end phone. You also have a portrait selfie option to capture selfies with background blur. Edge detection for selfie portraits works better than the rear camera portraits.
LG Velvet can shoot videos at up to 4K and you can switch to Full HD or HD if you don't want videos to take much space on your phone's storage. 4K recording is good, but full HD videos recorded on Velvet are better than 4K videos. 4K videos are sharp and detailed. Colors are also good. In 1080p videos, color reproduction and dynamic range is really good Stabilization works well in both 4K and 1080p videos. Ultrawide camera video recording is limited to 1080p at 30fps. Stabilization in Ultra wide videos is also good. The audio zoom (ASMR) feature is good. In video camera mode ASMR enables focus on specific conversation to record clear audio and ignore other background sound. This feature also works well. It also features Steadicam mode that is basically a fancy name of video stabilization.
LG Velvet sound
LG phones are known for offering high-quality audio and Velvet is the same. You get stereo speakers that are loud and produce quality sound. Unlike most phones of this segment, LG Velvet has a 3.5mm headphone jack. The sound over the headphone jack is rich and good. I was also impressed by the high-quality music streaming over Bluetooth. The phone also comes with LG 3D Sound Engine where you can select one from available sound profiles. Default is auto that automatically tunes the sound. If you turn 3D Sound Engine on, the difference in sound will be clear and better.
Now when the phone has a good display and good audio, it offers an excellent video experience. If you are someone who accesses OTT apps on a smartphone, this phone is for you.
LG Velvet connectivity
The Indian variant of LG Velvet lacks 5G connectivity. Not sure why LG opted for the 4G-only strategy for the Indian market when other brands are pushing 5G aggressively. Call quality is good. It has dual 4G VoLTE, Wi-Fi 802.11 a/b/g/n/ac, Bluetooth v5.1 and USB Type-C connectivity. The phone also offers NFC that most of the phone miss.
It also has an under-display fingerprint sensor that works well and quickly unlocks the phone. There are three different under-display fingerprint icon animations to choose from.
LG Velvet battery
LG Velvet packs a 4,300mAh battery. It is surprising to see such a large battery on a phone that is just 7.9mm thin. The battery performs well and you can easily get a full day of battery back on normal usage. If you are a power user who uses social media apps for hours or plays a lot of mobile games, you will have to charge it twice a day. If you use a dual-screen accessory, it will surely affect battery life. Considering the price point and competition, The battery back if LG Velvet is just fine. The phone comes with a 25W charger and supports 9W wireless charging. Using the power brick provided with the phone, it takes around 93 minutes in charging the phone from 4% to 100%. Wireless charging also works well, but it takes a bit longer time than the wired charging.
Wrap up
LG Velvet is an impressive phone. The only let down for me is the old Snapdragon 845 chipset on this phone. So, the phone also lacks 5G that is available in the global variant. If you want to have latest and greatest processor and 5G, this phone isn't for you. The phone has an excellent display and good sound. So it is an impressive phone for those who watch videos a lot on their phone. The performance of the phone is also good and it has a good battery. If you compare it with other phones in the same segment, the only thing one could miss is the 5G.
LG Velvet
"LG Velvet is an excellent smartphone offering a brilliant display, a good camera, good music, and high-end performance. "
The Good
Good display
Impressive sound
Capable cameras
Good performance
IP Rating
The Bad
Average low-light camera
Lacks 5G in Indian variant
Breakdown
Design 80%

Display 85%

Performance 80%

Gaming 80%

Camera 85%

Battery 70%

Value for money 80%