JVC XS-MC15 Review: An Excellent Trolly Speaker For Party Animals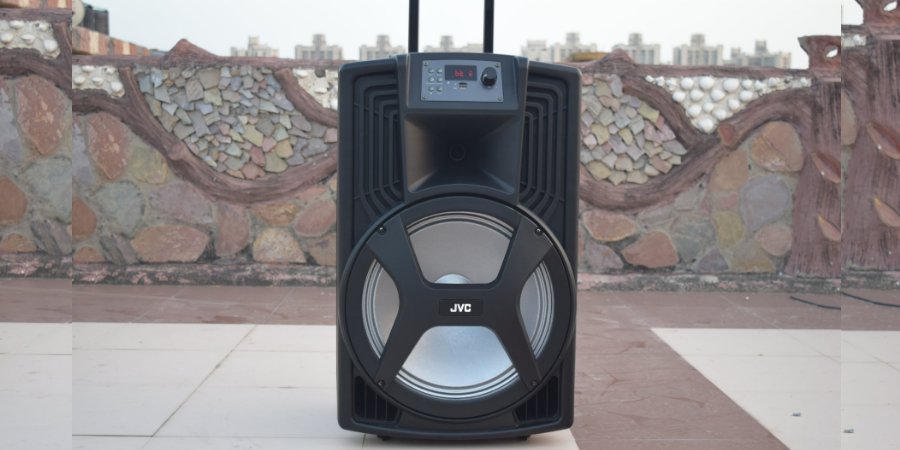 Earlier this month, JVC launched its trolly speaker JVC XS-MC15. The product is priced at Rs. 24999 and comes with lots interesting features. It is a trolly speaker with adjustable handles and 2 little wheels, so you can roll it to carry around. So imagine walking around with a big speaker. I have been using this speaker for over 10 days and this is my review of JVC XS-MC15.
While the speaker was launched at Rs. 24999, it is available for Rs. 18999 from Flipkart
Best deals on mobile phones
Thinking to buy a phone? do not miss these awesome deals
JVC XS-MC15 Review
Build Quality
Before I come to the audio experience, let me talk about the build quality. It is big and heavy. The body is made of sturdy durable plastic. So, it can easily withstand few knocks and collides. It weighs around 15 KG. This is why it is a trolly speaker, so that you can easily carry it. As it is made for primarily outdoor experience, build quality is really good.
Front is basically dominated by the woofer area that also has a DJ light. At the top side of front, there is a small LED display that shows the current mode, sound level and FM station when you are on FM mode. At the left side of the display, it has 6 buttons to control Input source, tracks, record/play and light switch . At the right side of the display, it has a volume controller knob. Below the display, it has a TF card slot and USB port.
At the back side, it has several knobs and ports. You get knobs to control Echo, Treble, Bass, Delay of song being played. There are also three knobs to control volume, bass and treble of mic output. There are ports for guitar input and mic input along with an Aux port. There is also a switch for mic priority, a power light, and 15V input for charging it. There is also an option to connect it to external battery source that is rated to take DC 12V.
At the back, it has trolly handle to lift and two small wheels are added at the base of back to roll it. There is also a handle on the right side to lift it up. Wheels do admirable job and you can always use handle to lift it up when you are around uneven surface.
You also get a remote to control different things including input mode, volume and audio mode.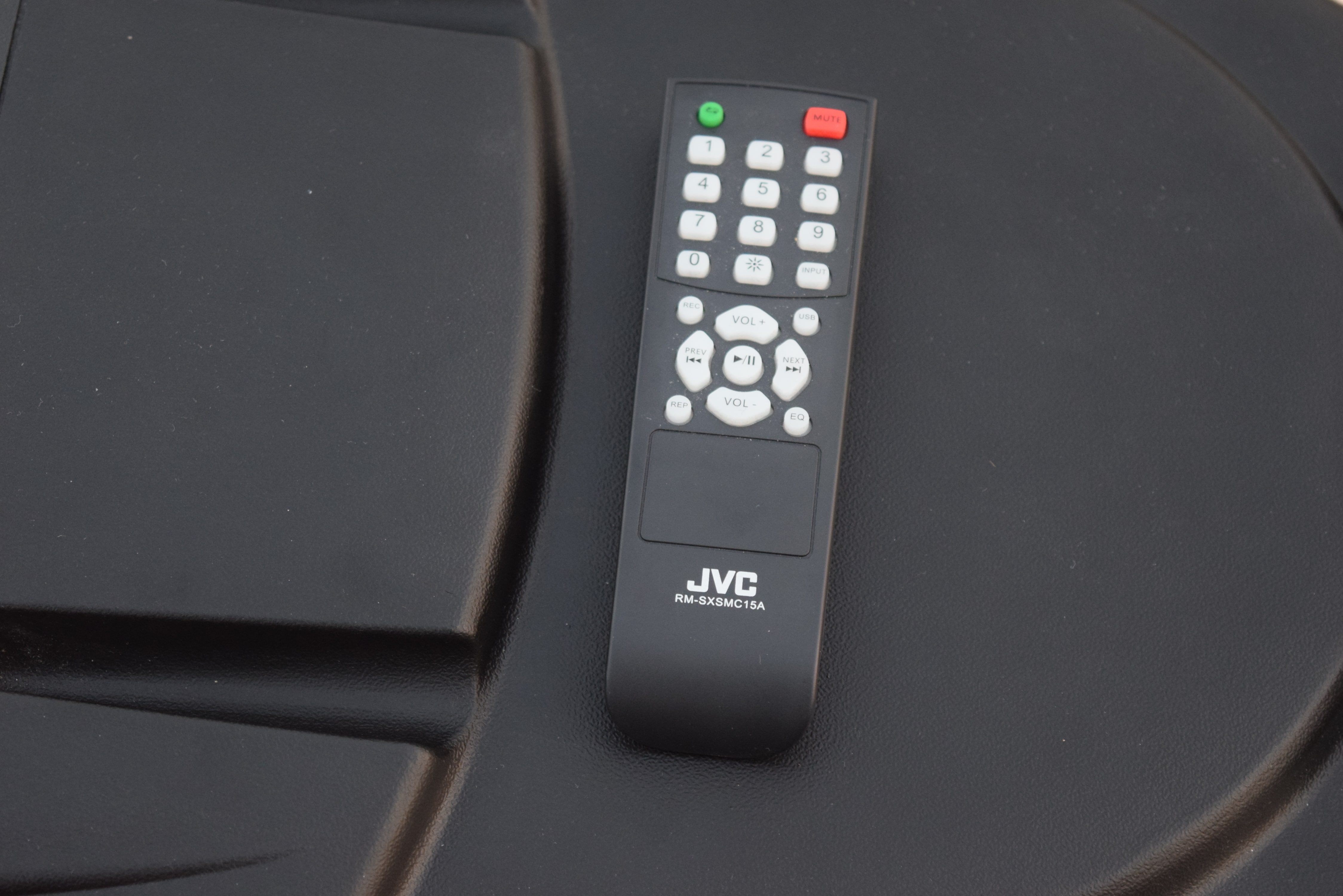 Technical Specifications
RMS Power: 60W
PMPO Power: 200W
SNR: 71dB
Frequency Response: 20Hz – 20kHz
Power Supply: AC 100-240V
Performance
Sound quality of this speaker is excellent. If you really want loud music, this one will not disappoint. I initially started using at home and later tested it in outdoors. You also have treble, echo and bass controllers. So, you can adjust these things depending on what is being played. I tried listening to all kind of genre and it was impressive. It is really loud but clear. You can't listen to songs on full volume at indoor. Sound level goes up to 31 when it becomes too loud to deliver a disco life feeling. The woofer has party lights behind it that keeps on blinking in different colors to give you disco feeling.
The speaker output remains impressive even on maximum volume but only if you are playing 320kbps files. If you play low-bitrate files, you will feel slight distortion on Hard Rock or guitar-centric tracks on loud volume. Pre-set sound options can only be accessed using remote control. You can instantly feel the difference in output. As you have good control on output, you can enhance the experience if you know how to tweak the things.
You also have built-in FM radio option and there is an adjustable antenna at the back for this. You also have button to quickly navigate through differenet FM stations along with an option to scan for all available FM stations.
Bluetooth connectivity works and it instantly connects to the device that had been already paired. The Bluetooth connectivity works well from up to 20 feet distance but sound starts breaking off after that.
Microphone Performance
It has two mic inputs for karaoke to connect over wire, but it also come with two wireless microphones. Both wireless microphones work really great and noise cancellation is excellent. So, they only capture your voice and avoid all noise around. This is why, you need to keep it to very close to your mouth. When you speak something from the mic, its volume cannot be controlled via volume knob. As I mentioned earlier, there are separate volume controller on the backside of the speaker.
You can speak on mic while something is playing via speaker. Your voice will be played along with song being already played. But there is an option to set mic priority. If you turn that on, it will reduce the volume of song when you speak something on mic. You can use this option depending on the situation are you.
There is also an option to record. But that only works if you have added a USB storage or card because it saves all recordings to these storage options. As I already said, the microphone works really good. So, recording quality turns out to be really good. This feature is helpful when you want to record the whole karaoke session or any other function.
Battery
The battery backup of the speaker depends on several factors. At indoor, you are most likely to use it on lower or medium volume. So, you can easily get over 16-18 hours of continuous music playback. At outdoor parties when you are using it for loud volume, it can easily last for over 6 hours. So, battery back up of this speaker is excellent.
The Battery takes around 9 hours in fully charging from the charger provided within the box. You can also listen to music while charging the speaker. When it is charging, the power links blinks until it is full charged and it becomes blue when fully charged.
Final Words
JVC XS-MC15 is an excellent speaker for outdoors. It has been designed for party lovers who do not want to compromise music, especially when they are partying outdoors with their gang. This speaker with wheels comes with sturdy design, long battery backup, multiple input options including Bluetooth connectivity. Even in open environment, it delivers excellent music experience. Not just outdoors, but it also gives pleasant experience in indoors too. The guitar input and microphone lets you perform like a super star.
If you are a performer, serious party animal or fan or electronic and rock music, this one will surely impress you.
JVC XS-MC15
"This speaker with wheels comes with sturdy design, excellent sound output, long battery backup, multiple input options and karaoke mics"
The Good
Excellent Build
Good Sound
Nice Music Experience
Wide soundstage
Excellent bass response
Recording Feature
Good Battery Life
Breakdown
Design and Build 90%

Sound Quality 85%

Features 85%

Battery 85%

Value for money 80%