Hero EZephyr Electric Cycle Review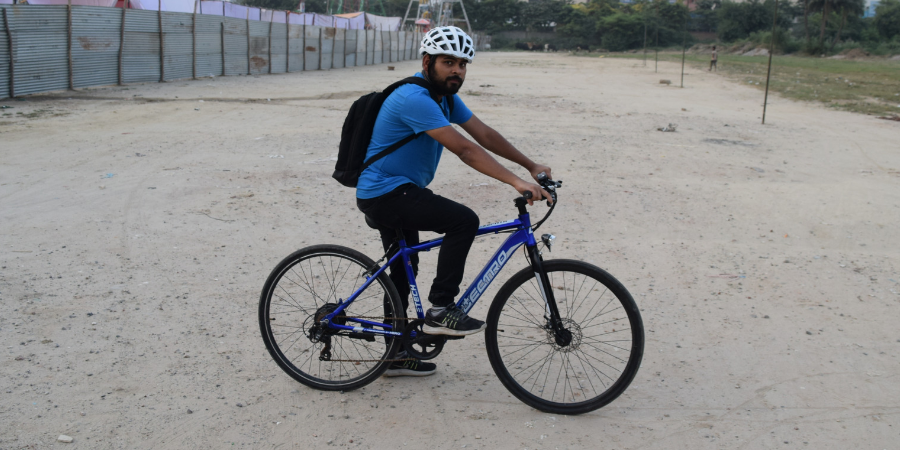 The busy and unhealthy lifestyle has forced many of us to think about health. And Bicycle is one of the best options to put your body on some work. Recently, I tried Hero Lectro EZephyr Electric Cycle that has lots of features to talk about. Based on my usage, here is the review of EZephyr Electric Cycle
Lectro EZephyr is an electric bicycle that you can either move by paddles or using the electric motor fitted in it. The electric motor offers the assist riding experience. It looks like a traditional cycle with the almost same form factor. It uses a 6061 aluminum alloy frame and the weight is 1just 16Kg.. The first question that comes in the mind soon after seeing the bicycle is "Where are the motor and battery? Hero has intelligently packed the battery inside the frame of the cycle. In this way, the company has made battery safe and saved enough space to keep the overall form factor slim.
Best deals on mobile phones
Thinking to buy a phone? do not miss these awesome deals
There is a small console with few buttons and indicators on the left handlebar. The mode button allows you to switch between the 3 levels of assist you get from the BLDC motor. You can completely turn it off if you decide to manually ride the cycle. The right handlebar has an accelerator if you want to run it using the electric motor. But I would recommend using motor only when you are completely exhausted. Run it by paddling as much as and put your body to some work.
It has seven-speed Shimano drivetrain system. The shift up and down are integrated into a single unit placed on the right handlebar. Use the lever for downshifts and SIS Index button for shift up. There is also an LED light up front side stand and reflectors (Front & Rear) that come as standard with the EZephyr. The front light is connected to the battery.
It has 18-inch tyres that are quite thin and meant for city roads. The tyres use 700C, double wall, 36H rims. Trying it off-road or on bad roads is not recommended as there is no suspension set up. This is one of the disadvantages. It has a disc brake at the front and a conventional V-brake at the rear. Both brakes are not much impressive and braking force could have been better.
Not just suspension, it also misses basic things like a bell or horn, mudguards, chain guard. The company could also give distance meter to have an idea of covered distance.
The seat is narrow but well cushioned and is adjustable using the quick release lever.
The overall build quality of Lectro EZephyrelectric bicycle is good and it is compact enough for carrying and lifting.
TECHNICAL SPECIFICATIONS
Motor
BLDC 36V/250W
Battery
36V x 5.8Ah Li-ion
Gears
7-speed Shimano Gears
Weight
16kg
Suspension
Rigid
Front Brakes

Rear Brakes

Disc brake

V-brake

Tyres
18 inch
Price
Rs. 26,999
Assist feature is like a performance booster that helps you maintain a good speed without putting many efforts. Use modes depending on how much assistance you need. With electric assist, it feels really smooth and you can gain speed with minimal pedal inputs. If you don't paddle, it will crawl at 6kmph but you can reach up to 35 kmph easily on high mode with a proper paddle.
The company claims a fully charged battery can give up to 45 KM of ride using purely electric power. But that was measured on best conditions. I am not sure about exact numbers because there is no distance meter on the cycle. If you are using pedal assist feature, you can surely cover close to claimed distance with a fully charged battery. From my usage, I can tell you that the battery life is good and I managed to cover 30 Km on average with a fully charged battery. The battery also takes over 4 hours in fully charging.
The battery is also replaceable. If after using it for few years, the battery becomes weak, you can get it replaced.
I must say that the cycle is not cheap, but also not expensive. It is priced at Rs. 26,999 where it has no competition. So, it automatically becomes the only option to go with. It can handle your commuting in city streets at a speed of conventional or electric scooters. It can also help you burn lots of calories when you want or use the motor when you don't want to get sweaty. I am really impressed with its slim form factor.
Hero EZephyr Electric Cycle Review
"EZephyr is an electric hybrid bicycle with the assistance of an electric motor. "
The Good
Sleek but good build
Relatively sleek and light for an e-cycle
Good Battery
The Bad
No mudguard
No suspension
Breakdown
Design and Build 70%

Performance 75%

Features 60%

Battery 70%

Value for money 70%