Digitek Bluetooth Speaker DBS 011 Review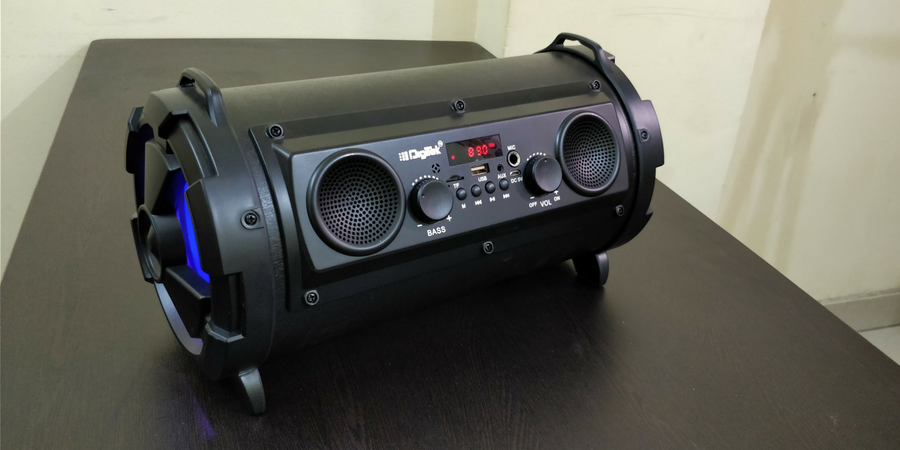 Digitek is a known brand selling photography and mobile accessories in India. Recently I tested its Digitek DBS 011 Bluetooth Speaker. The speaker is for music lovers who like to perform karaoke and listen to good quality music. I tested this speaker for over a week and here is my review of Digitek Bluetooth Speaker DBS 011.
Up to 45% off on Camera accessories
Up to 45% off on Camera accessories
Digitek Bluetooth Speaker DBS 011 Review
This speaker has bigger size than other Bluetooth speakers. It is because it got lots of connectivity options and enough size for good bass. It has a cylindrical shape having plastic built. The two ends of this cylinder got woofers where you also see changing color effects to match your party mood. It has two hooks to attach strap and base to keep it stable. At one side, it has control buttons and two circular vents for the speaker. It has base control, volume control, buttons for forwarding, backward, next and previous. There is also a button to change the mode. You can switch to Bluetooth and FM Radio mode.
There is also a small display that shows the current mode, FM station when you are using it at FM radio mode and battery level. You also have a card slot, USB port, micro USB port, 3.5mm audio port and a slot to insert the Microphone hook.
The speaker comes with a separate microphone within the box. You can connect it to the speaker and perform karaoke. The volume control also controls the output sound of the microphone. I will talk about its quality later.
It has pure plastic build but looks solid. It looks good in terms of design. Bit heavy due to big size.
Technical Specifications
Output Power: 20W (5Wx 4)
Frequency Response: 70Hz-20KHZ   SNR: ≥80dB
Battery: 2000MAH Built-in Rechargeable Battery
Power Supply Voltage: 500 mA DC 5V / USB POWER
The performance of this speaker is excellent. It comes with 4 speaker units of 5W each producing 20W of output. It offers a good sound that is loud and clear. It also has deep bass and clear treble. If you really want to enjoy music, this one will not disappoint. At the maximum volume, I found deterioration in audio quality. But lowering the volume a bit starts offering good output. Considering its price, this one seems one of the best in terms of bass and sound. This is a pure party material and can become your good companion for road trips or outdoor party.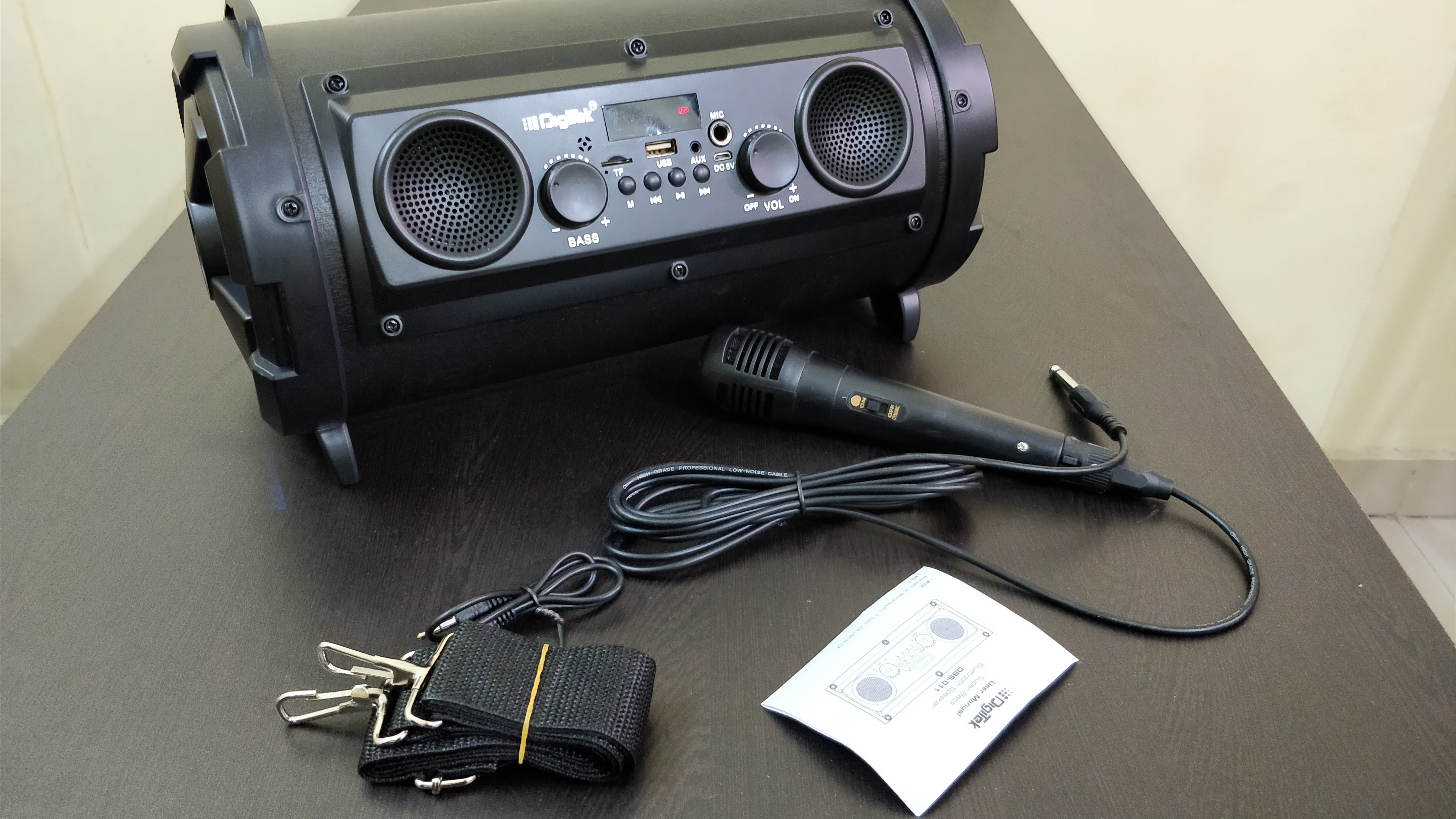 By attaching straps, you can easily carry it. But large size and weight make it less portable.
It offers a wide range of connectivity options including Bluetooth, USB, Aux and microSD card. So, you can enjoy music from different sources. When you do not want to connect anything, change to FM radio mode. I tried all of these and found a good experience. The only issue was with FM that was not as good in connecting to Radio station than it should be. So, the sound on FM was not good at all.
The microphone is not loud and you will have to turn the volume to full for actually listening to it from the speaker. It is average and good for Karaoke.
It packs a 2000 mAh rechargeable battery. It has really good battery backup. While the company claims 4 hours of battery back, you can easily get over 6 hours if you are using it on mid-level of sound. There is also a battery indicator on the small display of speaker but that doesn't make things clear. I also found charging not very clear. So, I couldn't measure exact charging time. It should be around 3 hours.
Final Words
Digitek DBS 011 is an awesome product for good quality music experience. The companion microphone makes it more interesting and you can use it in many ways to have fun at your home party. There are several speakers at this price segment offering similar of better audio quality but this one is notable because of its good quality bass.
Digitek DBS 011
"Digitek DBS 011 bluetooth speaker with Karaoke Mic is for people who want a decent speaker for home party and are fond of Karaoke. They sing your favourite Songs and have fun at any party."
The Good
Good Sound
Good Bass and Trebel
Wide range of connectivity option
Karaoke Mic
The Bad
Distortion in sound at max volume
Breakdown
Design and Build 70%

Sound 80%

Features 90%

Value For Money 75%