boAt Rockerz 275 Review – Neckband Style Wireless Headphone
Last month, boAt launched its new neckband style earphones boAt Rockerz 275 in India. While they confirmed the official price to be Rs. 3990, they started selling it at introductory price of Rs. 2499. I bought this earphones to test and here is my review based on the usage of over 20 days.
Buy Here: Amazon.in
Before you start reading the review, have a look at inbox content.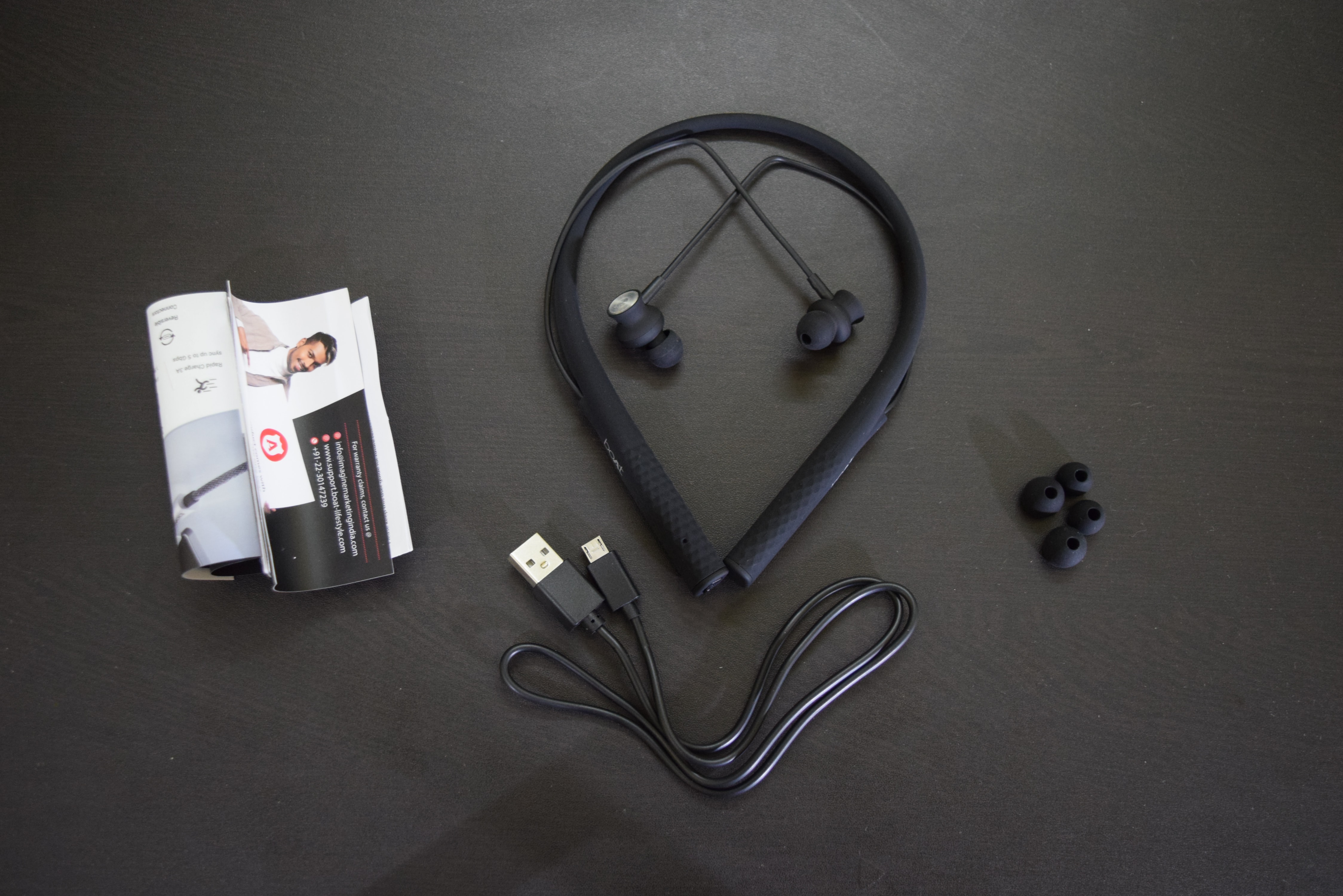 The boAt Rockerz 275 is a neckband style earphones. So, you will have to put it around your neck and it feels virtually weightless. It never slips at any side. Neckband is made of rubber but sides have plastic inside the rubber coating. It is extremely flexible and feels durable. At the right side, it has three buttons including play/pause, volume up and volume down. Along with these buttons, there is also a small LED notification light. The same side has microUSB port for charging. This port has a rubber cover but that is too tight and very hard to open. It irritates me a lot. So, I avoid it closing properly.
The ear tips are connected through a thick wire that feels good in quality. The ear tips fits properly and never come out of ears. You also get extra ear tips, so you are mostly likely to get the perfect fitting. Ear tips also got magnet at the back to lock them together. In this way, they will not hang around to interrupt you in any way.
The earphones is also IPX5 rated for sweat and water-resistant design. So, you can comfortably use it during workout or rain. But make sure the microUSB cover is properly close.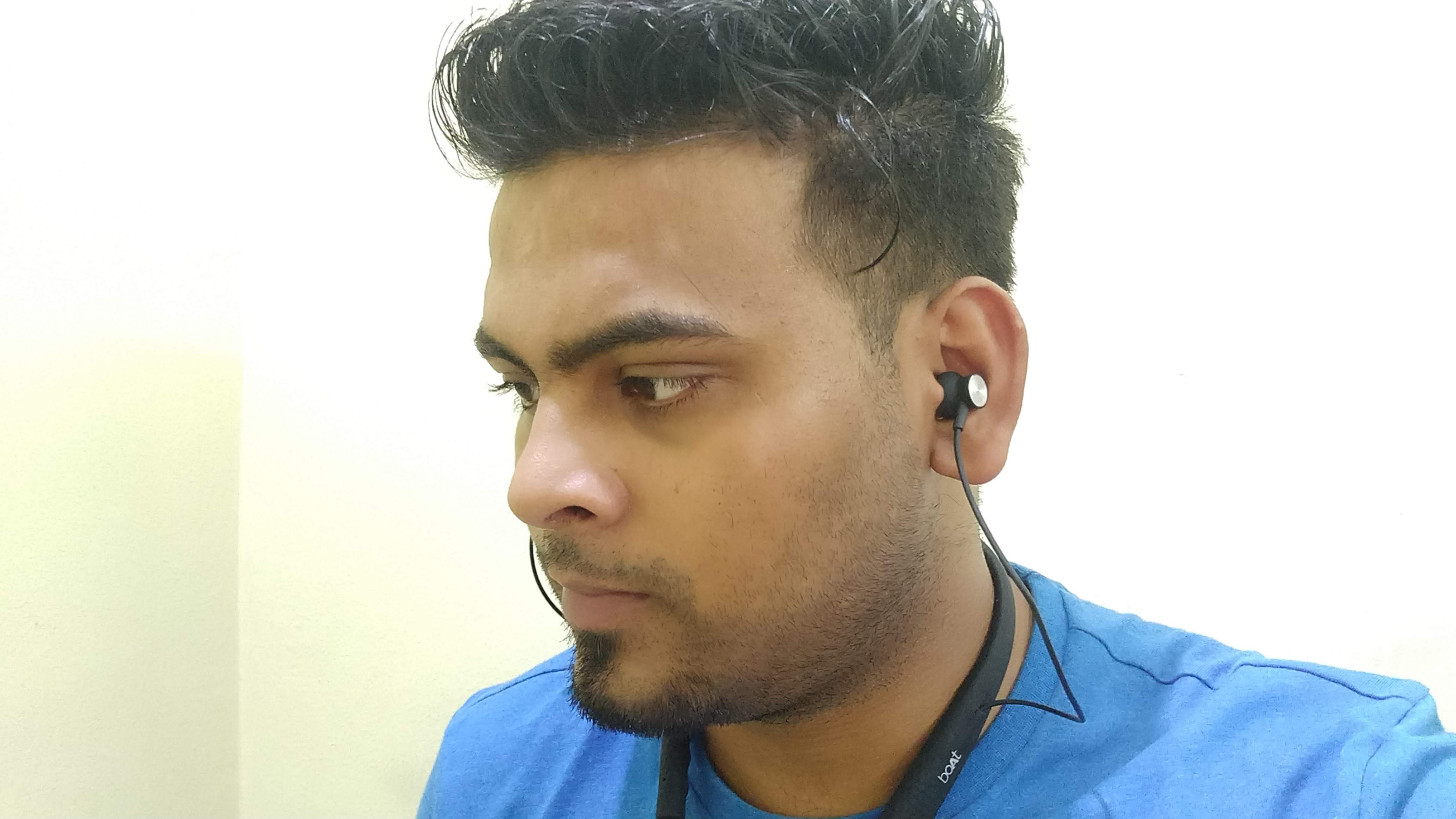 Tech specifications:
Qualcomm CSR8635 chipset
Speaker diameter: 12mm
Impendance: 32ohm
S/N ratio: 102dB at 1KHz
Frequency response: 20Hz-20kHz
150 mAh battery
The music experience is really good as the music is clear and loud. Even on full volume, it performs well. The bass is also good but not as good as you get in wired earphones of this price. Overall, I am impressed with its music experience. It offers almost isolated environment. When you are listening to music with this earphones, you will not get any kind of disturbance from surroundings.
You can use volume up and down button for next and previous songs by long pressing. This works well with all of the music streaming apps I use.
The microphone works well. When you get incoming calls, the neckband vibrates to notify you about the call. You can put on the ear tips and press the play/pause button to receive the call.
It also features dual pairing. So, you can pair it with two devices at the same time. If you are listening to music on one paired device and you receive call on second paired device, it will automatically switch to second device for call. After the call, it will be back to play song from the first device. This is really a helpful feature. Pair it with your phone and laptop both. When you are listening to songs or watching movie on laptop, you will never miss any incoming call.
Battery life is an important factor people look for while buying an wireless earphones. It packs 150 mAh battery that performs great. I was getting around 10 hours of battery usage. If you listen to music on low volume, this could be even better. Even when it starts notifying you about low battery, you can still enjoy the music for next 20 minutes. So, the battery life of this earphones is really excellent and impresses. It also takes just 2 hours in fully charging.
Final Words
boAt Rockerz 275 really impresses with its music experience and battery life. If you are comfortable with neckband style earphone, you should also consider this if you are looking for a good earphones of this price segment. For Rs. 2500, I recommend this earphones.
If you have any question, you can always leave it in the comment.
boAt Rockerz 275
"boAt Rockerz 275 really impresses with its music experience and battery life."
The Good
Good performance
Magnetic Locking of Ear
Excellent Battery life
Sweat and water-resistant design
Dual pairing
The Bad
MicroUSB cover is really hard to open
Breakdown
Design and Build 80%

Performance 80%

Features 70%

Battery 90%