Asus Zenfone 3 MAX ZC553KL Review
The battery is an important factor customer consider while buying a smartphone. This is the reason most of the mid-range phones come with the large battery. Asus's Zenfone Max series focuses on battery and we saw previous models with large 5000 mAh battery. This year, Asus reduced the battery capacity of Zenfone 3 Max to 4100mAh to make it more compact than predecessor which were too bulky and heavy. Zenfone 3 Max comes in multiple variants making it hard to choose one. We got Asus ZenFone 3 Max (ZC553KL) to check and this phone comes with Snapdragon 430 with 3 GB RAM.
I tested the phone for around 15 days and here is my review of the phone.
Asus Zenfone 3 MAX ZC553KL Review
Design
Asus Zenfone 3 MAX ZC553KL is good in terms of design. This phone carries metal unibody build. From back, this phone looks very beautiful. Due to curved edges, the grip is fine and buttons are lined up nicely at easy to reach position. It feels good in the hand. From the front, it looks similar to Zenfone 3 Laser or any other phone with metal unibody design of the same price segment. It has 5.5-inch 2.5D glass display. Above the display, it has the front camera and notification LED. Notification LED is brighter than any other phone you would have seen. Below the display, it has non-backlit capacitive keys. The volume rocker and power button are at the left edge and right edge contains sim card tray. At the top edge, it has only 3.5 mm audio port and at the bottom edge, it has micro USB and speaker along with the primary microphone.
The back panel has the rear camera at top center side with dual color LED flash and laser autofocus sensor on either side. Just below the rear camera, it has the fingerprint sensor. At the bottom side of the back panel, it has Asus branding. You will notice two antenna bands at top and bottom side and these lines fit in well with the design.
Overall this phone looks good in terms of design. It is solid and easy to hold due to curved edges.
Display
It has 5.5-inch Full HD display that is crisp and bright. As the display is reflective, it is not as good in sunlight but still it is legible. Asus has also provided the oleophobic coating on the touch glass. So, you do not need to wipe it off. The viewing angles on the phone are good with the mild color shift from extreme angles.
You can also enable daydream option to select what should be there on the screen when the device is on sleep. You can select clock, colors or photos from the gallery of your phone. I recommend the use of the clock. In this way, you will not have to wake up the phone just to see the time.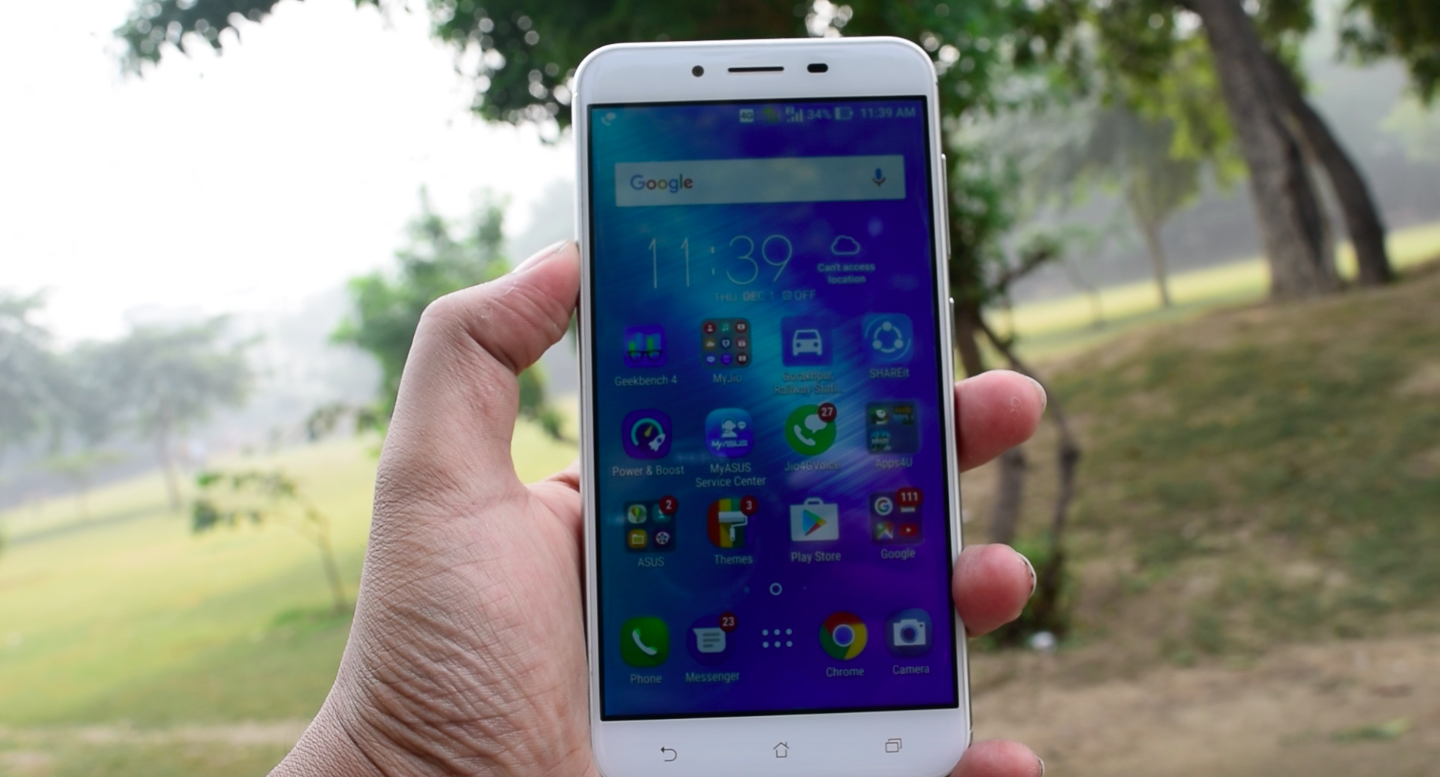 Bluelight filter is another nice feature of the display that reduces the blue light emission and reduces the strain in eyes. You must turn this on while using the phone in the night.
The only disappointment is the lack of any scratch resistant protection on the display that we all expect after paying around Rs. 17990.
Software
This phone runs on Zen UI 3.0 based on Android 6.0.1. As I explained in Zenfone 3 review, this new UI is better and offers light experience.
Zen UI comes with bloatware and connecting phone first time with Wifi results in the updating of many apps. There are around 26 different apps from the weather, movie maker, photo apps, video apps and more. You cannot uninstall these apps but you have the option to disable it.
The interface is fairly good and offers various options to customize it. You can customize icons, effects, wallpapers, themes and more things on the phone. The UI is well optimized to offer light performance.
Performance
The Asus Zenfone 3 Max (ZC553KL) is powered by 1.4Ghz octa-core Snapdragon 430 processor with 3 GB of RAM. This is another disappointment from the phone. Snapdragon 430 chipset is in the phone that is priced at Rs. 17999. Really Asus? We have Snapdragon 820 for the same price in LeMax 2 and Lenovo Z2 Plus. If not Snapdragon 820, Snapdragon 652 should have been the choice.
In terms of performance, this phone is fine but not as fast as you expect after paying this much of price. If you are not the power user, you will still be satisfied with this phone for good performance in daily tasks, web browsing, and social media like things. Zen UI continues to offer good performance.
If I talk about gaming, this phone is not powerful enough to handle heavy graphics smoothly. You see a bit of frame drop in high-end games. The phone also heats a bit but not as much to worry about.
Benchmark scores of the phone are also not very good. You can see many low-priced phones with better scores.
This phone comes with 32 GB of storage that is expandable up to 128GB. It is worth to note that the phone has Hybrid slot. You also get USB OTG on the phone.
Camera
Zenfone 3 Max ZC553kL comes with 16-megapixels rear camera with f/2.0 aperture and 1/3" sensor. It also has dual LED flash and laser autofocus sensor. At the front, it has the 8-megapixels front camera with f/2.2 aperture. Focusing in the camera is quick as it offers laser autofocus and PDAF. With good shutter speed as well, you can quickly capture images unless you are using any camera mode that requires time.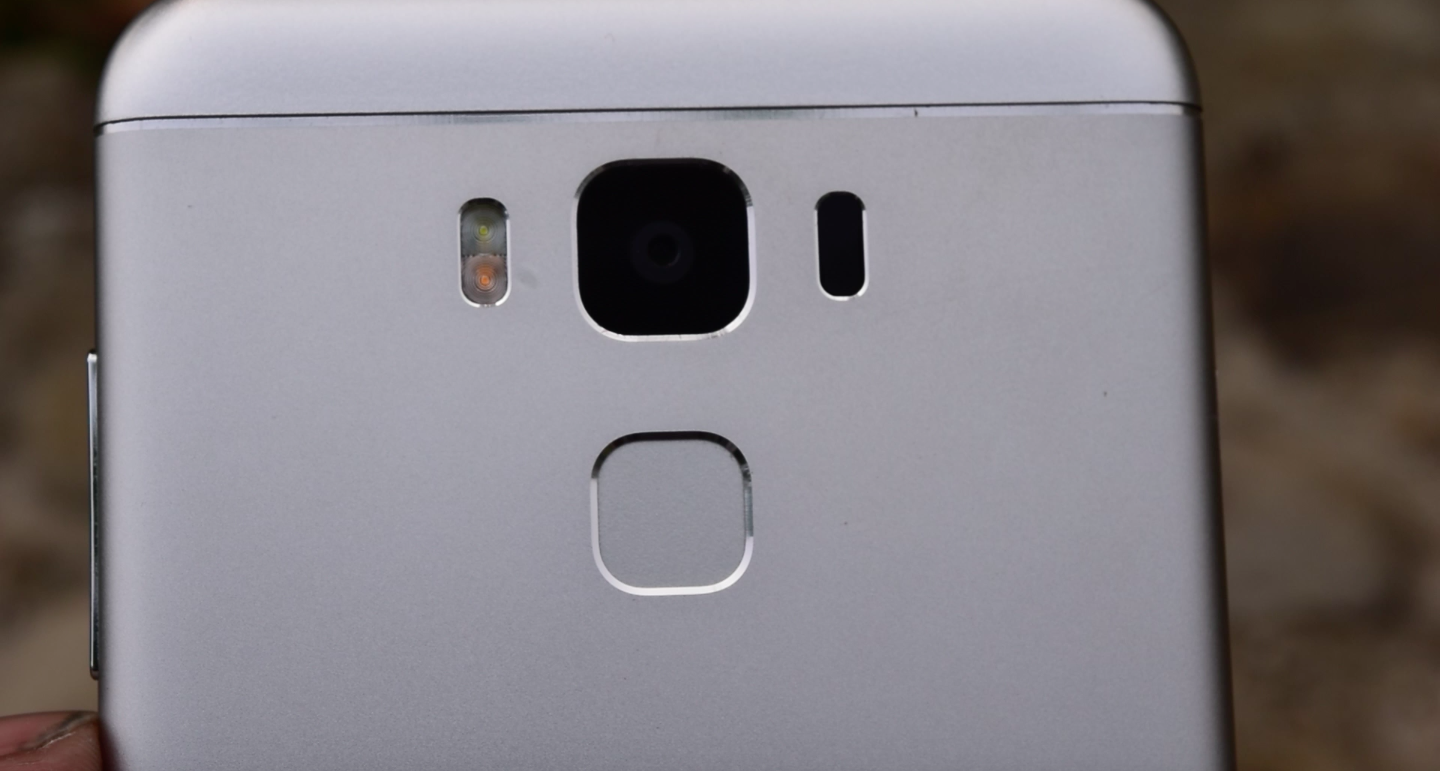 This camera app offers so many camera modes including HDR Pro, Beautification, Super resolution, Low Light, Night Mode and Pro mode. Pro Mode is helpful for photographers who need manual control over the camera. You also get camera effects to add flavors in the photography.
Even if the camera looks impressive on paper, it does not meet expectations. The camera performance is good in daylight when it delivers sharp and noise free images. Sometimes I felt underexposure but I hope to see the software update to fix the known camera issues. Overall experience in daylight was fine, but I was expecting better performance.
The low-light mode works fine and captures images with lots of noise. Use of night mode improves the performance. Expecting big for low-light photography in this price will be wrong.
The front camera also captures decent selfies under good light. You also have beautification mode which is customizable. I am not sure who will put this much of effort just for a good selfie.
Chek these camera samples.
Video recording is also fine and you can record 1080p videos from both rear and front camera. You can also record time-lapse videos from the rear camera.
Connectivity
Zenfone 3 Max comes with all connectivity options that all other Zenfone phones or other phones come at the same price. You get 4G LTE, WiFi 802.11 b/g/n, Bluetooth 4.1 and GPS. The only disappointment is that it does not support VoLTE as of now. I hope to see a software update to enable it.
It is the dual SIM phone with the hybrid slot. So, you can only use either use both SIM cards or a single SIM and microSD. While call quality was excellent, I was not satisfied with is network selection.
This phone has the fingerprint sensor on the back panel. It is fast and quickly unlocks your phone. It can also be used to answer calls, launch camera and capture photo. You need to manually enable these options from the settings.
Battery
This phone is packed with 4100 mAh battery that easily offers 2 days of battery life. Even if you are the power user, this phone will give you a full day usage. You also get battery saver mode to enhance the battery backup of the phone.
It does not support fast charging hence takes time in charging. This battery takes little over 2 hours in charging with the bundled charger.
It also supports reverse charging with bundled OTG adapter. So, you can use this phone as powerful to charge other phones.
Final Words
The Zenfone 3 Max ZC553KL is a decent product and focuses on delivering good performance and longer battery life. But for the price of Rs. 17999, it becomes hard to recommend this phone when you have phones with better specs in the market. The only reason to buy this phone should be its long battery with support to reverse charging. The design could be another reason to go with this phone.
This phone still faces tough competition from Redmi Note 3, Lenovo K6 Power and Le 2 like phones that offer similar specs for the lower price. The pricing is the only thing that makes it tough to recommend this phone.
Zenfone 3 Max ZC553KL itself has a smaller variant ZC520TL with different design and smaller screen size.
Asus Zenfone 3 MAX ZC553KL
"Asus Zenfone 3 MAX ZC553KL is a battery focused phone to give you good performance on daily usage. Even if the phone is good, its price makes it disappointing."
The Good
Good design
Nice display
Longer battery backup
Good audio quality
The Bad
No VoLTE
No screen protection
Weak gaming performance
Breakdown
Design 80%

Display 75%

Performance 65%

Gaming 65%

Camera 75%

Battery 85%

Value for money 60%