ASUS ROG Strix GA15 Review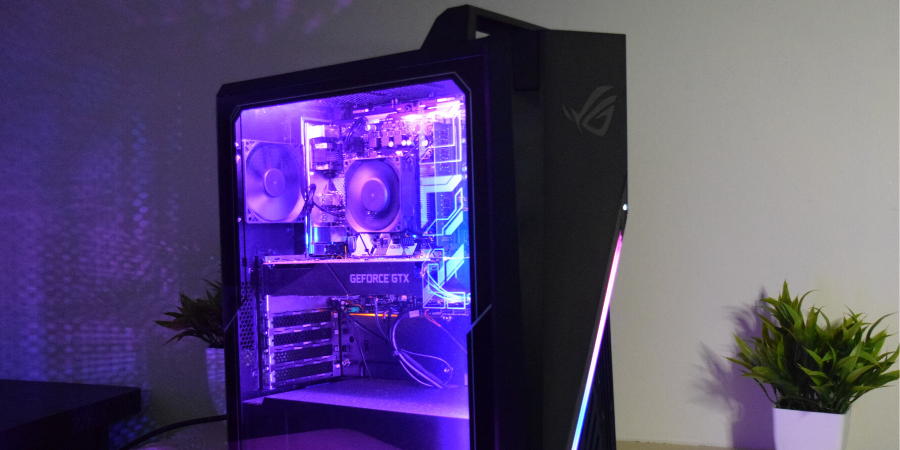 A few weeks back, Asus launched ROG Strix G15DH in the Indian market. This prebuilt gaming desktop comes with eight-core AMD Ryzen CPU and high-end Nvidia graphics card to give you powerful gaming performance. Strix G15 offers several models with different Ryzen CPUs and NVIDIA GPUs. I got the one with Ryzen 7 3700X and NVIDIA® GeForce GTX 1660 Ti. So, it has impressive specs to enjoy several high-end games. I have been playing games on this PC for more than 15 days now. So, here's the review of ASUS ROG Strix GA15 Gaming Desktop.
Before we start talking about ROG Strix GA15, have a look at specs.
On unboxing, I found a power adapter, SATA cable, and the ROG Strix GA15 desktop along with a user manual and a warranty card.
Design and build
ROG Strix GA15 comes with good design and solid build. It has a plastic front and top panel while the metal panels on the left side. The right side has glass panels to show interior RGB lighting. There's a handle at the top to make it easy to carry. It also weighs just 10 KGs making it portable. You can take it to esports competitions.
The chassis has several vents on the top, left side, front, and back for direct airflow to help in cooling.  The front panel has a big ROG logo and a long RGB light stripe along with several vents. Front vents will be pulling Air inside. As there's no dust filter there, it is recommended to open the cabinet once a month and perform dust cleaning. It has one exhaust fan on the back but there is no inlet fan that could have been added at the front panel to improve the airflow.
At the top-front, it has several ports including a full-size USB 3.2 port, a Type-C port, an audio jack, and a microphone jack. There's also a headphone hook where you can put your headphone if you don't have any dedicated headphones stand at your gaming desk. As per claims, this hook can support up to 30kg of weight. I didn't try to test this claim, but it can hold my headphone properly.
The backside has 6 USB 3.2 ports and a LAN port. You also get a DVI port, a VGA port, 2 Display Port and 2 HDMI port. So, there are a variety of options to connect monitor or display to it. There are also PS/2 ports for keyboard and mouse. Audio ports are also there at the back.
It comes with a 500W power supply and uses the AMD B450 motherboard. There's built 1TB M.2 NVMe PCIe 3.0 SSD storage and there are 4 SATA ports to install HDD if you need more storage. The only issue is that you have no dedicated slot in the cabinet to put the HDD. Not sure how could Asus missed this thing. The motherboard also has an additional slot for RAM expansion
It comes with Windows 10 Home edition out of the box. There's a preinstalled Armoury Crate software. You can use this software to check the CPU, GPU, and RAM stats. You can control fan speed, select the processes you want to stop when you are playing games, and monitor the system temperature.
It also lets you connect and configure ROG products. If you are also using the ROG keyboard, mouse, and headphones, you can use it to customize RGB lighting and effects for every device. There are several AUR Effects including Breathing, Color Cycle, Rainbow, and more. You can select any of the effects and select color or speed as per your need.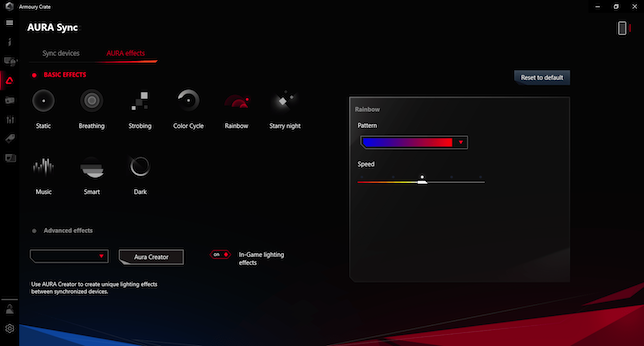 Here are two different RGB effects I captured.
You can also create game profiles for different games. In a game profile, you can turn off Win Key, select Fan speed, Air Sync effect, and Sonic Master. You can make different profiles for different games if you want.
Performance
The system packs Ryzen 7 3700X 8-core processor with 16GB RAM. For graphics handing, it has GTX 1669 Ti with 6GB video memory. This GPU is powerful enough to handle most of the modern games and you won't face bottlenecks. This GPU also has proper cooling to keep the temperature under control.
I tried several games and found good performance. It can handle 1080p gaming at good framerates. For your understanding, here's a table of games and FPS I got at 1080p gaming. The numbers here denote the average FPS.
| | | | |
| --- | --- | --- | --- |
| Game | FPS (Ultra Quality) | FPS (High Quality) | FPS (Medium Quality) |
| Counter-Strike: Global Offensive | 270 | 353 | 430 |
| Apex Legends | 98 | 151 | 210 |
| Valorant | 160 | 255 | 305 |
| Red Dead Redemption 2 | 43 | 76 | 109 |
| Assassin's Creed Odyssey | 48 | 84 | 118 |
| PlayerUnknown's Battlegrounds | 75 | 127 | 172 |
| Overwatch | 144 | 215 | 281 |
If you are also thinking to stream the games, this machine is also really good. You won't face any frame drops while streaming the games while playing. I tried streaming CS Go and Valorant on Twitch using OBS and didn't see any issue. This can also perform well while performing CPU intensive tasks. Not just gaming, I also tried video editing and this was really good in editing and processing 4K videos.
I have already talked about different connectivity ports. It also features 802.11 ac gigabit-class Wi-Fi and Bluetooth 5.1. I played all the games over WiFi and connectivity was seamless.
The Asus ROG Strix G15DH is powerful to handle 1080p and 1440p gaming and other graphics-intensive tasks like photos and video editing. You can play most of the games at 1080p at good frame rates. RGB LED lighting and headphone hook makes are some plus points. Here, one thing I also want to note that you can easily save around Rs. 20-25K if you build a PC with the same configuration. But having a prebuilt gaming PC has several advantages. One on-site warranty covers all parts, while you have to manage warranties of each component separately. If you are looking for a prebuilt gaming PC and can spend around 1 Lakh, you can consider this one for sure.
ASUS ROG Strix GA15
"Asus ROG Strix G15DH is powerful to handle 1080p and 1440p gaming and other graphics-intensive tasks like photos and video editing"
The Good
Good Design
Powerful performance
Good graphics performance
Easy to carry
Breakdown
Design and build 80%

Performance 85%

Value for money 65%