In past 2 years, Xiaomi has shown remarkable growth in Indian market. Now, the company does not want to be just a Chinese company offering budget phones. Its recently launched Mi5 is the perfect example of company's attempt of becoming another rival to top smartphone brands in high-end segment. Xiaomi's 5th generation flagship phone Mi 5 is good in both design and specs. Is it really a flagship killer? Let's take a look.
Xiaomi Mi 5 Review
Design
Up to Rs. 25% off on DSLRs
Big discounts on Canon, Nikon, Sony DSLRs
While this phone looks similar to Samsung Galaxy S7, I want to make it clear that Xiaomi was first to adopt this kind of curvey design. It borrows lots of elements from its Mi Note series of phones. This phone has refined 3D glass curve design which looks very attractive but also makes it slippery. Metal frame improves the look. The design is one of the main reasons to buy this phone. With just 129 grams of weight and 7.25 thickness, this phone is much light that you expect. But slippery body can be something you will have to worry.
On the front side, it has a slim ceramic home button which also functions as a fingerprint sensor. At either side of this button, it has two touch buttons. On tapping on home buttons, you see two pin points which are backlit. You can assign actions to these buttons and hence company didn't paint any task icon on it.
The sides of the phone are all metal which features a gorgeous set of curves and lines. At left edge, it has sim card slot and on the right edge, it has the volume rocker and power button. It has the USB Type-C port at below side with speaker grill and primary microphone. At the top, it has 3.5mm audio jack and an infrared port.
The rear panel has the clean, shining and attractive design. It has 16MP camera placed on the top left corner and a dual-tone LED flash unit is just below it.
Overall build quality and design are brilliant.
Display
Xiaomi Mi 5 features a 5.15-inch display and phone has a taller frame. It uses IPS LCD panel which is offering good color reproduction, sharpness, and brightness. It dynamically adjusts the brightness of pixels to give you perfect viewing experience. Display offers 1080×1920 pixels resolution which translates into 428PPI. While the company could offer better resolution like other rivals, it used full HD panel just to keep battery usage under control. This is one of the best full HD display we have used in recent months.
Not just indoor but sunlight readability is also good due to its adaptive brightness feature.
Software
Xiaomi Mi 5 comes with its own custom MIUI 7 built on Android 6.0 Marshmallow. While MIUI was initially criticized for its iOS-like design, it has become much better and secure now. With so many useful customizations, it offers nice features and good experience. Many nice features are now built into the software. Xiaomi also pushes regular updates to fix the known bugs and optimize MIUI for the better experience. You may miss some features of stock Android which are Google Now On Tap, multi-user support, and tabbed windows for apps. But the overall experience is always good.
The only small issue was some bugs in software which company keeps on fixing in updates. But these bugs may ruin experiences.
Performance and storage
To offer flagship like performance, Xiaomi has included Qualcomm Snapdragon 820 processor in this phone. It is packed with 3GB RAM for offering good multitasking. Everything was very smooth. You will see no lag in app switching, using graphics editing apps or games.
If you are a gamer, you will be impressed with this phone. Thanks to Adreno 530 GPU, graphics and gaming experience is near to perfect. It didn't see any issue while playing high-end games.Long gaming was also not an issue. This phone is one of the best phone available in the market.
It comes with 32 GB storage which is non expandable. Storage is a bit disappointment. But you can attach OTG drive to access more storage.
Camera
Xiaomi Mi 5 comes with 16-megapixels rear camera with f/2.0 aperture which is brilliant in good light condition It captures images with great dynamic range, good sharpness, and details.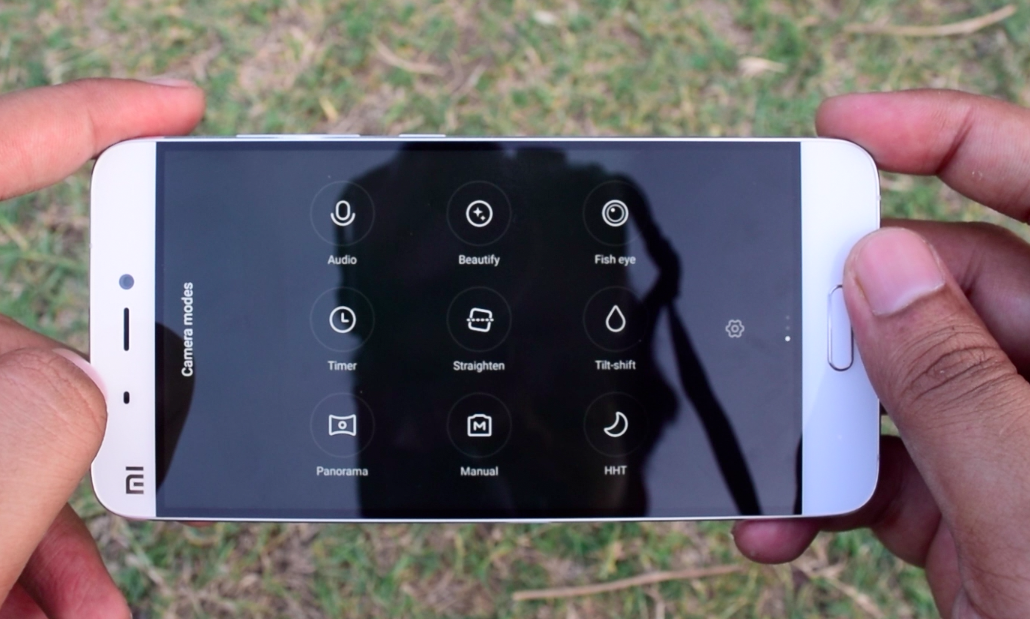 In the case of low-light or in the night, it takes help of dual LED flash to capture good photos. But, this section is weak as compared to other flagship phones available. Digital noise was there and images were also of average quality. Samsung Galaxy S7 is much better in low-light photography. But, I have no complaints due to the large price difference. If you just compare it with phones which are similarly priced, you will be happy with its low-light performance.
Mi 5 can also record 4K videos with good video quality. It also supports time-lapse videos. I am impressed with its 4-axis optical image stabilization that works pretty good.
At front side, it has a 4-megapixels camera with f/2.0 aperture. By default, it has beauty mode on which you can turn off anytime. It captures good selfies. Not just in bright sunlight conditions, but I was satisfied with its low-light selfie performance in the evening or artificial lights.
Fingerprint Sensor and IR Blaster
One of the notable features of this phone is its fast fingerprint sensor which is located at the physical home button below the screen. Considering the size of the phone, this location is best suitable. It is also very fast in unlocking your phone. It also has an IR blaster. So, you can also use this phone as remote control for your electronics equipment. This feature also works without any issue.
Connectivity and Battery Life
This phone comes with most of those connectivity options which you would like to have in your phone. It supports Indian 4G LTE bands with support to VoLTE. While VoLTE is not supported by network operators, it will be coming very soon. Call quality was brilliant. Network select is also good. Even in the underground metro, I never saw no service zone.
Other connectivity options areWi-Fi 802.11 b/g/n/ac, Bluetooth 4.2, an infrared blaster, NFC, GPS with A-GPS and more.
Mi 5 offers excellent battery life even with 3000 mAh battery. A full day usage is easy to reach by this phone. If you use phones lightly, you will even see around 40 hours of usage without any issue. I found this phone beating other flagship devices including Galaxy S7 in battery performance. Main reason for this awesome performance is its good hardware and optimized software.
It supports QuickCharge 3.0. With charger supplied within the box, it takes less than 2 hours in fully charging.
Final Words
Xiaomi is better known for offering budget phones but with Mi 5, it has shown its capabilities of producing premium flagship phones. While many people call this price not worth, I must admit that this device is still aggressively priced for what it is offering. This phone offers decent attractive design, excellent performance, good camera and great battery life. Mi 5 is a solid attempt to compete with flagship devices.
This device was made available over a month ago but it took time for us to get it and review. Now, this phone has OnePlus 3 as the biggest competitor which has 6 GB RAM.
---
Advertisement
The Review
Xiaomi Mi 5
"Xiaomi Mi 5 is not just beautiful but powerful phone to offer you a true flagship feeling for just Rs. 24999"
The Good
Attractive Design
Nice camera
Good performance
Good battery backup
Fingerprint sensor is fast
The Bad
slippery
Average Low-light Photography
Non-expandable storage
Breakdown
Design 85%

Display 87%

Performance 92%

Camera 80%

Gaming 88%

Battery 85%