After the Indo-china border clash, several people now want to avoid buying Chinese phones. China is still the manufacturing hub for smartphones but several companies have now started selling made in India phones. So, people have the option to go for a made in India phone rather than buying a made in China phone. Buying a phone made in India helps the Indian economy and also boosts jobs in the country. But there are several things you need to understand before buying any phone with the "Made in India" label. In this article, I will explain everything about smartphone manufacturing in India and will list smartphones being made in India.
What is Make in India?
Back in 2014, the Indian Government announced the Make in India initiative. The aim of this initiative was to call global companies to start set up plants in India and start manufacturing. Basically, this initiative wanted to boost manufacturing in India. Manufacturing could from an Indian company or from a foreign company. But several people confused the Make in India initiative as an initiative only for Indian companies. So they mocked the initiative for no reason.
What is Made in India?
Most products come with a label confirming the country where the product was manufactured. If a product is labeled as Made in India, it means it was manufactured in India. It doesn't matter if the product is from an Indian company or from any foreign country. Samsung isn't an Indian company but it manufactures smartphones in India and sells with Made in India label. Xiaomi, Oppo, and Vivo are popular Chinese smartphone brands and have their manufacturing units in India. So, they also sell smartphones with Made in India label. Made in India mobile phones are phones that are manufactured in India.
Before the Make in India initiative, most companies used to import smartphones made in China, pay import taxes on units, and sell in the Indian market. Now when these smartphones are manufactured in India, companies usually import parts needed for manufacturing. This helps in job creation. Oppo, Vivo, Xiaomi, Samsung, Apple, and several other companies started manufacturing plats in India and created thousands of jobs in India.
If you want to buy a Made in India phone just to hurt the Chinese economy, you are still away from your aim. As I said, most Chinese companies now have manufacturing plants in India and sell Made in India phones. If you are buying products from these brands, you are still helping Chinese companies. But it is still better than buying a Made in China phone because Indian manufacturing units help in job creation.
History of Indian smartphone brands
To Boycott China completely, several people suggest buying smartphones from Indian brands. Micromax, Lava, Karbonn are some smartphone brands that were ruling the Indian market before Chinese brands came to India. You need to first understand how these smartphones brand used to work. In the early days, these brands used to buy smartphones from China and sell in India by keeping a margin. For example, Micromax contacted a company based in China and ordered 100000 units of a phone. The Chinese company will put the Micromax logo on boxes and phones before exporting the product to India. In this way, these Indian companies were actually helping Chinese companies. When these Chinese companies directly entered the Indian market, Indian companies couldn't survive because they cannot compete in pricing with companies that actually manufacture products. With time, many Indian smartphone brands disappear.
List of Indian smartphone companies
Here is the list of Indian smartphone companies. These are the Indian companies that tried their luck in the Indian smartphone market.
Micromax
Lava
Intel
Karbonn
iBall
Spice Mobiles
Swipe
Celkon
Xolo
Yu
LYF Mobiles
SMARTRON
CREO
Onida
Videocon
Many of these companies stopped launching new phones after they fail to attract consumers.  As I already said, most of these companies were just selling Chinese phones under their name. This is the reason people could easily identify the Chinese phone that was imported under the Indian brand's name. For example, Micromax Dual 5 was actually Qiku 360 Q5, Micromax Dual 4 was rebranded ZTE Blade V8 and Yu Yureka Black was Wiko U Feel Prime.
Check this image showing Micromax Dual 5 and Qiku 360 Q5 side by side.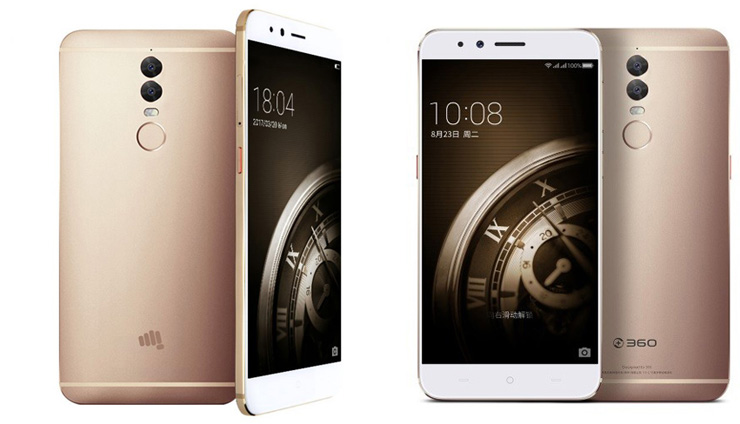 Most Chinese companies came to India after 2012. Vivo entered the Indian market in 2012 and Xiaomi came in 2014. In the early days, these companies were importing their products from China and selling in India. After the Indian government announced the Make in India initiative, they also felt nationalism among most Indian people. So, they also became a part of India's Make in India initiative and set up their manufacturing plants. Chinese brands grew well in the country and managed to bear existing brands in India due to competitive pricing. Samsung was once a leader in the Indian smartphone market but lost market share to XIaomi. Vivo and Oppo managed to acquire good offline smartphone sales.
See the Indian smartphone market share in the image below. In the top 5 brands, 4 are from China.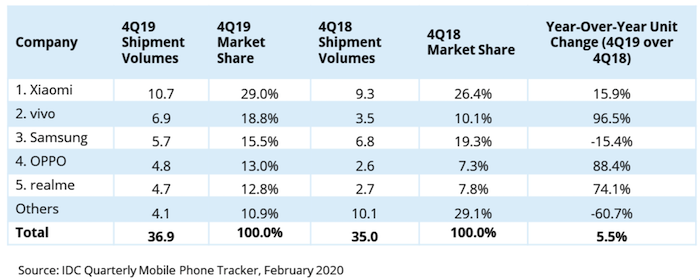 Just 4 Chinese brands including Xiaomi, Vivo, Oppo, and Realme held a 73.6% market share in Q4, 2019. There are also some other Chinese brands such as OnePlus that get good sales in the country. Most of these Chinese phones are actually made in India.
The truth of Made in India phones
Even if several phones are now made in India phones, not everything is made in India. Most of the Indian smartphone manufacturing plants are actually assembling products in India. These units basically important parts and assemble in India. Now some smartphone parts are being manufactured in India, but most parts are still imported from China or Taiwan. The Indian government also increased import duty on the fully assembled phone but gave subsidies in import on parts. This helped in getting more smartphone manufacturing plants in India.
Vivo has a big facility in Greater Noida to assemble smartphones. Samsung also has its biggest manufacturing plant in Noida where it also makes PCBs and other essential components of smartphones. Foxconn is also investing in Indian manufacturing units. Several Apple phones are now being made in India. You can say are being assembled in India. Before start mocking the Make in India initiative just because most phones are still assembled, you need to understand that assembling is the first phase of manufacturing. Samsung started doing assembly first and now manufactures several parts locally. Other brands are also following the same. Indian people are getting employment and the country is attracting foreign investments. Assembling a phone in India is better than buying a Naders in China phone. In the coming years, India will surely have a 100% made in India smartphone. But nothing can be changed overnight.
Made in India Smartphones
List of Made in India Smartphones. I am making this list by brand. So, you can also see it as a Made in India brand list.
Samsung: Samsung Galaxy A Series, Galaxy M Series
Apple: iPhone XR, 6s, 7, SE (2020), iPhone 11
Xiaomi: All phones under Redmi and Poco brands
Nokia: All Phones are Made in India
OPPO: Find X2, Oppo A Series and F Series, Reno and K-Series
Oneplus: Oneplus 8, and 8 Pro, 8t, 7T, 7 Pro, Oneplus 8, Oneplus Nord
Vivo: Vivo Y series, U series, S Series, Z Series
Realme: X Series, Narzo, C Series, XT, Realme 5 series, Realme 6 series, Realme 7 series,
Motorola: One Series, G Series
Lava: recently launched smartphones under Z series
Micromax: Micromax In Note 1, 1B
I am not adding individual phones' names because I cannot check and verify each phone. you will have to check Made in India tag to confirm if the phone was actually made in India. If you are buying any of the phones from the smartphone series I mentioned above, you are most likely to get a made in India phone. All the Nokia phones in the country are made in India. If you are looking for a Made in India mobile company, check the list above.
Micromax and Lava are the only two Indian brands on this list. Samsung is a South Korean brand, Nokia is from Finland, and Apple is from the United States. All other brands are from China. Motorola was once a United States based company but now owned By Lenovo, a Chinese company.
Recently, Micromax and Lava started a Made in India campaign against Chinese brands. This time Micromax is actually selling smartphones manufactured in India. Obviously, some parts may still be from China, but these phones are not rebranded phones like Micromax used to sell in the past. Micromax In Note 1 and In 1B are made in India phone by Micromax. If these phones get successful, Micromax could launch several other phones in the coming months.
if you truly want to avoid Chinese brands, you need to buy a phone from Samsung, Nokia, Asus, Micromax, or Lava. Even if you are buying phones from these brands, some components may still be from China. Asus has no Made in India phones but it has manufacturing plants in Taiwan, not in China. Apple's recent iPhone models (iPhone 12 series) are completely made in China.
I tried to explain everything in simple words. If you still have any confusion, you can ask using comments or reach me on different social media platforms.