How to Check and Pay Your Traffic e-Challan Online
After the implementation of the new Motor Vehicles Act, penalties on traffic rules violations are much her than it used to be in the past. Traffic police people can also create e-challan by capturing photos if they see anyone violating traffic rules. CCTV comes installed across several places also capture traffic violations to create automatic challans. If you jumping signals, over-speed or violate traffic rules, the network of cameras across the city is watching you and creating e-challans. So, you need to keep checking if you have any pending e-challans to pay from time to time.
If there's an e-challan against a vehicle number, the vehicle owner is notified via SMS. You may also get a physical notice at your registered address. But there is no need to go to RTO for paying the e-Challan fine. Now one can pay for e-challan online. In this article, I will tell you how you can pay for traffic fines or challans online.
You can pay for traffic challans using two ways.
Using the official Ministry of Road Transport and Highways website
Using the Paytm App
Paying traffic challans on the Ministry of Road Transport and Highways website
Open Ministry of Road Transport and Highways' E-Challan website: https://echallan.parivahan.gov.in/. The website may have issues on Chrome, so open it on Firefox.
This link will give you an option to check challan details by entering Challan Number, Vehicle Number or Driving License Number.
If s valid challan found, you will see the challan detail with an option for payment. You can here pay by using credit/ debit card or Internet banking.
Paying traffic challan on Paytm
Paytm also has an option to pay for traffic challans online. The app and website support Challans from Andhra Pradesh, Chennai, Faridabad, Maharashtra, and Telangana. If challan belongs to any of these regions, you can use the Paytm app or website. Select the Traffic Authority and then enterChallan Number, RC Number of DL number.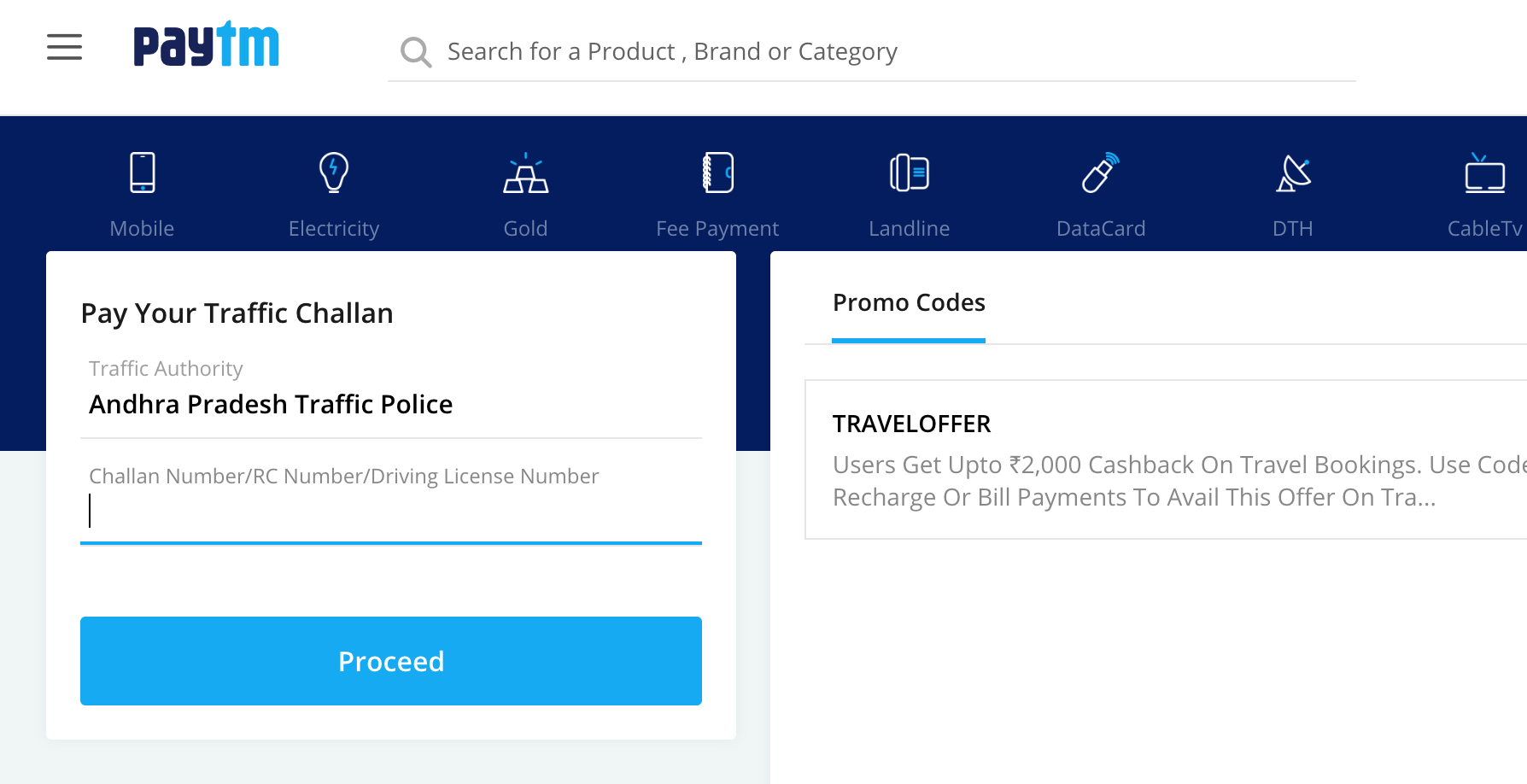 If challan is available, it will show you the details with an option to complete payment.
You can also pay for traffic challan by visiting any traffic police station in your city.