Sony has unveiled the updated versions of PlayStation 5 gaming consoles. The newer models feature the same specs but come in a compact body. The new model features a detachable drive. So, you can buy the Digital Edition and later add the drive as a $79.99 modular accessory to make it a disk edition.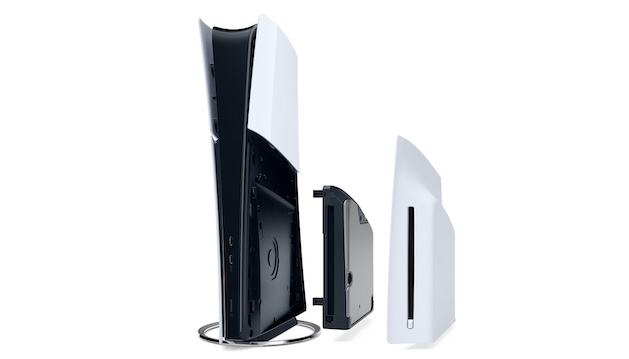 Sony claims that the new PS5 is 30% more compact in volume and 18% and 24% lower in weight. Sony has also changed the design of removable panels. Now there are four side cover plans with the top portion in a glossy look and the bottom pans in matte.
The new PS5 also comes with a 1TB storage as opposed to 825GB on the previous model. Other Intel specs are the same.
PS 5 specs
PlayStation 5 specifications
CPU: up to 3.5 GHz x86-64-AMD Ryzen Zen 2 (8 Cores / 16 Threads)
GPU: up to 2.23 GHz (10.3 TFLOPS) AMD Radeon RDNA 2-based graphics engine, Ray Tracing Acceleration
SSD: 1TB (5.5GB/s Read Bandwidth)
Support of 4K 120Hz TVs, 8K TVs, VRR (specified by HDMI ver.2.1)
"Tempest" 3D AudioTech
USB Type-C port (Super-Speed USB 10Gbps), USB Type-C port (Hi-Speed USB), 2x USB Type-A port, Ethernet, Wi-fi 802.11 a/b/g/n/ac/ax
PS5 Game Disc: Ultra HD Blu-ray, up to 100GB/disc
The new PS5 gaming consoles will be available in the US starting this November and will continue to roll out globally in the following months. PS5 Digital Edition costs 449.99 USD and PS5 with Ultra HD Blu-ray disc drive is priced at 499.99 USD. The horizontal stand will be included with the new PS5 model. If you want it for the previous model, it costs 29.99 USD.