Snapchat+ Premium Subscription Service Crosses 1 Million Subscribers
Snap, on Monday, confirmed that its premium subscription Snapchat+ has already reached the 1 million subscribers mark in less than 3 months after the launch. Snapchat+ was launched back in June to give the company an additional source of income. Snapchat+ costs $3.99 in the US and Rs. 49 in India.
Snapchat+ is a paid subscription that lets users get some additional features. These paying users will also get early access to some of the features. When the company introduced Snapchat+, users got features like Pin a friend as a #1 BFF, See your orbit with BFF, check how many friends rewatched your story, and more.
The company has also introduced some new premium features including new Snapchat app icon designs, Bitmoji backgrounds, priority replies to celebrities, and access to Snapchat on the desktop.
Priority Story Replies feature on Snapchat will make your replies more visible to Snapchat stars. So, you are most likely to get replies from them.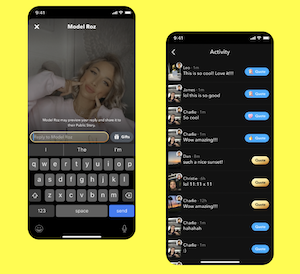 Post View Emoji allows you to pick an emoji you want your friends to see after they view your Snaps. Now are getting special backgrounds to give your Bitmoji an appealing look. Now can also change the Snapchat icon on your Phone's screen. There is a set of beautiful Snapchat icons to choose from.
Snap is also expanding paid subscriptions to more countries. So, Snapchat+ is now available in a total of 25 countries.