Intel launches Arc GPUs for laptops
Today, Intel has launched its Arc A-series line of discrete GPUs for laptops. The series includes Arc 3, Arc 5, and Arc 7 GPUs for gaming laptops. These GPUs will help the company to compete directly against Nvidia and AMD in the GPU segment.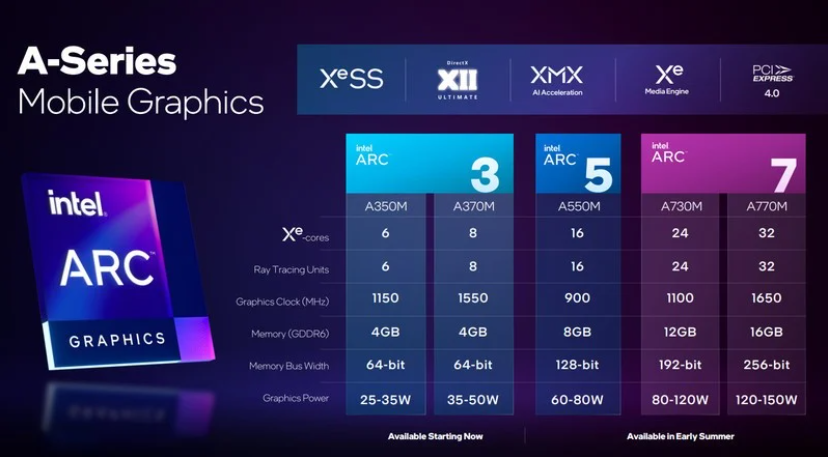 Intel claims that Arc 3 can offer up to double the performance of Intel Iris Xe integrated graphics. Arc 3 has 4GB of GDDR6 memory and comes in two GPU models A350M and A370M. A350M has six Xe-cores and six ray-tracing units while the A370M features eight Xe-cores and eight ray-tracing units.
Intel Arc 5 features 16 Xe-cores and 16 ray-tracing units. It comes with 8GB of GDDR6 memory.
The high-end Intel Arc 7 comes in two models A730M and A770M. The A730M has 24 Xe-cores, 24 ray-tracing units, and 12GB of GDDR6 graphics memory. The A770M has 32 Xe-cores, 32 ray-tracing units, and 16GB of GDDR6 graphics memory.
Intel claims that Arc laptops are set to start as low as $899. Samsung Galaxy Book2 Pro will be the first laptop to offer Arc 3 GPUs as an option. Other companies like Acer, Asus, Dell, HP, Lenovo, MSI, and more will soon launch laptops with Intel Arc GPUs.