Flexclip Review: an impressive online video editor
Video content is the future, so also video marketing. After Internet has become more accessible and affordable, most internet users prefer videos over text content. That's the reason, bloggers have also shifted to video content. Creators are earning millions by making long and short form videos for different platforms. But shooting and editing video is not easy. Most people find it hard to use complex video editing tools. That's the reason several online tools and apps have emerged with a promise to offer easy to use interface for making impressive videos. One such tool is Flexclip. I have recently started using it and created some videos for my blog's social media accounts.
FlexClip Review
FlexClip is an online video editor that lets you edit and export videos for free. The best thing about the FlexClip free version is that it doesn't add a FlexClip watermark. Although, the free version limits video length to 1 minute and you can only export video in 480p SD quality. But that's good to start with. If you like the video editing tool, you can pay for the subscription.
The best thing about FlexClip is that it comes with thousands of video templates for different types of videos. The company has also categorized video templates. So, you can quickly find a template for your video. You can also use the search box for searching video templates. It also offers templates for vertical videos for Reels, TikTok, or YouTube Shorts. Select a template and start editing it for your video.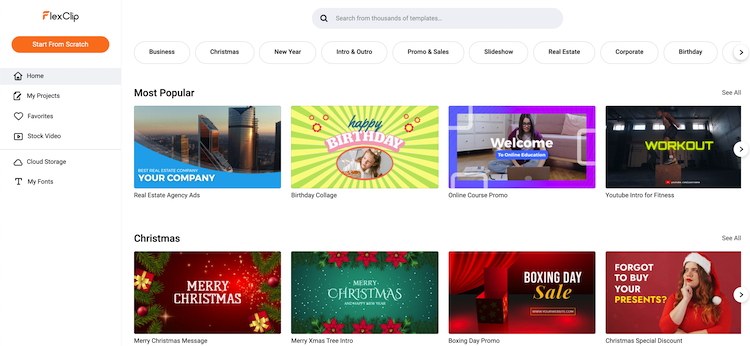 If you don't want to use a template, you can start from scratch. For creating a video from scratch, FlexClip offers two modes: Storyboard and Timeline. Then it asks you to select the aspect ratio of the video. It depends on what kind of video you will be making.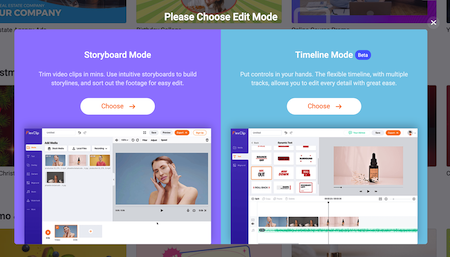 You can upload photos and videos from your system. Alternatively, you can also record and upload from your upload. The tool also lets you record your system's screen.
There are several editing tools such are flip, rotate, trim, split, and playback speed. There are also several video filters. You can also manually adjust exposure, contrast, brightness, and other things to add effects to video. These features make the FlexClip an impressive online video editor.
You can also add text. There are several text formats and styles specially designed for YouTube and social media videos. It also has the integration of several masks, shapes, social icons, and clip arts to make your videos even better.
FlexClip also lets you add watermark to your videos. You either add a text watermark or an image watermark depending on your need. The watermarking tool lets you select size, opacity, and position.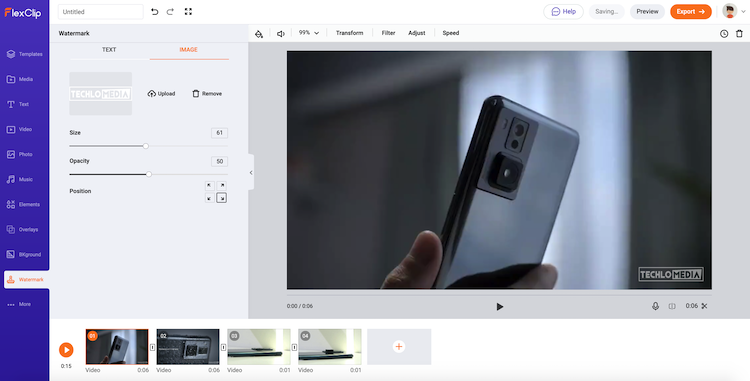 FlexClip also has an integration of stock photos and videos that you can use in your videos. It also has Giphy integration to search and add GIFs to your videos. This makes the tool interesting. You will not have to search different stock photo and video websites separately. You are getting everything at once place.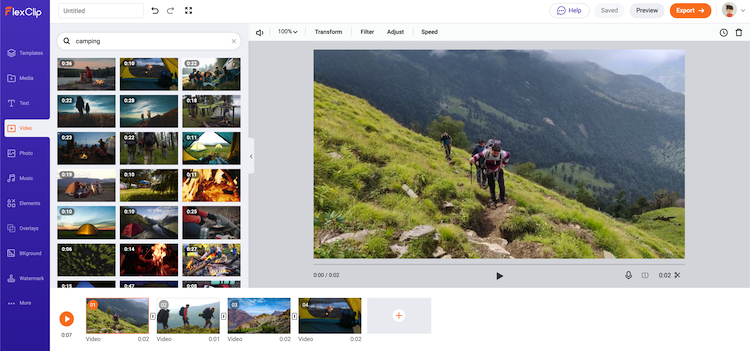 Music is an important part of a video. FlexClip also impresses in this segment. It has an integration of stock music libraries to use in your videos. Search for music based on mood and genre and it will show you a long list of music you can add to your videos.
When you are done, you can export the video to the desired video quality. Everything is really easy on FlexClip.
FlexClip Pricing
FlexClip offers several plans including, Free, Basic, Plus, and Business. Check details in the photo added below.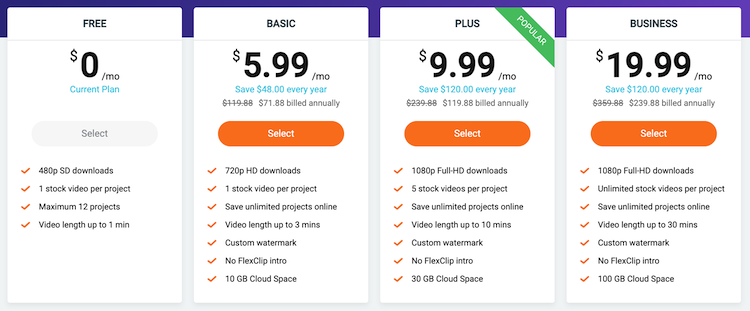 I recommend most people to go with the Plus plan. That lets you make videos of up to 10 minutes, 30GB of cloud space, and 1080p videos.
FlexClip is an online tool. So, you can use it comfortably on any desktop platform. You also don't need to install anything. Just open the website on a browser and start editing videos.
Final Words
I really liked this online video editing tool. FlexClip is an easy-to-use video editing tool for editing videos online. It isn't a replacement to advanced video editing tools such as Adobe Premiere or Final Cut Pro but definitely an impressive tool for those who do not want advanced editing tools. It is suitable for making marketing videos, YouTube intros, or Stories. Integration of stock videos, photos, and GIFs makes it interesting.
FlexClip delivers good results and I recommend it to everyone who is looking for an easy-to-use online video editing tool. Free tool also doesn't add any watermark. So, don't forget to try FlexClip. I am sure you will keep using it.