Q3, 2021 was the best quarter ever for Indian PC Market
We all know that PC shipment grew in recent months due to the Pandemic and work from home culture. But you will be surprised to know that India's PC market saw its best quarter ever in Q3 of 2021 with a total of 4.5 million desktops and laptops.
More PCs were shipped in Q3 of 2021 than the entire 2019. Notebook category reached over 3 million units for the first time. It had more than 80% share in PC shipment. Notebooks shipment was more than 3.6 million. That's a 28% growth over Q3 2020. Demand for notebooks is still very high but brands are finding it hard to meet the demand due to chip shortage and other reasons. The desktop category also recorded 30.5% YoY growth in Q3, 2021.
Check the table below and compare the PC shipment of Q3 2021 with Q3 2020.

HP was the top seller during the quarter with a 28.5% market share. It shipped more than 1.2 million PCs including desktops, laptops, and workstations. HP's market share dropped in the consumer segment but it maintained its lead in the commercial segment for the third straight quarter. That helped it in retaining the top spot.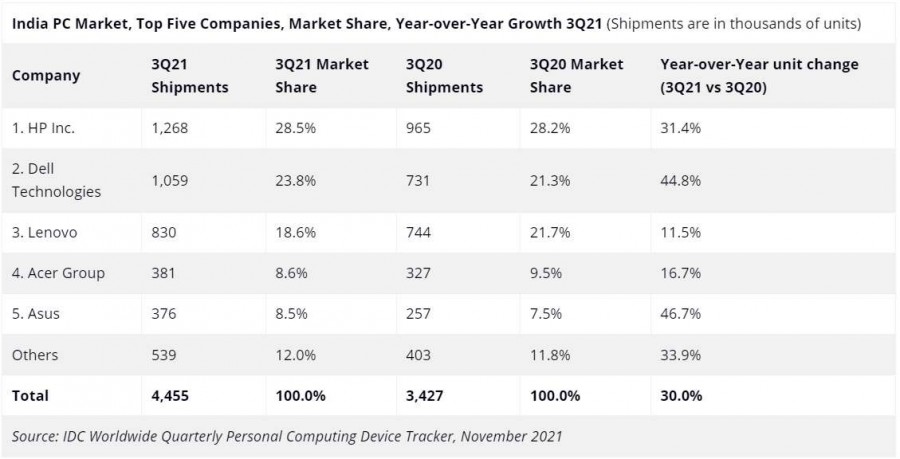 Dell and Lenovo were 2nd and 3rd with 23.8% and 18.6% market share. Both the companies saw growth in shipments but Lenovo's market share dropped from 21.7% to 18.6%. Lenovo also lost its place to Dell in this quarter. Dell increased its market share from 21.3% to 23.8%. Acer and Asus were in 4th and 5th place. Acer saw a drop in market share but Asus managed to record growth.
Source: IDC