Google to shutdown Android Auto mobile app
Google has decided to shut down the standalone Android Auto app with Android 12. Google recommends people to use Google Assistant driving mode available without Google Maps or use the Android Auto interface of the car's dashboard.
Several Pixel owners running Android 12 also received a similar notification while trying to run Android Auto. The notification says that the "Android Auto is now only available for car screens. On your phone, try Google Assistant driving mode instead."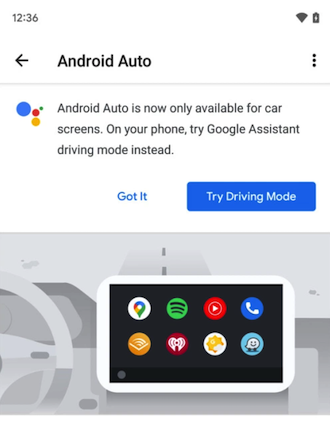 After being contacted, Google confirmed its plans to replace the Android Auto phone app. "Starting with Android 12, Google Assistant driving mode will be the built-in mobile driving experience. We have no further details to share at this time," says Google. There will be no change in the Android Auto compatible car experience.
Google announced Assistant Driving mode back in 2019 but was delayed and the company started rolling it out late last year. Now when the company is confident that the Assistant Driving mode is ready to replace the Android auto phone app, Google decided to shut it down.
Source: 9to5Google