Qualcomm announces its next-gen X65 5G modem
Qualcomm has just announced its latest 5G modem Snapdragon X65. The X65 is the successor to Snapdragon X60 that was used with Snapdragon 888. Qualcomm claims that the X65 5G model will be much faster, with support for up to 10Gbps speeds on both standalone and non-standalone 5G networks.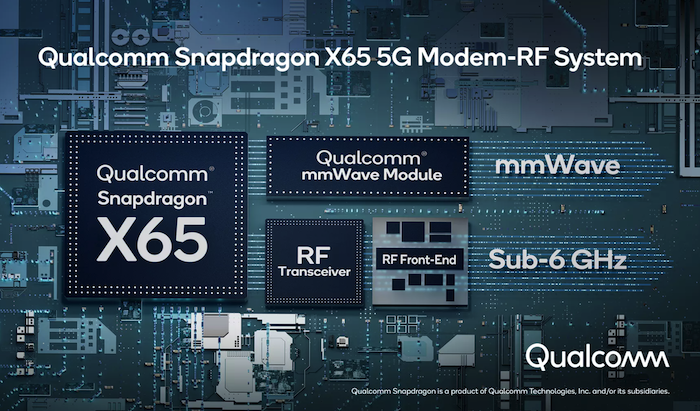 The X65 can offer peak download speeds up to 10 Gbps by using 1,000 MHz bandwidth. This max speed is still on paper because we don't have a 5G network that is capable of providing such a level of throughput. Snapdragon X65 supports the upcoming 3GPP Release 16 specification and the company claims that the X65 is the first modem to have such support. Release 16 is designed to bring notable improvements such as power consumption, massive MIMO connectivity, and more.
The Snapdragon X65 is expected to come in smartphones in late 2021. The company has already shipped samples to customers without revealing the names.
There's also an adorable X62 modem promising 4.6 Gbps peal download and 400 MHz (it still supports both sub-6 and mmWave).
Qualcomm also announces Qualcomm 545 mmWave antenna that has the same size as the third-generation model. This antenna can transmit at a higher power than previous designs and supports all global mmWave frequencies. The X65 and X62 work with the new QTM545 mmWave antenna.