Facebook Messenger for iOS to get Face ID And Touch ID lock soon
Facebook is working to add a new layer of privacy to Messenger for iOS. As per a report on Engadget, the company is testing Face ID And Touch ID lock for Messenger for iOS.
Once a user has enabled the Face ID And Touch ID lock, Messenger will ask to verify before granting access to Messenger conversations. Users will have the option to set the time limit after which the app will enable the lock automatically.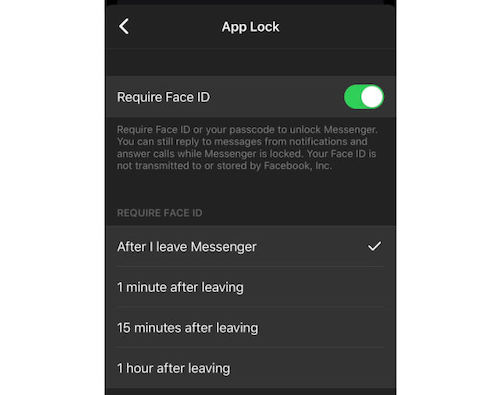 Users will still be able to reply to messages from notifications and answer calls without Face ID or Touch ID verification.
Facebook is testing this new privacy feature among a small number of Messenger's iOS users. After it is available to iOS, the company could also offer the fingerprint lock option for Android devices.
It is worth noting that Face ID And Touch ID lock is already available for WhatsApp. So, we can also expect the same for Instagram in the coming months.
Facebook recently introduced a Messenger Rooms video conferencing service to let users connect during the Covid-19 Pandemic. The Messenger Rooms lets up to 50 users participants in a video conference for an unlimited time. Good thing is that one can initiate the Rooms conference call from Messenger, WhatsApp, or Instagram.