4K Stogram: An impressive bulk Instagram downloader
4K Stogram is good computer software that lets you download all the photos from any Instagram account or by hashtag and location. This tool can also download videos and stories of a given account. So, you can use this tool to take the backup of an Instagram account. In this article, I will talk about 4K Stogram in detail and will show you how useful this tool is.
4K Stogram can be downloaded from the official website for free. This software is available on Windows, macOS, or Linux.
When you open the software, you see a search box at the top where you can enter the Instagram username, hashtag, or location. Then click the Subscribe button. It will automatically add it to subscriptions and will fetch a few recent photos, videos, stories, and highlights. You can click on any photo or video to open in the photo viewer for the preview. Every fetched data is stored on your computer automatically. You can change the download location anytime using the settings. That means you will not have to manually download any specific photo, video, or story.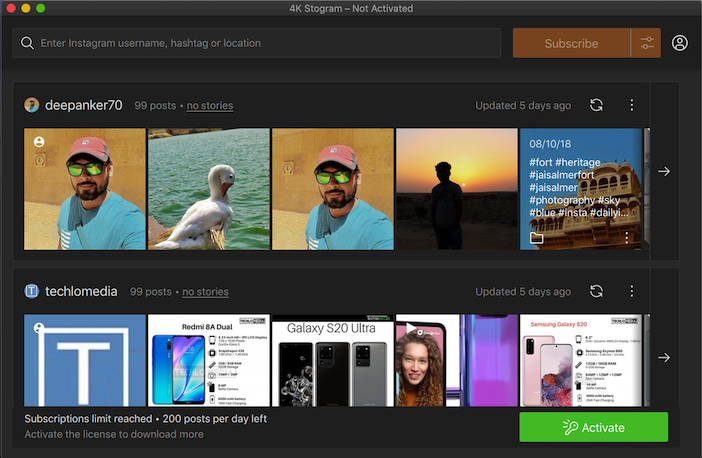 The UI is clean and easy to use. All your subscriptions will be shown at the front. It also shows the time it last fetched data from the subscription. You can manually click on the refresh icon to download the recent data if available. Clicking on the name of subscriptions opens fetched photos, videos, and stories. Data is arranged properly in different tabs. Here you also see an option to sort photos. If you want to check the old photos, sort by Oldest to Newest.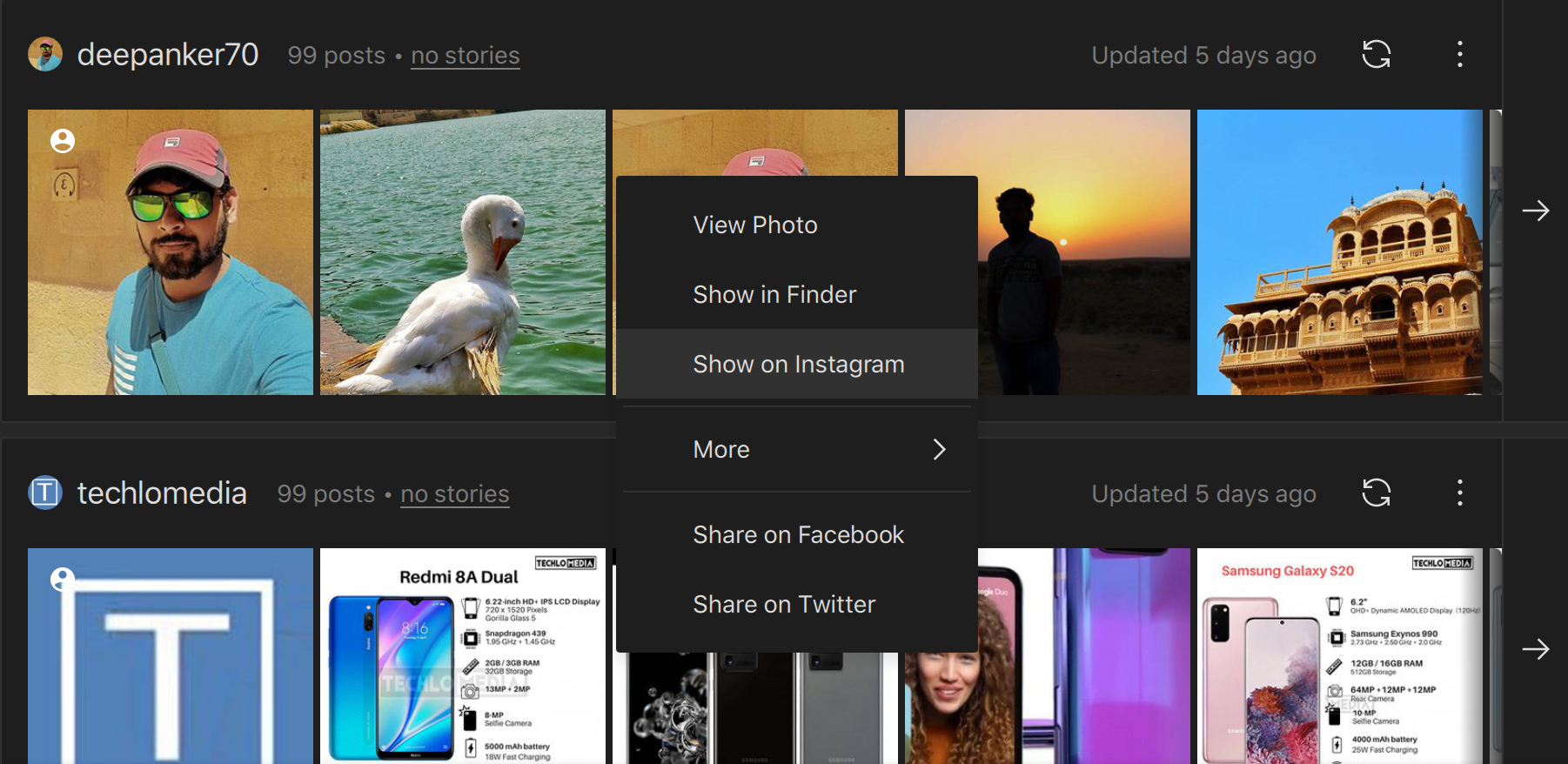 If you hover a photo or video, it will also show caption. You also get the option to copy the link of the post or copy the caption of the post if you want.
This tool also works fine even with private accounts, but only if you follow the private account and login on 4K Stogram using your Instagram credential. After entering your Instagram credentials, you can then subscribe to any private account to download photos and videos from the account.
There are several reasons to like this tool. 4K Stogram can be used to download Instagram Photos from any account. You can take a full backup or an Instagram account with a single click. Not just an account, you can subscribe to a hashtag and download all photos and videos by the hashtag automatically. Search by location is also present. So, you can see and download photos by entering an address. It will fetch all the photos that were posted using the address. Not just posts, it also downloads Instagram Stories and Highlights in bulk.
The free version of the software comes with a few limitations. You cannot download more than 100 posts per subscription and more than 200 a day. If you don't want these limits, you can purchase the license.
The personal license costs $9.9 for the lifetime and lets you use the software in 3 different computers. In a personal license, you can add up to 10 subscriptions. But there is no limit in downloads.
There's also a Professional license that also lifts subscription limits and lets you use the software commercially. It costs $30 for the lifetime.