Sound One launches 10000mAH Lithium Polymer Power Bank
Sound One, a Hong Kong based company known for audio products, has launched its Sound One S1003 Power bank in India. The 10000 mAh powerbank packs Li-polymer battery and claims to offer 70-80 percent of conversion.
It is priced at Rs. 999 and is now available from Amazon.in and other retails across the country.
Buy Here: Amazon
The power bank is also small in size and weighs 175 grams. It sizes similar to a credit card. See the photo below to have an idea of its size. The power bank has two full-size USB ports and a micro USB port.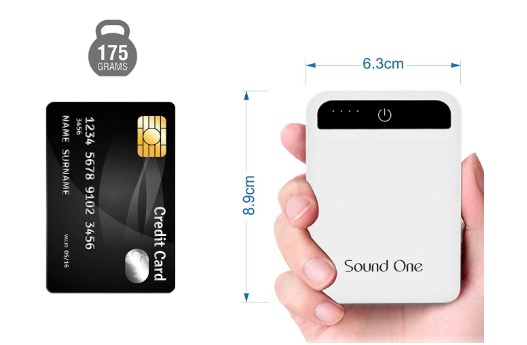 This 10000 mAh power bank takes 6 hours in charging using the 2A wall charger. It has two output ports where one provides a charge of DC 5V – 1A and other one provides DC 5V – 2.1A. There are also LED indicators to tell you the status of juice left in the power bank.
Sound One claims that the power bank comes with 6-level protection including protection from short circuits, current overloads, voltage overloads, overheating and wrong insertion. So, it is safe to use with any device supporting USB charging.
Buy Here: Amazon