Lenovo Unveils World's First Foldable PC in ThinkPad X1 Family
Lenovo just unveiled the first foldable PC prototype that belongs to ThinkPad Family. The company calls it ThinkPad X1. This PC foldable PC runs on Windows and will go on sale in 2020.
Laptops are also foldable PCs, but this new foldable PC actually folds the display just like Samsung Galaxy Fold and Huawei Mate X smartphones.
Lenovo claims that this foldable PC will offer unprecedented portability without compromising productivity and reliability. It will offer laptop productivity with smartphone portability.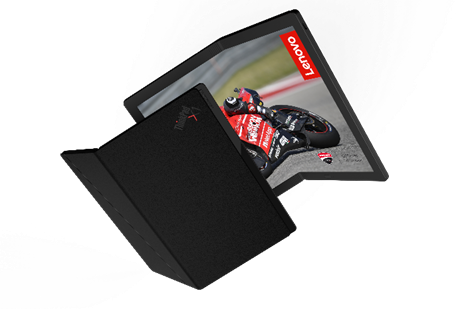 It features a 3.3-inch OLED screen offering a 2K resolution. When it is folded, you get two 9.6-inch displays. It has a torque hinge that will allow you to use the foldable PC in various modes. You can use it as a book, tablet with Pen, video player or laptop. You can also set up the stand to use it as a desktop with an external mechanical keyboard.
Lenovo worked with LG Display and has even worked for three years for this product. The laptop will run a future Intel-based platform and Lenovo is also working with Microsoft to optimize Windows for the foldable display.
The ThinkPad X1 foldable PC has two USB C ports, an IR camera, and stereo speakers.
It is still too early to comment on anything. This is just a prototype and many things may change over time before the product becomes available for consumers.
Lenovo confirmed that the product will be available in 2020 and more details will be shared at the time of launch.
Recommended Videos