Oppo's flagship phone with 10X Lossless Zoom camera launching in Q2 2019
Today at MWC 2019 in Barcelona, Oppo has showcased its 10x Lossless Zoom Technology. The company also confirmed that it is now mass production ready and will be used in its flagship phone launching in Q2 2019.
The company has also detailed how this 10x lossless zoom technology works. The company used a triple camera setup with a 48 megapixels primary camera, 120-degree ultra-wide-angle lens camera and a telephoto lens camera having periscope-style lens setup.
The telephoto lens features two 'D-cut optical lenses' arranged in periscopic horizontal layout that helps in reducing thickness of the setup. Oppo claims that this entire setup would have been 15mm-thick with the traditional upright camera module. The periscope style lenses are combined with a prism for reducing the size of camera module.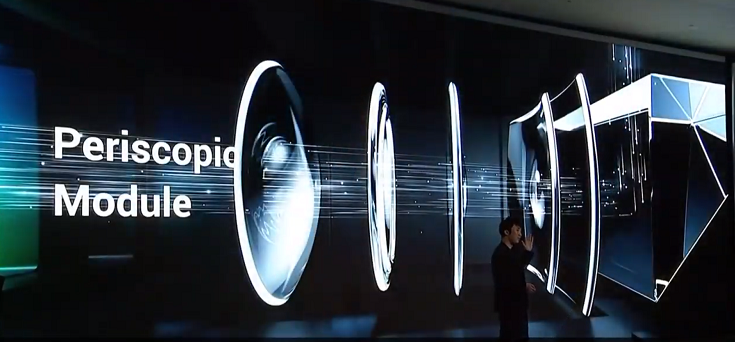 There are also two autofocus (AF) motors in the same module for further saving space up to 13 percent.
Oppo also confirmed that the 10x lossless zoom tech also utilises optical image stabilization (OIS) on both the main camera and the telephoto lens. This OIS tech is 73 better over its 5x optical zoom tech.
Here, it is worth to mention that Oppo's 5x optical zoom camera tech never made it to the market. But this time, Oppo has confirmed that the new 10x Lossless Zoom technology will be used in its smartphone launching in the second quarter of this year.
In a similar new, Oppo also showcased its first 5G smartphone. The phone packs Snapdragon 855 processor. It will also offer 4K, 8K video downloads/uploads, 3D video calling, 5G cloud gaming, AR / VR multi-player gaming experience, AR-based shopping, and more. The company ha not yet revealed the name and launch date of the 5G phone.
We are covering MWC 2019 in detail. So don't miss over MWC 2019 stories to stay up to date.