Huawei Mate 20 Pro Scores 109 on DxOMark And Joins Huawei P20 Pro At The Top Spot
Huawei Mate 20 Pro is really a good flagship device and it received lots of good reviews from around the world. The phone is notable for its camera, battery life, and good looking design. Now DxOMark has published the camera review of Mate 20 Pro and gave it the score of 109. With this score, Mate 20 Pro manages to top the list and ties with P20 Pro that was already on the top with 109 scores.
Also see: Best Camera Phones in India
Mate 20 Pro was released with revised optics and used a wide-angle third camera in place of the monochrome camera. It was also released several months after P20 Pro, so we were expecting Mate 20 Pro to be better than P20 Pro. If you compare the individual scores of Mate 20 Pro and P20 pro, P20 Pro scores 114 for photos and 98 for videos while Mate 20 Pro scores 114 for photos and 97 for videos.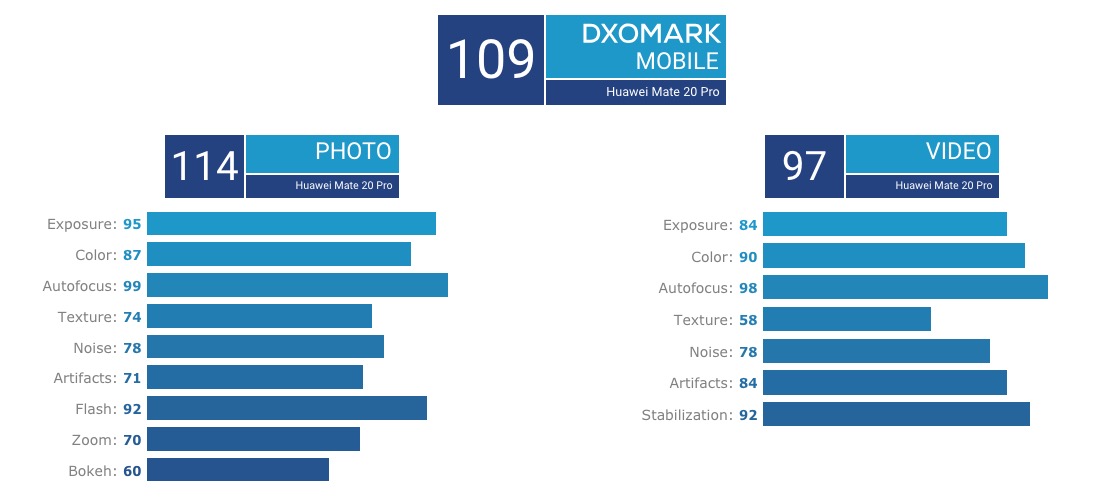 The phone has a triple camera system that has a 40-megapixel main camera with a 1/1.7-inch sensor, F1.8-aperture and a 27mm-equivalent lens, 20-megapixel super-wide-angle sensor with F2.2-aperture and 16mm-equivalent lens and 8-megapixel telephoto sensor.
The iPhone XS Max is at the second place with 105 scores while Pixel 3 at third place with 101. Pixel 3 is a really good camera phone that performs well even in ultra low light. But it scored much less on DxOMark. This is the reason, several users don't trust DxOMark scores. It is also worth to note that DxOMark doesn't take the wide-angle camera into account while rating the phone.
Mate 20 Pro tops the list and the camera of the phone also perform well in real world tests. Mate 20 Pro also has several notable features like