Xiaomi Announces MIUI 9; See List of New features
Xiaomi has finally introduced the new version of its custom Android based ROM. The latest iteration is Miui 9. Before the announcement, Xiaomi promised a more fluid, more optimized and more elegant user interface. Now we know how it will look like. In this article, I am listing most notable changes and additional features of MIUI 9.
MIUI 9 Features
Dynamic Resource Allocation
For improved performance, the MIUI 9 has Dynamic Resource Allocation to allocate priority to in-use App. So the app in use will get resource before the app in the background. It also added several optimization to boost the performance.
Accelerated start up
Now the app opens faster than ever before. It has optimized haptic feedback, intelligent CPU acceleration, and optimized thread scheduling.
Universal Search
Xiaomi has added powerful search engine on MIUI 9 that can differentiate your images like you do. The MIUI 9 image search allows you to perform the image search for all images on your smartphone. It makes all images searchable by keywords.
For now, this feature is only for Chinese ROM.
Smart app launcher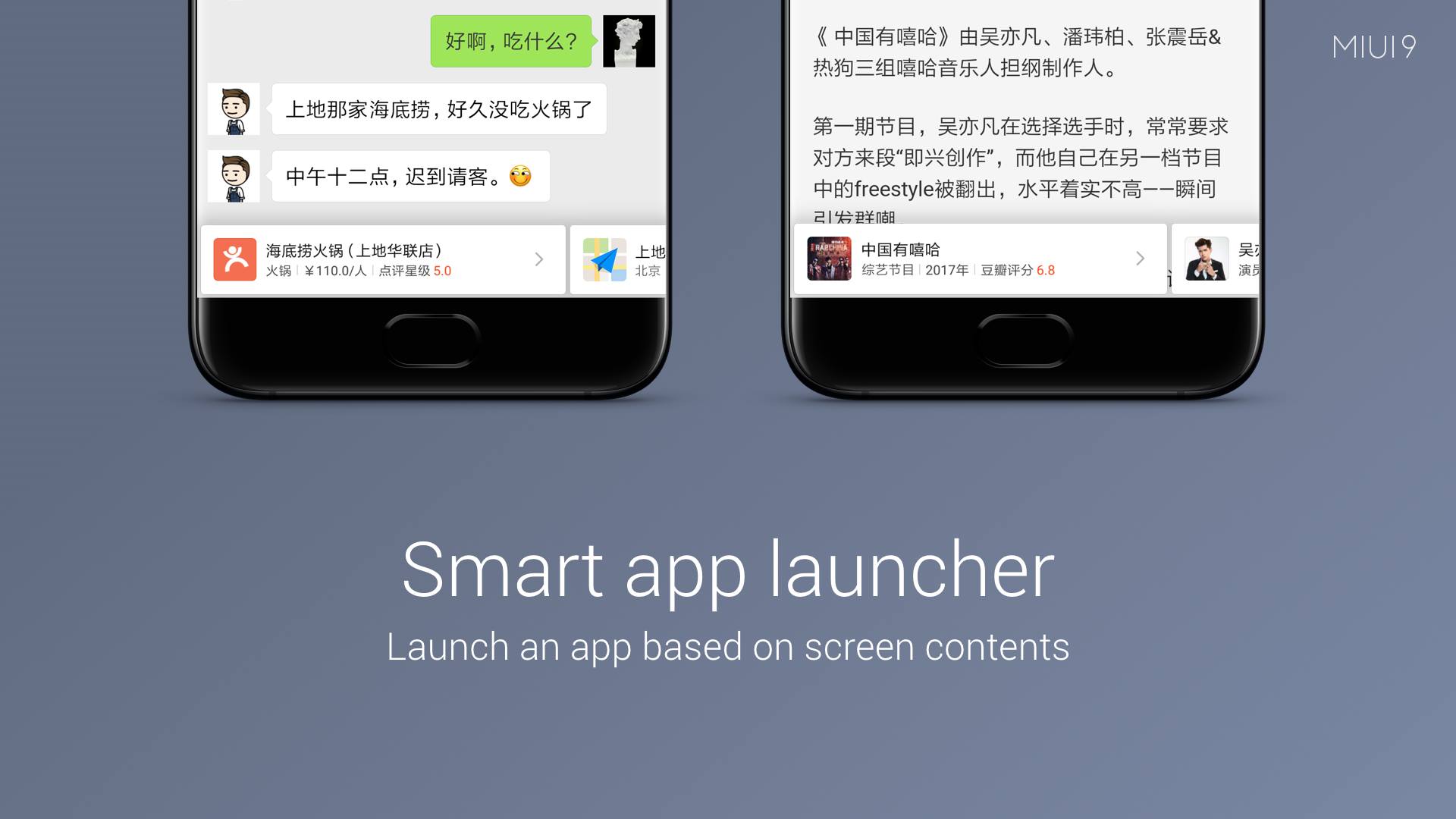 The smart app launcher allows you to launch the app based on the content on your screen. Xiaomi claims that you just need two steps for all the vital information you need in your messages.
It analyzes the whole page to suggest the apps that you may want to open.
This feature will also be available in Chinese ROM for now.
Smart assistant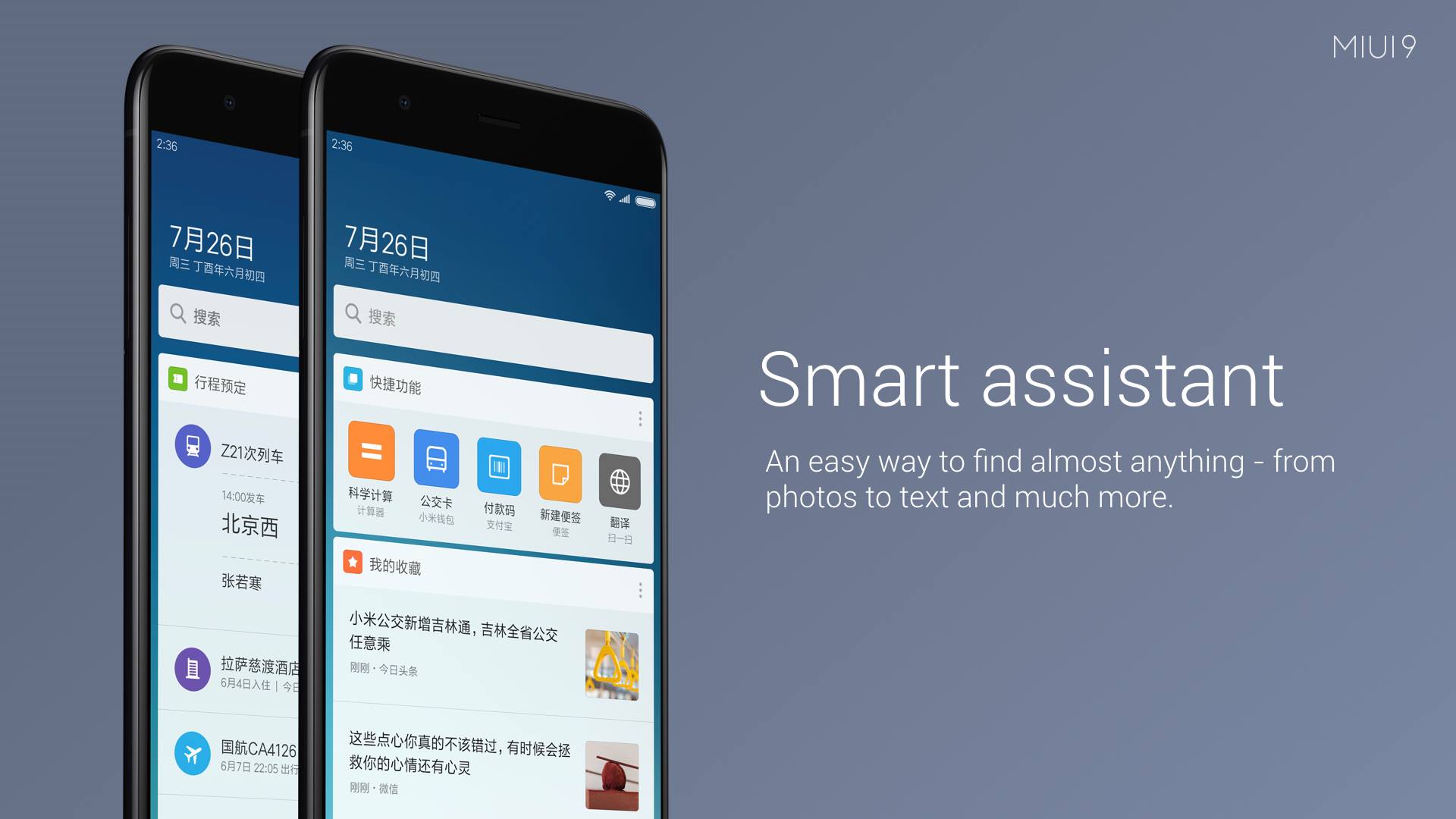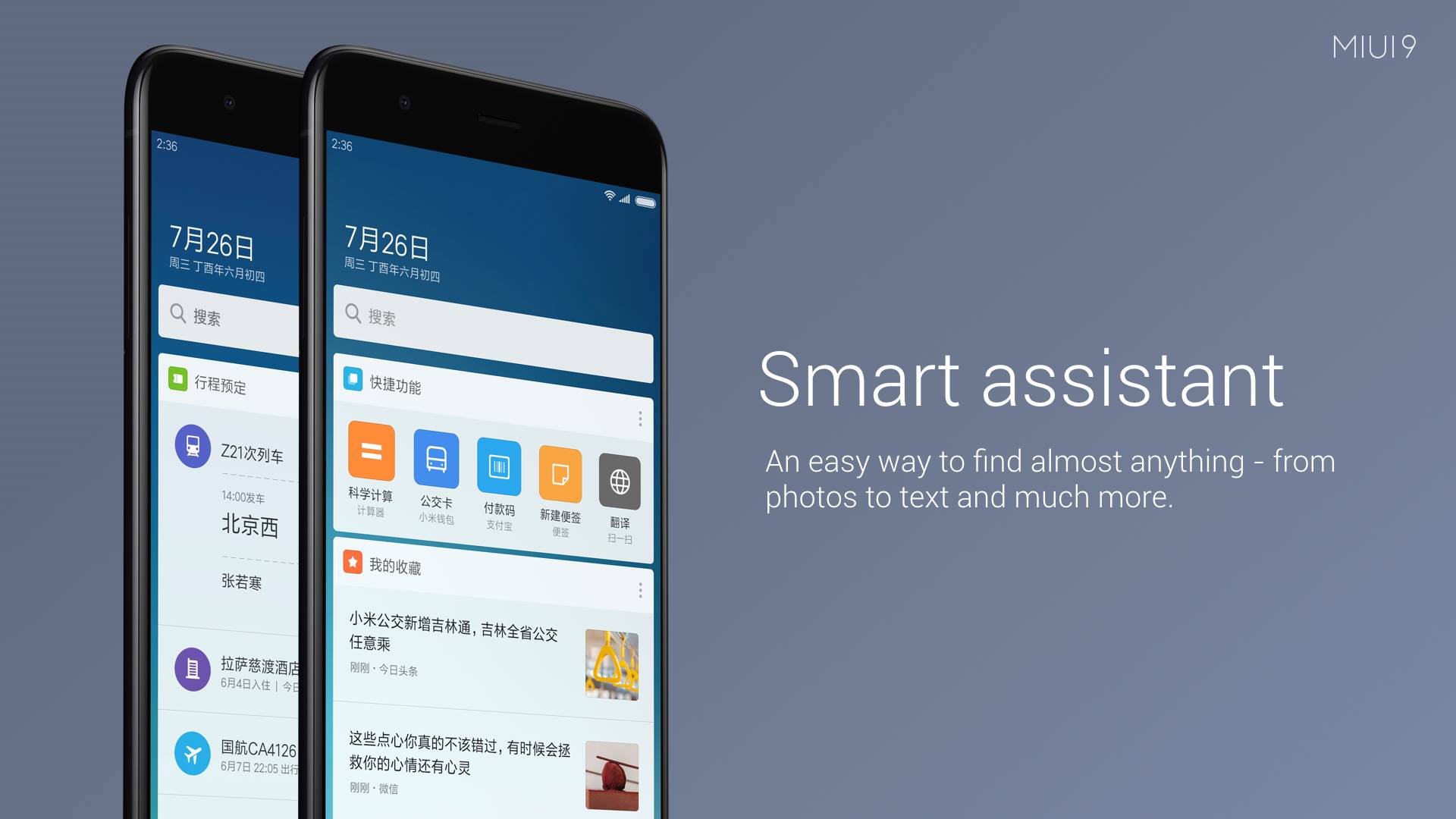 Finally, Xiaomi phones are also getting their own version of a digital assistant called Smart assistant. So, you can find anything and almost everything at your will. It allows you to find things like photos, text, videos and few other things. It will also present diverse content related to the interests of the user.
For now, this feature will also be only available in Chinese ROM.
Split Window
MIUI 9 also supports split window feature. So, you can enjoy two apps at the same time on the screen. Watching videos along with talking to someone on chat is now easier.
MIUI 9 availability
China beta
MIUI 9 will come to Mi 6, Mi 5X and Redmi Note 4X Qualcomm on August 11. ON August 22, it will be released for Mi MIX, Mi Note 2, Mi 5, Mi 5s, Mi 5s Plus, Mi 5c, Mi Max 2, Mi Max 32G, Mi Max 64G / 128G, Mi 4S, Mi 4c, Mi Note Pro and Redmi 4X.
It will also reach to other Redmi and Mi models in September with the exception of Mi 1 / 1S and Mi 2A.
Global beta
On August 11, MIUI 9's Global Beta will be released for Mi 6 and Redmi Note 4 Qualcomm / 4X. Later, it will be released for Mi Note 2, Mi 5, Mi 5s, Mi 5s Plus, Mi Max 2, Mi Max 32G, Mi Max 64 / 128G, and Redmi 4 / 4X on August 25.
In September, it will come to Redmi 2 Prime, Redmi 3 / Prime, Redmi 3S / Prime, Redmi 4A, Redmi 4 Prime, Redmi Note Prime, Redmi Note 2, Redmi Note 3 Qualcomm, Redmi Note 3 Special Edition, Redmi Note 4 MTK, My 2 / 2S, My 3, My 4, My 4i, My Note and My MIX.
I hope Xiaomi will not miss the deadline.
Developing as I get new data.. Come back to see changes.