Facebook wants to deliver better content by sensing your emotions, expressions
Facebook is already tracking our activities to show us relevant content and ads. Now, Facebook is working on something bigger to know your expressions and emotions to target the ads and show you relevant content.
Research firm CB Insights discovered few Facebook patents that aim to track users up to very deep level. Keep reading to understand how this patent explains and why should you know about it.
Facebook granted few emotion-based patents that help Facebook understand people's emotional reactions. These patents are:
Augmenting text messages with emotion information (Date granted: May 25, 2017)
Patent: Techniques for emotion detection and content delivery (Date published: August 27, 2015)
Systems and methods for dynamically generating emojis based on image analysis of facial features (Date published: May 18, 2017)
The first patent talks about formatting your messages with emotion information. This patent also uses data captured from the keyboard, mouse, touch pad, touch screen, or other input devices to predict your mood. It will use data like typing speed, how hard the keys are pressed, movement and other factors.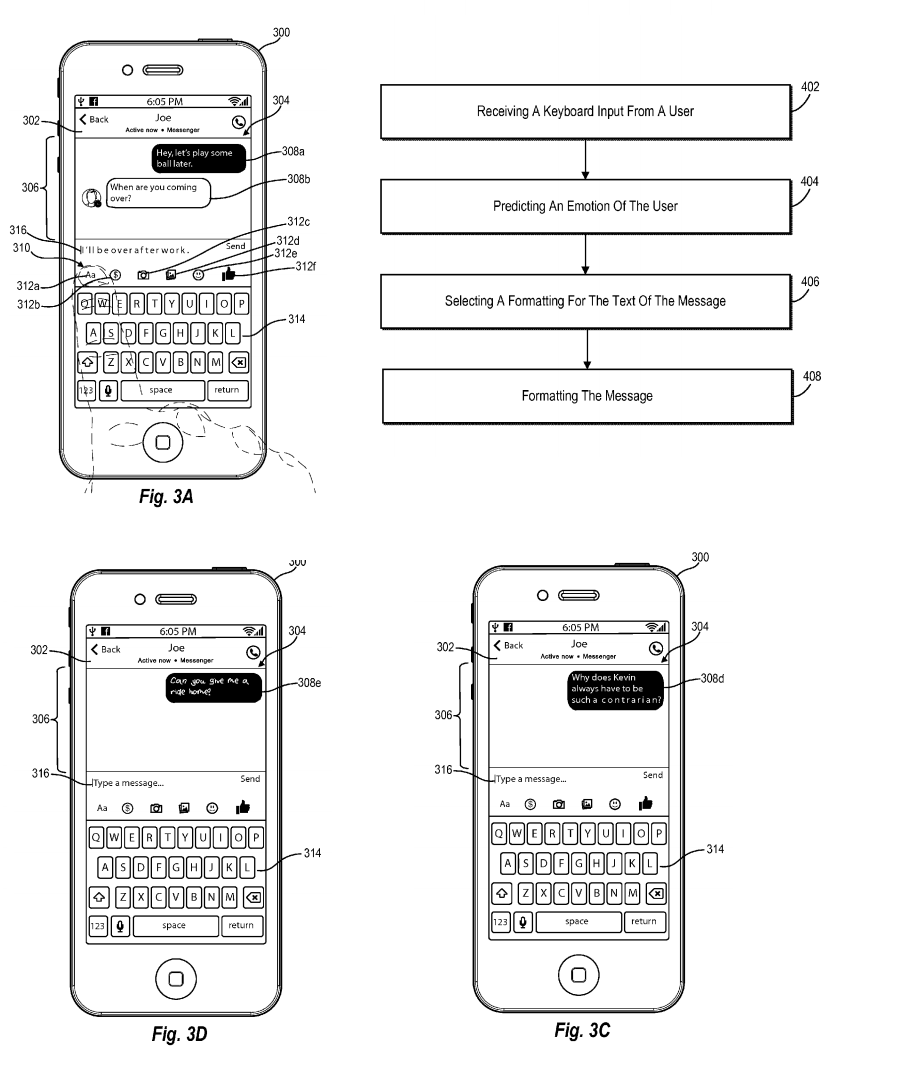 Based on your emotion, it can also change the text font, size and more to express your emotions.
The second patent talks about content based on your mood. Facebook will use webcam or smartphone's camera to detect your facial expression to have an idea of your current mood. It will determine whether you are happy, sad, depressed or excited. Based on this, it will show you the right content and advertisements to suit your mood.
Facebook proposes using "passive imaging data," or visual data captured automatically. Users often face the camera while using the device and Facebook wants to capture your photos automatically to sense your emotions and deliver the content based on it.
Facebook will analyze your reactions for different posts. If you appear to like what they're seeing, it will place more similar content in your feed.
It will also use your facial expressions to automatically add the best fit emoji in a message to reveal your current mood. If you are typing a message with a smile on your Facebook, your message will carry a smiling emoji automatically.
Facebook got this patent back in 2015 but it has yet to implement the same on its platform. We have seen various patents in past that could never become an actual product. So, we cannot be sure if Facebook will be using this tech on its social media platform.
This could excite you but Facebook will be knowing about your personality and mood swings. This can be very dangerous because Facebook will actually understand your personality and will use your data to influence your behavior.
Facebook says that it does not currently offer tools to detect emotion. You can read the privacy policy to see what Facebook knows about you and access.
But, here it is worth to note that Facebook tested similar technology to predict emoji. But that tests were done when users intentionally open the camera to capture selfie to share. The above patent wants to passively collect the emotion data and capture your photos.
Facebook can use these patents on Facebook, Messenger, Instagram, and WhatsApp. All these platforms have billions of users to exploit. I hope Facebook will be fair and explain before bringing any such tool on its platform.
Source: Cbinsights.com